Kerabu Pineapple is a dish I have eaten since childhood. When we were young and times were hard for us, Dad prepared this one dish and we would take it with hot plate of rice. No other dishes is required for the day.
One of the easiest dish to serve, why? Home grown pineapple and cucumber mixed in sambal. Delicious dish, refreshing and cool for the head, an everlasting dish, really. It is to die for until today.
I would never forget this dish. My sister and I never once complained that he did not put more dishes on the table. We did not know how hard times was.
But I do know now, as with his love and joy, he would cooked, washed and cared for me and my sister. Then sometimes he would tell us stories. This is how I remembered my father.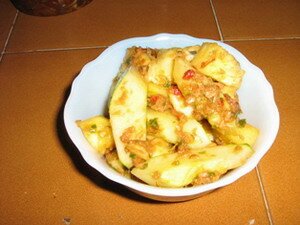 This humbled Kerabu Pineapple, our Nyonya salad makes me remember him often. And so I do prepared them often. I have adapted the original to meet my needs. The beauty of this salad is, you can just prepare in a jiff and it is ready to serve.
And if I had any friends, I always thought a great idea for a luncheon would be to make the dressing, then assign all your buddies one item from the list of ingredients. Then when everyone shows up, you just dump it all into a big bowl and go for it!
Ingredients
1 Pineapple, cut and sliced to bit pieces
10 gms Pounded Dried Prawns or Ikan Billis (Anchovies)
3 tablespoons of Sambal Belachan
Types of Sauces
There are three basic types of Kerabu or salad in Nyonya cooking.
Sambal Belachan Sauce: Scoops of Sambal Belachan plus lime juice, salt and sugar
Lemak Sauce: Add 1 to 2 t'sp of Thick coconut Milk (Santan)
Fresh Herbs: Add shredded fresh herbs brings it to a refreshing height.
Additional Toppings: Top with toasted groundnuts, Toasted Grated Coconut (Kerisik), sesame seeds or ewe chung (deep fried shallots).
Sauce for Kerabu Pineapple
3 Keat Lar (Limau Kasturi) juices
1/2 teaspoon Salt to taste
1 teaspoon Sugar to taste
1 Tablespoon Soy Sauce
Method
In a bowl, mix all the sauces. Mix well, add Sambal Belachan, pounded dried Prawns.
Marinate before use (optional), only add the vegetables when about time to served.
Then add Pineapples. Once it is mixed, serve immediately.
Variations
This is very simple, almost all ingredients can be gotten from your fridge or garden. Kerabus or Salads you can make using basic Sambal Belachan Sauces:
Fresh vegetables can be used:
Kacang Botol or Wing Beans, Cucumber or Steamed Ladies Fingers, Green Papayas, Blanch Bean spouts or Taugeh.
Kerabus or Salads using coconut milk or santan:
Pucuk Paku, Bak Phoey, Steamed Chicken.
Kerabus with Toasted Toppings:
JellyFish, Chicken Feet, Bok Nee or Black Fungus.
Tell us if your favorites or your style of preparation.
Go to Top of Kerabu Pineapple Page
Back to My Island Penang Home Page