Cheng Kon Sze or to the Penang locals, Cheng Jee Chan is a temple worth your time to hike up. It is situated near to Kek Lok Si Temple in the Paya Terubong Hills.
It is really more serene and I like it as it seems no one except the very few locals knows about this temple.
One should visit it for its peace, serenity and tranquility. All of us felt so blessed to be up in this temple.
I went up with some friends recently during the Nine Emperor Gods festivals, as it is also a Taoist temple.
In my opinion, it was really worth our time. Some pronounced this temple as Cheng Jee Can or Cheng Kuan Soo or One Thousand Two Hundred Steps Temple.
Some says One thousand and two steps, which is which? Maybe not a bad idea to start counting the steps in our next hike.

View in a larger map
But the temple actual name is now changed to Cheng Kon Sze, I guess that is the new Mandarin spelling. Whatever and however we spelled it, it does not matter. So long as we have the heart and sincerity to hike or take a drive up.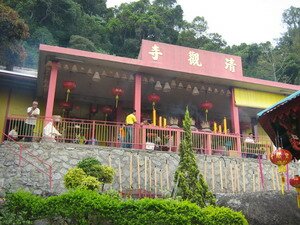 It would take you approximately 1 hour if you choose to hike up. Choose some walking trail and decide which is nearest or easiest to you.
The scenery is very refreshing. You can see different shades of greenery and many flora and fauna of many shades and colors.
Many people buys a stick to help them up. I though the reason was guarding them from the dogs but there were no dogs.Cheng Kon Sze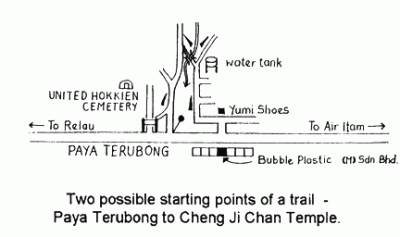 Starting point 1
Enter from United Hokkien Cemetery arch along the Paya Terubong road. From Paya Terubong to Cheng Ji Chan, the walk is about 2 km and will take around an hour to complete.
The way up can be quite taxing so one needs to be moderately fit. The highlight of the trail is the Cheng Ji Chan Temple, which literally means Temple of One Thousand Two Hundred Steps.
There are two starting points to this trail. You will be walking on hewn granite stone slab, those our forefather lay it down for us.
During the Nine Emperor Gods Festivals, Taoist devotees make a beeline up this temple to pray. Other time, it is quiet so depending on whether you want to go during peak or off season, the path is there for you to thread and there are a few paths.
Hike during fruit season is the best as you see different kinds of fruit trees in season.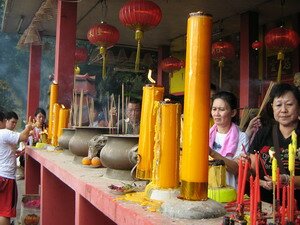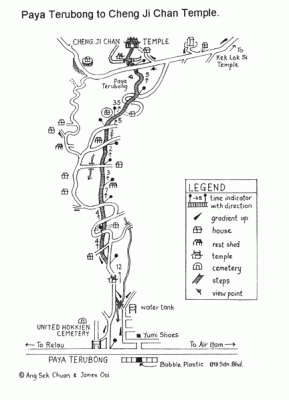 Starting point 2
Enter from Bubble Plastic (M) Sdn Bhd building. Enter the side road opposite the premises of Bubble Plastic building and follow the road to the left. Keep following the road as it curves to the right.
Park your car at the large cylindrical water tank. Walk to the end of the road and follow the small path leading to the left. Follow it downhill, cross the bridge and go up the other side.
Walk about 100 meters until you see a large Taoist shrine. From there you can see overgrown cement steps. The rest of the way is fairly easy to make out and should not be a problem.
The Cheng Kon Sze Taoist temple is a spiritual enrichment temple. If one is in need of peace of mind, a space to mediate, think and be alone, then this temple is for you. Looking around the temple up in the hills, you see nature at its best.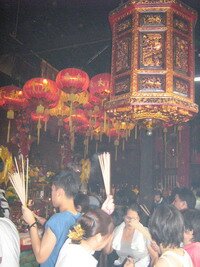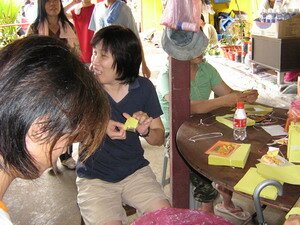 Cheng Kon Sze temple is more then 130 years old. You can see all the beautiful lanterns, real old as old as the temple, as we were told.
The huge bronze urns and statues of Nine Emperors Gods, Dao Mo, Goddess of Mercy and the healer, Thai Siong Lao Kun are real old.
I feel so at peace seeing all these old stuffs. Reminds me of my late Taoist uncle whose house was filled with huge bronze urns but all are gone.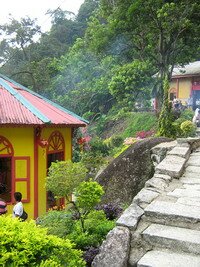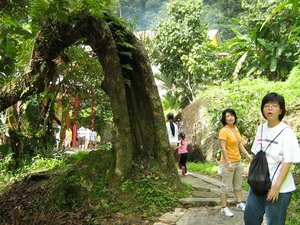 I imagine me sitting to mediate and hearing the bells ringing a distance away. Birds chirping, trees swaying and the breeze puts you to relax and allow your mind to wander off. Such BLISS!, indeed I feel blessed.
Starting point 3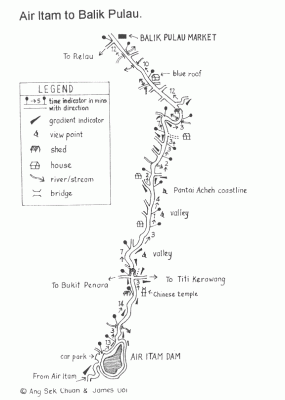 Air Itam to Balik Pulau, This trail is fairly popular as it is scenic, shady and easy with no steep slopes. The walk will take roughly 2 hours and is 5.5 km long.
From the upper car park at Air Itam Dam, take the road that circles the dam in clockwise direction. After 15 minutes follow the track that branches off on the left side of the road. This cement track is quite busy so watch out for traffic.
When you come to a four-way junction after a good 25 minute walk, you should continue straight. There are many trails on the way, but keep to the one that descends.
The area is beautiful and has a great variety of herbs and fruits. When you eventually reach the main road it will lead to the market in Balik Pulau. You can walk back the same way or take a bus.
The views of Penang island up on the Paya Terubong hills is magnificent. I felt so fresh, breathing the airs from the hills.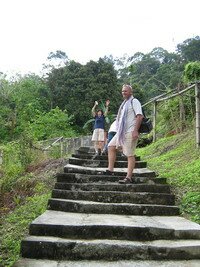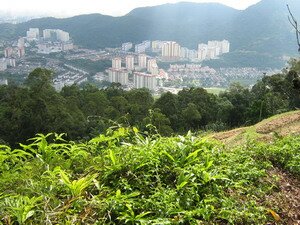 By Car
Use the road going to Kek Lok Si Temple. Taking a drive up by car can be done. But the slopes are quite steep. It is more advisable to hired a car or van and be driven up if one is not sure. We hired a van as it seems easier to arrive at the same time.
The drive up was not easy as both sides of the path as devotees were hiking up. The cost for 4 persons in a van is RM40 to and fro.
But if you still want to attempt up to this Taoist Temple, take the road circling the Kek Lok Si, then you will pass the columbarium.
The path gets narrower but still one car can drive at all time. Watch out for hikers walking the path. Keep your hands on the horn.
Devotees comes to Cheng Kon Sze to partake the blessed meal. Some even stay in the dormitory to serve as volunteers. It is a great thought, I might go up next year.
The temple was really crowded as we arrive. Joss sticks and smoke brings tears to our eyes.Cheng Kon Sze
Going for holidays?
Internet is playing an important role in providing online facility about the all international hotel motel information and complete range of airline fares of all the American airline includes aloha airlines the most favorite airline among the Americans, Midwest airlines and Hawaiian airlines too.
Internet also gives the facility to book airline tickets online.
Go to Top of Cheng Kon Sze Page
Back to Nine Emperor Gods Page
Back to Places of Worship Page
Back to My Island Penang Home Page