The Penang Vel Thaipusam, witness the first ever "Vel" spear handling over ceremony in Penang. Vel Thaipusam starts off at Maha Mariaman Temple in Queen Street at 5pm.
The symbolic meaning of the Vel was conducted together with the Tuesday Druga Pooja. On the streets, hearing the devotional songs and beats of drums, the visitors were seen walking towards the temple . Some visitors kept their flip flops in their bag before entering the temple.
While we watched the priest preparing the Vel (spear), Chandra and I both felt fortunate being able to participate in the Penang Vel Thaipusam, as such ceremony had never taken place before.
We didn't know of this ceremony until my daughter Uvaraani called and informed me of it. So thanks to you Uvaraani, Papa and I were there to capture this moment in history for you and your brother Thinakaran, who isn't back in Penang for this Thaipusam.
Vel Ceremony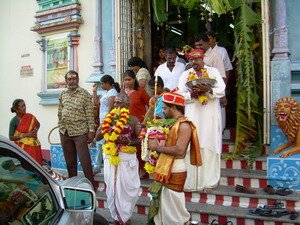 There was a special ceremony conducted by the temple priest for the one meter long gold Vel (spear) before handling it over to the Waterfall Temple (Balathanda-yuthapani) temple chairman Mr. A Chandra Kanthan.
We immediately drove to the Waterfall Temple (Balathanda-yuthapani temple) amidst the traffic jam, with Papa going thru some alley ways. Now you know why I called him the alley cat of Penang. LOL
Anyway, find more photos of Vel events here.
Most roads leading to the temple are marked with no parking tapes by the police. We have to drive behind the Nattukottai Chettiar Temple and finally found a parking place in the housing area.
For the Penang Vel Thaipusam, five elephants, two men having pythons curling on their body, a cow and a calf wait to lead the possession.
Ta and Yui, the two leading elephants were painted and decorated with flowers. Papa saw a cobra being displayed. According to Papa, the cobra stood in full glory for the visitors.
I missed that as I walked up the steps to take all this pictures for both of you to see.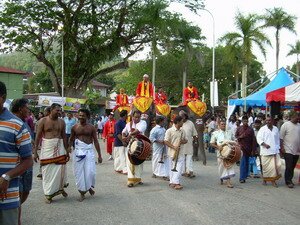 The procession reached the temple at 6.40pm and the golden Vel was placed at the altar of Lord Muruga.
As we move around, we saw friends and relatives, we haven't seen for some time. It felt great to catch up with Chelliah Macha's family and also Uncle Mohan busy getting the panthal ready for serving food on second day.
So I am so pleased to participate in this Penang Vel Thaipusam as I am going to see more friends and relatives during the next few days.
Other activities in preparation for Thaipusam
The shaving head ceremony is conducted too. It was like yesterday, as I remembered carrying you both in my hands as the barber shaved your head during Penang Vel Thaipusam.
Nowadays the head shaving can be done in Waterfall Temple and it cost RM12,aiyooo... You might want me to trim for you now.
Go to Top of Penang Vel Thaipusam Page
Back to Photos of Thaipusam Vel Page
Back to Photos Kavadi Ceremony Page
Back to My Island Penang Home Page