The Nyonya Kerabu Sauce is relatively closed to the Thai sauce called Namchut. As we say, Nyonyas loves Kerabu and we have our own sauce. We have to admit the Nyonya dishes are rich in flavour and sauce like this helps to cut down the riches.
Making good sauces are important both to the Penang, Asian or that matter even the Europeans. Good sauces and from the Malays, we learned how to use the pestle and mortar, the grinding stone (Batu Geling) to make good Sambal Belachan. Not forgetting eating with our hands.
But with our ancestors coming from Southern Thailand, Phuket then Kedah, they bought with them an appetite for hot and spicy food. Thus the early Nyonyas concocted a unique blend of localized Chinese Food.
So the Kerabu Sauce has the three elements of taste, sweet, salty and sour. Kiam, snwee and thnee)
It is easy to prepare Kerabu Sauce as most items are already in the kitchen. Of course, where Nyonyas are concerned, their kitchen is a very active place in their house.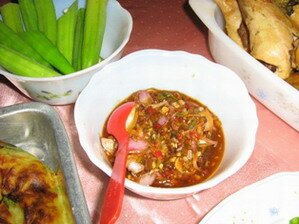 But it may be true, if you do not cook often, even the simplest dish is expensive. But nevertheless, I prepare this Nyonya Kerabu Sauce often and you know it is even good to top on fried fish.
Things this recipe can NOT do without:
Soy sauce, lime juice, brown sugar.
So basically, simple stuff you have round the house.
NEW:
Clean, hygiene, 1 student 1 work station cooking class in Penang. Nyonya, Indian and Chinese or Vegetarian cooking class is available. Read more here. See some dishes and photos.
Ingredients
2 Tablespoons of Sambal Belachan
10 shallots, sliced
15 Keat Lar (Limau Kasturi), squeezed juice for use
Then choose 2 Keat Lar (already squeezed one) for chopping to bits. This provides the tangy taste
10 Chilly Padi Bird Eye), cut and chopped
2 pips Garlic
1 teaspoon Toasted Belachan Powder, Add last before serving
Sauces for Ingredient
2 Tablespoons Chopped Tau Cheong (Bean Paste)
3 Tablespoon Sugar
1 Teaspoon Salt
3 Tablespoon of Soy Sauce
Keat Lar juice
Method for making sauce
In a big bowl, put the Tau Cheong, Sugar, Salt, Keat Lar Juices, Soy Sauce.
Mixed the ingredients well.
Then combine all the general ingredients.
Served with Steamed Ladies Finger (Okra), Fresh Kacang Botol (Wing Bean), Steamed Aubergines or brinjals.
Go to Top of Nyonya Kerabu Sauce Page
Back to My Island Penang Home Page