Aadi month is not a big hoo hah(big celebration) in Penang or Malaysia. It probes me to ask Aunty Kamachi more of the reason of this celebration.
As preparation for Uvaraani and Jivan wedding is underway, (read about the engagement ceremony here). We were not able to perform other ceremonies as this month July 15th until August 22nd is the aadi month.
We did however performed one ceremony for her before the start of the Hindu ceremonies, Aadi Festival, her so called first menstruation ceremony.
This Hindu ceremony in Penang is performed or remembered by a few devotees and some temples. Other than that, it is a quiet affair.
Malaysian Aadi Festival is celebrated on the fourth month of the Indian calendar. Aadi is considered a sacred month for the Traditional Southern Indians.
Two important things which are significant to married Indian ladies. They would make special effort to go to the temple for their Tuesday prayers.
What is Aadi month?
Mothers will purchase gold ornaments for adding to their daughter "thali". Then, it is time to return home to the mother's house to perform this ceremony.
Usually for first three years, mother invite their married daughter home to perform this ceremony. The mothers will help them have their "thali" thread change. It is a sacred ceremony as "thali" must not be dropped or fallen during the ceremony.
As the mother untied the knots (tied during the marriage rite), the daughter would hold the "thali" and ease it out of the yellow turmeric thread. Then a new thread is given and "thali" is fasten back with new gold coins that mum purchased.
For the newly married daughter, in the month of Aadi, she must stay in the mother house for a month. It is considered inauspicious for a Tamil family to have the first child (especially if it is to be a boy).
Aadi Month - Taboo month for festivals
Despite all these important days, the month of Aadi is considered an inauspicious month for occasions like weddings, housewarming ceremonies etc.
The other Aadi Festival is the worshipping of Goddess Sakti Devi. Goddess Sakti Devi, it was told came into this world to bless the people.
People therefore worship her in order to secure happiness not only for themselves but also for their loved ones. Kolams are drawn and mango leaves are change to welcome her.
If the festival falls on a Friday, the occasion is considered to be highly auspicious, and the people worship the goddess in a more special way.
I am quite happy with Aunty Kamachi's version. Another version I got from Saravanan from India, tells us his sweet memories of women during the month of Aadi.
In an Indian India Aadi month, there is a festival that celebrate Mulaipari. I love this traditional Indian practices. Mulaipari was never practiced in Penang or Malaysia. Saravanam now lives in Singapore.
Aadi Reviews
My friend Gawain reviewed this Hindu ceremony and to me, it is totally hilarious and a brilliant piece of art! To Gawain, I can't stop laughing!
I had a little epiphany of this last week in Penang, when, during my trip to the top of Strawberry Hill, I stumbled upon an Indian ceremony called Aadi month at the Lord Murgan temple there.
Adi is a month of daily temple events culminating in a whole day orgy of ritual, which this year fell on July 22. Tamils are enthusiastic celebrants of Adi (and e verything else in the Tamil religious calendar).
In fact, they may be the most religious people in India, which is the most religious country on the planet, which would make them the most religious people on earth.
They are also the one other Asian people (other than the Balinese) whose performance art in their case, classical music known as Carnatic is in very good shape, by which I mean that it is still the dominant cultural form among the Tamils: the stuff everyone would rather do (or watch). Who cares for Bollywood when you can beat the mridangam?
And while somebody might say, "Here is another proof that religion maintains the artistic practice", all carnatic music is devotional in nature, the impression I got at the Adi celebration was the precise opposite.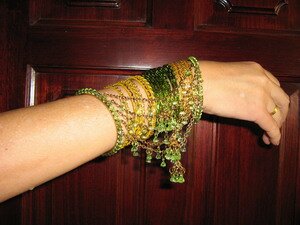 Watch a little clip here:
Stopping at each corner, they plant the thing proudly upright, and then proceed to wash it in rivers of holy water and clarified butter, splashing left and right, while making a huge racket with every percussion instrument they can lay their hands on and chanting at the top of their rasping voices.
Then the train proceeds to the front of the temple, where the head pundit (imported on a special pundit visa from India) performs an exuberant, exhibitionist fire sacrifice.
Feeding the huge crackling flame with gobs of delicious smelling butter and crackling spices and enveloping the whole courtyard in a glorious clouds of pungent smoke, while his sidekicks dress Lord Murugan in endless garlands of flowers.
The celebration then moves inside, where, before the main idol, they play raucous cat music is with drums, gongs, trumpets, bells and in masterfully timed crescendi, they blow the conchs, discordant, blaring sound, strange, moving, and absolutely hilarious.
Aadi Month Shopping - Sarees and Jubahs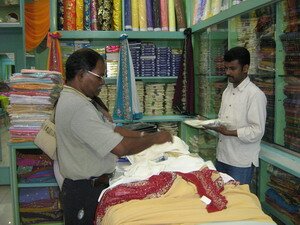 Well, is it a surprise that we would shop too? No, it is happy days when it comes to shopping for Indian attire. But believe me, I will not attempt it on my own. You will find streets and road of Sarees, Ornaments shops in Little India.
Little India is one of the best area to come for your dry indian sundries too. Curry powders, all kind of dhalls, chick pea and ghee are all here. For our sarees, one of the few we always shop is at Beach Street called The Chennai Potty's.
As daughter tend to come home during this month, Dad and Mum would then take her shopping to stop her missing her husband.
The Chennai Potty's has three shops in Malaysia. The 65 Beach Street shop is one my family and relative frequents the most. Telephone number : .
As you enter colorful saree welcomes you and it is spacious for you to grace all the lovely saree hanging by the side of the counters. We love to window shop a few shops before buying.
The prices can vary from shop to shop. And what I like about The Chennai Pottys's is that you don't have to bargain a lot. Discounts are given during festive season fairly frequent. So cut the coupons and enjoy shopping for your indian attire while in Penang.
Beside Aadi month, other fantastic offers is on going in this shop. Mani Kandan and Ashok Raj will help you around the three stories shops. Women sarees are at the bottom, I got some very lovely jubah for my son and Chandra at level 2 in the men's wear.
I am not sure about the third level as our pockets got tight after getting 5 sarees and 4 jubahs. All for less than RM400. A real bargain.
Well, it happen to be Aadi month but I got them to extend this offer to my readers, so feel free to shop and give them the coupons.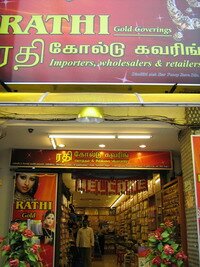 To compliment wearing saree, we will purchase gold or costume ornaments. One such Bangle ornaments shop is Rathi, situated at 27, Market Street. Telephone number :.
This guy Abas, an employee is so warm showing and letting us try out most bangles we asked. It is "WOW" to be in this ornament shops.
From tattoo stickers for all parts of your body, wigs, bangles glass and plastic ones. I truly enjoy the experience of wearing most he kindly wore for us.
I know it is wicked of me, I got him to offer some discount for you, gals. It was not easy as this shop already sells their wares at prices you won't find in any other shops.
I'll give you an example. The only item I couldn't get a discount is their bangle, plastic or glass types. Most shops would be selling around RM40 together with settings. We got ours for less then RM25 for both hands.
Back to Indian Wedding Rituals Page
Back to Malaysian Puberty Ceremony Page
Back to Photo of Indian Engagement Page
Back to Photos of Malaysian Indian Engagement Page
Back to Puberty Ceremony Photos Page
Back to My Island Penang Home Page