Pineapple Jam Tarts is without a doubt another of my daughter's top of the list goodies for years. Most of our families members loves the tarts. In my last life (kidding) I mean younger days, this is my favorite dessert to prepare for New Year.
How to handle short crust pastry is a lesson I learn during my domestic science classes in school. I still use the baking tins, the cutter from my first buy. As the portion of flour and butter is 1 : 1/2 butter, this makes the pastry heavy. So learning how to make Pineapple Jam Tarts, one must remember to work fast with the butter so it does not melt when handling.
Always remember to rest in the freezer for 15 mins before handling it. Once after you mix the ingredients and right before you bake in a preheat hot oven of 200 deg C. This will kick start or shock the butter which has harden. The only time I love eating my tarts is half hour after baking.
Ingredients can yield approx 80 pieces of Pineapple Jam Tarts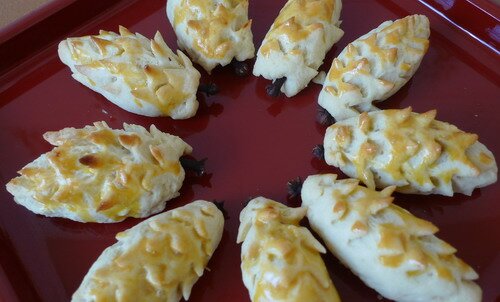 How I did, is bake 4 trays totaling 48 pieces, cool it for 20 mins. Between the 4 of us, sit down and eat to our heart's is contented before we bake the rest which in a day from 10am till 4pm, we hooked up 800 pieces of Pineapple Jam Tarts of various kind. So you want to learn how we do it? Let the lesson begin. ::))
Ingredients A: Basic Pastry
225 grams of pure creamy Butter ( stored in freezer till you want to use then cut to tiny pieces)
2 Tablespoon Icing Sugar
1 teaspoon Vanilla
1 beaten egg yolk
In a mixing bowl, cream for 2 to 3 mins is enough, then add:
450 grams plain flour or Rose brand flour (sieved 3 times to make flour lighter)
2 round Tablespoon powdered milk
4 tablespoons maximum if you must add ice cold water, too much water will aid with melting the butter.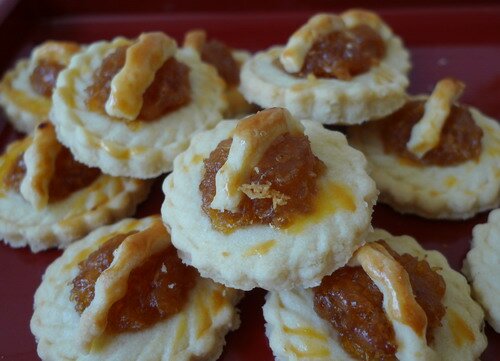 Mix well for another 2 to 3 mins. Make to 3 to 4 balls and refrigerate. You can refrigerate if you have a very cold fridge. If not place in the freezer for 15 mins before rolling the pastry. The idea, is on a hot day, butter melts pretty fast. To handle pastry less, try not to re rolled all of it as it turn oily after a few presses. So important point to remember when working on pastry dough, work with small ball. of dough.
Method to rolling basic pastry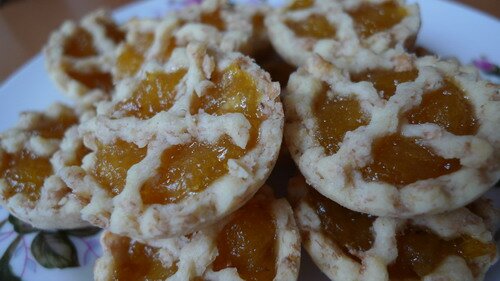 Rolled out with the help of two sheet of poly bags.
Roll the pastry from center to end in four directions.
Press a cutter to form the shape.
Placed in a baking tray of 12 holes.
Fill with prepared Pineapple Jam almost to the brim.
Press strips and criss cross the cute tarts
Refrigerate for 15 mins
Bake in a preheat oven for 12 mins and turn the baking tray around to even the heat for another 8 to 10 mins
Some key points to remember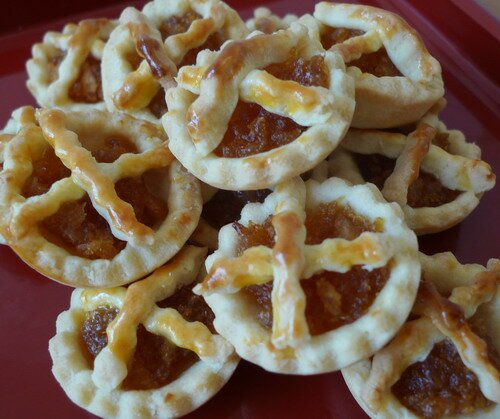 Roll the pastry from center to end in four directions, means not from end to end or top to bottom. Beginners usually have a tough time rolling the pastry. First place the rolling pin at the center of the dough and give a few hard press to flatten. After which from the center, press and roll outwards to the end of pastry. Turn the poly sheet to another side and repeat the process until 4 sides are rolled evenly and is ready for cutting.
With finger at the back of the poly sheet, flip the cut pastry over and placed on baking trays. Repeat until all 12 holes are filled. Add pineapple jam to the brim and cross with strips. Notes: Jams and fruit tart lets, we use 12 holes baking tray. Meat pies or egg custard, we use 9 holes baking tins.
Some key points to remember
There are a few variation of pineapple tarts in the local scene and I quite like how it taste too. Also at this point, the Pineapple Jam must be ready or you only have the empty shells. Some like to eat it empty too. Or you can use it as fruit tartlets. Bake it as empty shells, poked a few holes with a fork and fill up with custard or any berries or small fruits. Remember to cooked the fruits lightly.
Find it difficult, follow the tutorials video. Those are methods I did while Uvaraani picks up some pointers. I share some details, tips and key pointers to sweet buttery tarts. I hope you will enjoy this recipes like we did. It is a lot similar to how Lina makes the pineapple puffs so there is really no hard and fuss rules. Except we share our very own way of doing goodies, it is a smack!