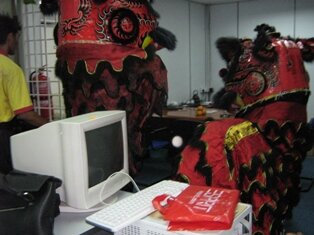 The LTC Lion Dance Photos shows you the Southern style of dancing. There are even two styles of Southern lion dance, one style is from Fujian and the other is from Guangdong (Canton), which is also the more popular.
The Cantonese lion can be divided into two styles one is Foshan, which is very popular in Hong Kong and most Chinese communities around the World. The other is the Heshan, which is popular in Malaysia, Singapore and with competition teams.
For the Southern Lion, their homeland is in Guangdong. Its head and fur are trimmed in a variety of colors. Its meaning is deep rooted in the history of Three Kingdom (Sam Kok).LTC Lion Dance Photos
A ruler and learned official Liu Bei is remember by the lion wearing gold or yellow. And Guan Gong, a famous general, who is brave and a courageous warrior is remembered by the red and black lions.
Why do we need the Lions?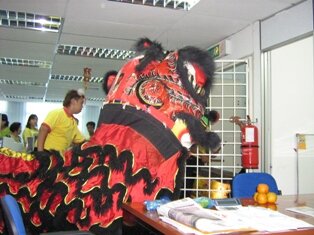 KC Leong of LTC Electronics invited the popular ones to his office during the Chinese New Year. See this office as the southern Lions prances into action, bringing bright cheerful life to the 3rd floor of LTC Electronics recently.
During Chinese New Year, Lion Dance are a part of business man. Business man will usually invite the Lions to the offices to usher the new year and same time, ward off any negative vibrations.LTC Lion Dance Photos
Troupes of lion dancers traveling from one place to another in trucks or lorries are a common sight for the 15 days of Chinese New Year.They are hired to perform in homes, business premises. Sometimes you see them in shopping malls and hotels too.
The Southern Lion Dance is an extension of the Chinese martial arts and is always performed by martial artists.
Learning teamwork through Lion Dance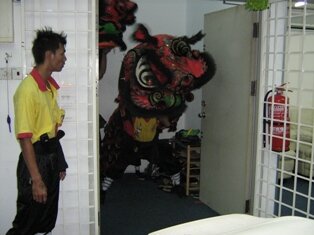 All the movements of the Lion are based on stances and positions from the martial arts schools. Lion dancing develops strength, flexibility and endurance as well as the ability to work in team and overcome obstacles through group effort.
Not only do the performers display strength, coordination, agility and endurance, they also exemplify the martial spirit in the "Ssu-wei", or the four basic supports of a State: "li," or decorum; :"i,, uprightness of mind (morality); "lien," honesty; and "chih," a sense of honor, says KC Leong.LTC Lion Dance Photos
The making of Lion Heads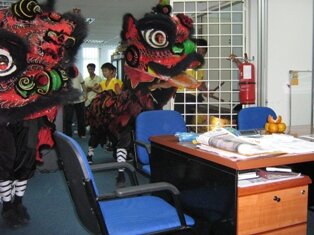 Lion heads are constructed of paper mache applied over a frame of wicker and rattan, some of the modern heads use aluminum and plastic in their construction.
The heads are then painted different colors used to signify different characters, but like women who wear make up so the heads have become more colorful.
Yellow - Liu Bei(161 - 223) was a powerful warlord and the founding emperor of the Kingdom of Shu during the Three Kingdoms era in ancient China. A God of Shoes and Heroes.
Red - Guan Gong(160 - 219) The Gods of Chinese Mythology, Folklore and Taoism. A God of War and Martial Arts. Guan Gong is a symbol of royal. Putting the ornament in you home will help you eliminate evils and demons and give the upper hand to your career.
Black - Zhang Fei (167-221) was a warrior in ancient China. A God of Butchers
The fight in the mighty Wars during Old China
Above are all characters from Romance of The Three Kingdoms. The three of them were a sort of Dynamic Duo plus one, or less than half of a Magnificent Seven.
Pledging to save the Empire from rebels and war, they plunged into the fray and performed many mighty deeds.LTC Lion Dance Photos
Well if you are like me interested in reading, get a full translation by C.H. Brewitt-Taylor. Many notes, backgrounds, as well as maps with more details makes your reading enjoyable.I enclose for your reading pleasure.
About KC Leong
Roots and upbringing are important part in KC's life. A tea drinker, a feng shui man, a lion cultural dance man and now going to be a proud father to his fourth child, a baby girl.
Both husband and wife told me, they can not wait to see their new born. Though married now to Mazuin, they both respect their different culture and celebrate with joy and happiness.
Parents of KC, Mazuin and kids, fellow staff of all races had a great time seeing and hearing the drums in their offices.
You get the feeling that good good things is about to be called in. So happy delivery and good luck to this YEAR. I wish you both abundant of wealth, prosperity and happiness, Old Friend.
Back to Top of LTC Lion Dance Photos Page
Back to My Island Penang Home Page