Hanuman Tale, One of the many version of tales about young monkey god as in Penang Folklore. He is a monkey god renowned for his courage, power, faithfulness and selflessness.
He is the son of Anjana, a female ansara and Vaju the wind god. When he was born, he leapt to up the sun thinking it was a fruit. The sun took flight but the young monkey chased him till the seventh heaven.
Indra intervened and injured his jaw. His father quickly entered the bodies of all gods and gave them colic. Indra apologized to Vaju for hurting his son and then all gods agreed to make the Monkey God immortal.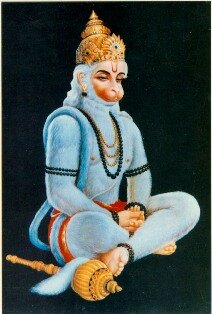 Being young and mischievous, Hanuman used to disturb saints meditating in the forests by creating whirlpools. Then with his breath he drank some offered water with pulling a supporting stick with his tail, pulling beard to douse a sacred fire.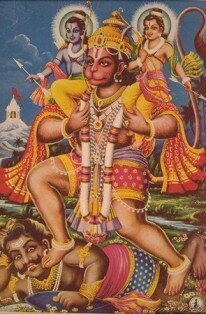 The powers he had to become big like elephants or trick his way out as a mouse is told in many mythologies.
For most parts, he is well remembered on how he saved Sita from Demon King Ravana. He happened to pass the Ashoka forest in Lanka one day when he heard plans how Ravana intends to win Sita.
Later he told Sita of plans being made for her deliverance. Locals Hindus believe his foot print can be found in Penang in this temple.
He fought Meghnaanth, the son of Ravana but was captured and bought to court in front of Ravana.
Being Rama messenger, Ravana couldn't to kill him so he set his tail on fire with cloth and oil. But he grew his tail longer and longer till there was no more cloth to burn it.
While they tried to put off the fire, he got very small and escaped from its ropes. Trailing his burning ropes behind him, he burns all of Lanka and flew back to mainland.
He reported to Rama the forces and strength of Ravana. Rama sends his army to cross the bridge to Lanka built by monkey leader Nala.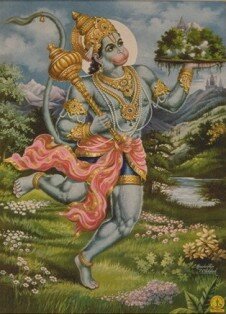 Ravana was defeated by Rama. Rama and Sita were crowned King and Queen of Ayodhya. The monkey god remained King Rama's favorite general and continued to be of service to the beloved King.
He was asked what he wants for a boon 'wish', and his reply was to live as long as all mankind remembered Rama's deeds.
So look out for any murals or pictorials of these Hindu myths if you go into a Hindu temple. Who knows, you too may get a boon. This is just one of the many epic adventures of the monkey god, Hanuman.
I grew up reading, listening to much folklore thanks to my older uncles and aunts. Anything locals or foreign myths, legends and fairy tales will simply thrilled me.
Back to Goddess Parvati Vel Page
Back to My Island Penang Home Page