The Thnee Kong Thua or Jade Emperor Temple is an important Taoist temple in Penang at the foot of Penang Hill. To me, as a native, the temple is very close to my heart.
As I walked up the road leading to the Thnee Kong Thua, my heart swelled with pride as I grew up from this part of the island.
It was like coming back to see your Father, coming to wish HIM and thanking HIM for all that was received all those years.
The third renovation of temple was in 2002 with 33 craftsman from China. Jade Emperor Temple is the only temple in Asia to have the multi bracketed dome in the ceiling.
As I learned more about this temple, I am fascinated with the Chinese Philosophy of Syncretism between Heaven and Humanity, Yin, Yang and the Five Elements and the Book of Changes.
History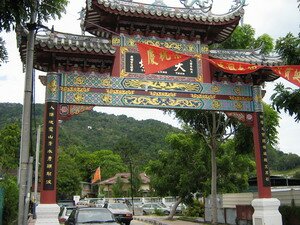 The temple has no record before 1905. Way back in 1931,the Har Par Brothers did the first renovation of the temple and same time constructed an arch outside on the main road.
No one knows how to reach Jade Emperor God Temple as it was hidden sitting on the foothills covered by the fruit trees.
I guessed the Har Par Brothers(they are from Singapore) felt that an arch serving as a landmark would be good for people to find the Thnee Kong Thua. Blessed them for their fore sight!
This temple is alive with all these Elements. That is why I believed the second renovation in 1996 failed as the wind of change was not meant to happen in 1996, as was later found out in 2002.
Thnee Kong Thua Temple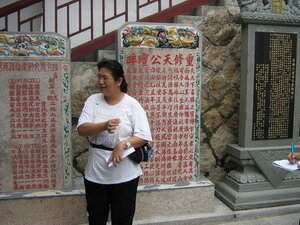 Read more about the 40 years prediction here.
The temple sits on Phoenix mountain (fuo san) that resembles a horse horse. And four sacred creatures of Taoism green dragon, white tiger, black turtle and red peacock, guard the temple from four different directions.
It is believed that sitting on this level of the mountain, it majestically guards different levels of heavens. I never knew all this significance when I was young.
Now that I knew, I am glad to have this feeling of being in the garden of paradise. It was truly gratifying. A sense of serenity and peace. No wonder, we were such happy children.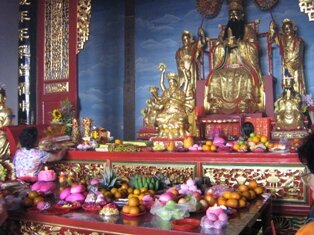 My younger days were spent in this lovely surroundings. I used to live very near to the Thnee Kong Thua Temple.
When I was young, my uncle through his practice of meditation was fortunate to use a smaller Taoist temple up in the quiet Penang Hill to practice meditation.
But this smaller Taoist temple is in existence since 1869. So climbing and running up the steps to Taoist temple on Thnee Kong Thua's right, we would run around the whole lower foothill and enjoyed our weekend sanctuary.
They were different types of fruits trees. Girls, boys, cousins, and neighbors climbed up rambutan trees, plucked and ate like monkeys.
Only when our stomach was filled, did we get down from the tree. And the waters we drank was delivered to the temple through a thick bamboo pole, joined and stacked to all surrounding houses.
There was no fresh water, no pipe water to the houses or temples. That was where I learned about filtering water the old ways (using rocks and sand). The beautiful things is we never got sick.
I remembered seeing flowers gardeners carrying "chicken pooh" using the trails going up the houses in the hills.
The water we saved up in the catchment's area is so cold that when it runs down your body, you truly felt all your goose pimples stood on ends.
(Memories, memories) After 30 years away, I came back to this part of Penang. There are no more step, no more small Taoist temple, no more rambutan trees. And what do I find... stay tuned.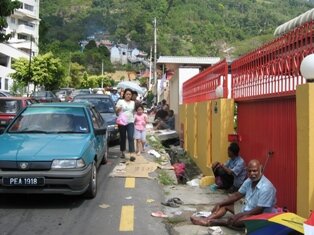 The site was crowded with both people as well as beggars. Everyone were just trying to find a parking space for their car and I am no different. Motorcycles, cars and walkers simply packed the whole stretch of road.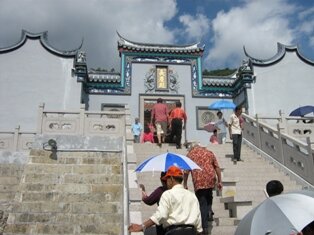 Today is an important day for the Chinese people in Penang. Usually, it is not hard to reach the vicinity of the temple. But today is exceptionally choc block.
I had to drive up to the small Penang Hill roundabout the near railway station, circle down to find a parking space. It took me a while as all roads were packed with devotees.
My walk up Thnee Kong Thua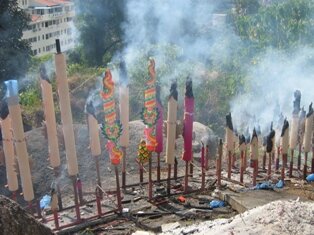 What is most surprising are the beggars. Beggars, beggars everywhere! Young babies being bought by their parents, sitting on the roadside with no trees for shades.
I really wonder where they come from. Young beggars, old beggars simply beyond words, all races. I just do not know what to say, as I walk up to the Temple.
The temple have gone through great renovations, with the road leading straight up to the Temple. If you come on other days, you can drive up to the temple.
I quite enjoyed my uphill walk. The only disturbance was seeing all the beggars. Puzzling, but I let it go as every year, this is the same old story.
Looking at the temple in front of me, I feel very encouraged to reach the Temple. You can actually feel, you are walking up to Heaven. I would have enjoyed the walk if not for the beggars.
Evidence of devotions
Many devotees carried these huge joss stick to the Thnee Kong Thua (Temple) for burning. The more prosperous the business man are, the longer or thicker joss stick they will
See more photos here. Also see how Hokkien perform their prayers. Further Reading from my friend, Tim.
Go to Top of Thnee Kong Thua Page
Back to Penang Places of Worship Page
Back to My Island Penang Home Page