Fish Tumis or Gulai Hu is cooked with tamarind to create a hot and sourish flavor. It leaves you a lovely sweet, sourish tangy flavour after having this dish. Sometimes, we served fish tumis with Nasi Lemak.
Whenever we cooked this dish, we have to cook with more gravy as we love to drink the gravy. Serious, we really love this gravy, the fresh herbs must the reason why we enjoy this dish so much.
We love the use of '4 friends of the herbs'. They are equally important contributions to prepare a lovely delicious fish Tumis. I guess the balance of this 4 fresh friends makes the dish very refreshing.
Tangy sourish Fish curry, part of Nyonya Food. A really lovely dish which can be achieved cooking in Penang Food. Grandma favorite dish is loved by many locals.
NEW: Inspired Cooking
Nyonya, Indian and Chinese or Vegetarian cooking class is available. Clean, hygiene, 1 student 1 work station cooking class in Penang. Read more here. See some dishes and photos.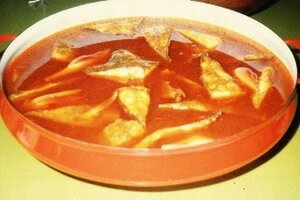 Ingredients
3 black pomfrets. Total weight about 3.5 to 4 kats.
Washed and cut to 5 slices.
2 -3 Laksa leave or polygonum (Chean Hong).
1 Torch ginger or Bunga Kantan (cook till soft and eat like antichoke).
2 ozs tamarind, add to 40 ozs water, sieve with fingers. Do not metal seive or cloth. You can adjust the gravy consistency to you own preference by adding more or less water.
1.5 tablespoon salt or to taste.
1 tablespoon sugar or to taste.
Spice Paste
2 ozs fresh chillies
1 oz dried chillies
1/2 oz fresh tumeric
2 ozs lemon grass
1/4 oz galangal or lengkuas
8 ozs shallots
6 garlic
1 oz belachan
1 tablespoon coriander powder
Method
Heat 8 ozs oil and fry rumpah, high heat.
When begin to stick to pan, lower to medium heat.
Add tamarind juices and simmer for 5 mins, adding fish and bunga kantan or chean hong.
Cook until fish is tender.
Add sugar, it matures the sourish taste.
Tips:
You may add Ladies finger, Tomatoes or Kiam Chye.
Kian Chye (Salted veg). Desalt before use. Soak in salt water for 15 mins.
Suitable with Ikan pari (stingray), cat fish (ikan geli). The colour of the curry upon is dependent upon the color of turmeric and chillies.
Back to My Island Penang Home Page