The Kuala Muda Whispering Fish Auction is situated 40 km away from Butterworth in another state called Kedah. One of the unique fishing activities carried out in Kota Kuala Muda in Kedah is the whispering fish auction.
This spectacular fish auction is a practice seen by only a few in the world. To the locals Malays, the market is called Pasar Bisik Bisik or Whispering Fish Market.
You have to be in this part of the world in Penang, Malaysia to hear about this unique Kuala Muda whispering fish auctionwhere buyers and sellers whispers to each other every morning till afternoon on a daily basis.
You will see or hear no shouting but whispering to the ears and the highest bidder gets the goods.Kuala Muda Whispering Fish Auction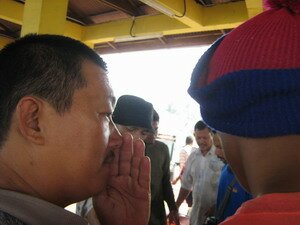 In case, you find this page too long to read then find the sub title here:
For avid photographers, you have to be fast to snap them as the Kuala Muda Whispering fish auction is done so fast and quick and before you know it, the fish is sold right under your nose!
We tried to whisper as we saw an assortment of fishes, crabs, prawns and even a belangkai (king crab is very costly in USA)!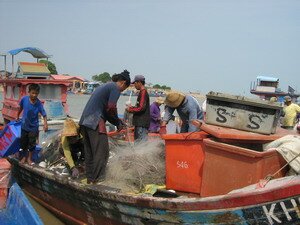 It is truly the busiest part of the morning in this quiet town of Kota Kuala Muda. The main live hood of Kota Kuala Muda is fishing.
Boats were busily zooming in and out to the beach with their catch and land on the beach front next to the Kuala Muda Whispering fish auction area. The fishing crew then pick the catch off the nets and sort them out by type, size and value.
Local villages wanting to earn their daily meals waited for the boats to transport the seafood products to the auction site.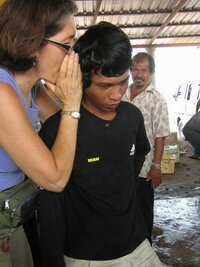 It was most amusing to note the auctioneers were very professional in their bid in Kuala Muda Whispering Fish Auction. They looked more like pirates of the Caribbean and not auctioneers.Kuala Muda Whispering Fish Auction
No nods of heads of approvals or disapprovals or arguments as he gently points to the highest bidder that has offered him. We tried, we did not get any bids after trying and looked miserably as the fishes were taken away from us.
No one knows what was offered and I wondered whether he played it fair and square. But then I must say they are all "orang lama" or old hands in this Kuala Muda Fish Whispering Auction and knows the types, cost and size to offer their bids.
By Car
From the North South Expressway, take Exit 170 at Sungai Petani Selatan. Look for signage to Kampong Kuala Sungai Muda.
To reach the mouth of Sungai Muda, ask for direction to Kampong Bagan Ulu. It is on the south bank of the river overlooking Tanjung Dawai on the northern bank.
By Public bus
Buses are not very regular but it is available. You can take the public bus from Sungai Petani bus terminal for Kota Kuala Muda or Pantai Merdeka.
Kuala Muda Whispering Fish Auction is a small fishing village located at the mouth of Sungai Muda. And not far from Kuala Muda is Kedah's favorite beach on the mainland, Pantai Merdeka.
Pantai Merdeka is busy during the holidays season for its white sandy beaches. Team building activities and seminars can be seen in Pantai Merdeka.
Week enders does island hopping to the neighboring island of Pulau Bidan, Pulau Telur and Pulau Songsong. Boats can be hired for this trips.
Pantai Merdeka Resort offers chalets, dormitory and camps for rentals. Chalets from RM50 to Rm130 is advertised on their flyers.
Or bunk in the dormitory for RM10 per person per night. I hear the dormitory can manage 120 people so share the toilet facilities and fans.
What about camping outside? Well not a bad choice as they have a special camp with fans, mattress and separate toilet facilities, all for RM30 per unit.
For the budget or back packers, not to worry, you have camp site for RM3. How about that? For enquiries call, , a charming young man named Nasri will answer all your enquiries.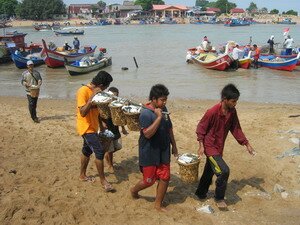 Look out for the fort in Kota Kuala Muda which was built in the 18th century. Kuala Muda was an important port in Kedah in the ancient time.
Some old villages said that Sultan Ahmad Tajuddin made Kuala Muda his residence to escape the Thais who was pressuring him. He lived in Kuala Muda when the Thais invaded Kedah back in 1821.
In later years, he lived in exile in Penang. The Thais had Kedah for over 20 years. Under the Thais rule, the port no longer function as an important port and that ended the glory days of Kuala Muda.
Kuala Muda were the few places in Malaysia that was badly hit by the December 2004 Tsunami.
According to the fishermen of Kuala Muda, they treated the sighting of leaping Dolphins near the shore as a bad omen to tsunami. Some apparently saw dolphins behaving in this manner before the Boxing Day disaster.
They were quite apprehensive as the dolphins seems to be edgy but the positive locals thought the dolphins were putting up a show for them and though nothing of it until Tsunami strike the next day.
The fisherman had earlier seen a pod of dolphins playing a mere 50-75 meters off the beach at Pulau Sayak - another fishing village 10 kilometers north of Kuala Muda.
Twelve people died in Kuala Muda during the Tsunami. Over 1000 fishermen live hood were affected, 113 houses were destroyed and 398 were damaged.
Thousands over vehicles were drowned and soaked beyond repair. And approximately 50 hectares of padi fields were damaged.
Total lost in cost, a little over 7 million in Malaysian ringgits. With that over 4000 people had to be evacuated to 8 temporary schools which was used as shelters.
Life was hard for the fisherman after Tsunami. No one wanted to eat the fishes caught. People would not eat the fish not only in Kuala Muda.
I think the whole of coastal area around Asia had their fair share of problems. The concern was that the fishes caught might had fed on the remains of humans tsunami victims! BIG TIME!!!.
The fish marketing stopped for nearly six months and even the whispering fish auction came to a standstill.
So I think the choice to visit Kota Kuala Muda can be quite an adventure, don't you think? Then watched the activities of the Kuala Muda fishing village in action at the whispering fish auction.
And if you want to take a quiet break away from home, the breezy resort by Pantai Merdeka is good for some weekend break away from the hectic working life.
Faith talked about her Kuala Muda Auction adventure
Go to Top of Kuala Muda Whispering Fish Auction Page
Back to My Island Penang Home Page