Good Hope Inn is one better priced budget hotel situated in the heart of the best town in Penang. Where you might want to ask me, Pulau Tikus near gurney Drive of course. I cannot recommend a better priced inn or hotel other than this quiet homely two storey Inn, really.
Sandwiched between two great giant hotels like Gurney and Evergreen Laurel, the Inn faces Kelawei Road that leads you to the main Pulau Tikus town and market place.
Who are the usual customers?
Well surprisingly, besides the working class executives, Malaysian businessman on business trips to Penang like to stay here. I heard from Sharon the Manager that cyclist too did not mind the price.
For travelers on a budget, The Inn provides deals much better then those travel inns or lodges in Chulia Street. This is far more private and secure place to stay near Gurney Drive.
Good Hope is great for customer wanting a clean place to sleep. For breakfast, the local dishes at the minimum cost of RM5.00 is not too bad. But my choice for eating won't be in the Inn, go and savor food in Jalan Burmah.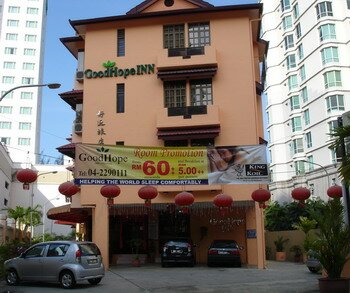 The entrance of Good Hope Inn along Kelawai Road Penang
Abundance of Penang Street Food
Practically everything you want to buy, you have it all nearby. This is a stone throw away from two beautiful Buddhist Temples. Walk to your left, Star buck is just round the corner.
And if you love walking around for food, there is an abundance here. Satisfy your gastronomical stomach with local food like Thai, Nyonya, Hawker, Street food, Malay, Mamak and Indian restaurant or hawker stalls.
Food as cheap as RM2.00 to cuisine or ala carte at an affordable price. Cut across Jones or Egdecumbe road to Jalan Burmah, this is where your fun starts. The morning market is a good find for your breakfast. In the evening, street hawker parked their carts and prepares food where you can watched them cooking away.
Especially popiah, lok lok or sup kambing is a local delight. Or the famous Gurney Hawker Centre at the end of Kelawei road is a must.
Going to famous Tanjung Bungah or Batu Ferringhi from Good Hope Inn, is just a bus ride away. From Jalan Burmah for approximately 20 minutes is all it takes to ride to the end of Teluk Bahang. You will find many attractions around Penang is within your convenience.
The bus pass through Jalan Burmah, a road running parallel to Jalan Kelawai. Refer the map below for traveling in Penang.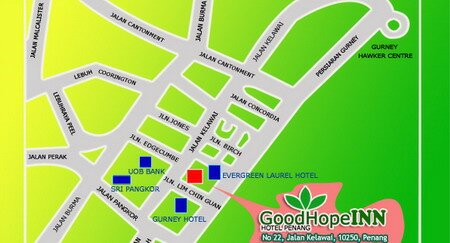 My only concern
If you drive, my only concern would be the narrow parking area. But it should not pose as a problem as Good Hope Inn accept the parking tickets if you parked your vehicle outside the Inn.
Other than that, I must say if you need a no frills package, just a place to stay and explore our island, Good Hope Inn is a good choice for its vicinity and security as the management takes pride in securing your pleasant stay.
Type of Room and pricing?
There are basically four types of room rates Good Hope Inn offers.
A Standard Room with a Single bed
A Superior Room with a Queen size Bed
A Superior Room with Twin Bedded
A VIP Suite with two double beds
The room rates varies depending on the days you booked. Room rates as low as RM80 on week days and RM 86 week ends. But if it is peak season, the same rooms goes for RM125.
But what impresses me is the VIP suite which is just RM 207 on the weekend. I find it a real bargain. Even the locals youngster felt when they need some time with their friends, they choose these Inn for the facilities it offers.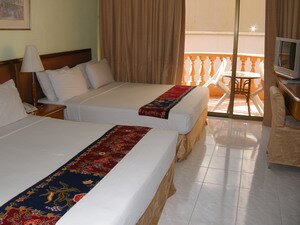 A VIP Suite at Good Hope Inn, Penang
The Inn facilities
The Inn has 56 rooms on its two storey buildings. It is clean and furnished with facilities likes individually controlled air-conditioning, attached bathroom, television with ASTRO channel, telephone with IDD access and private balcony.
There is an internet service room for your needs. CCTV to ensure the guest security and privacy. More photos of the Inn is in this page. Thought you might like to see more of them before you book the place.
So if you like a quiet Inn for your business or leisure stay, let us know. It is a great place for family vacations or a quiet spot to be with friends or your loved ones. Great choices of Penang Hotels here.
Let me be your travel agent if you are going home or visiting other destinations. Hotel combined, an affiliation I trust has most of the hotels anywhere in the world which are affordable, even the pricey ones. Have fun in Penang and have a safe journey when you leave Penang.
Go to Top of Good Hope Inn Page
Find more hotels in Batu Ferringhi here
Find more hotels in Tanjung Bungah here
Back to Balinese Homestay Page
Back to Chalet Sportfishing Page
Back to Penang Free Shuttle Page
Back to Penang Bus Schedules Page
Back to My Island Penang Home Page