This Nyonya Flavours is part of Penang delightful people's choice of food. The mouth watering delicious Nyonya food is hard to beat, it won't melt your wallet nor burst your waistline. Nyonyas believed in home cooked food, so if someone invites you to their house for a meal, please say yes.
They will be extremely pleased to share their meal with you as they love to show off their wife's or mum's cooking. The careful blending of spices and roots like galangal, turmeric and ginger for curries are guarded secrets of the family.
Thus, Nyonya Flavours recipes are only handed down from generation to generation. Nyonyas have their own style of specially prepared recipes dishes with the cross cultures of China and 19th century Malaya.
Penang Nyonyas
In the old days, Penang Nyonyas spent a good part of their life in the kitchen. Preparation of wet herbs or roots to be dried or grind to be used during festivals takes up most of their time of the day. Most of Nyonya's cooking utensils are earthen pots, charcoal, firewood, batu geling (stone moltar to grind fresh herbs and spices).
NEW: Clean, hygiene, 1 student 1 work station cooking class in Penang. Nyonya, Indian and Chinese or Vegetarian cooking class is available. Read more here. See some dishes and photos.
The five spice powder is being the most closely guarded recipe in the old days. Variations of these dishes leads to the authentic dishes like Lor Bak, Hong Ark, Siew Bak and Acar Awak to name a few.
Ulam and Kerabus (Nyonya Salads)
Ulam and kerabu are beautiful and healthy dishes in Nyonya Flavours. Using lime leaf and chiam hong together with buah keras (candlenuts) shallots, belachan and chillies makes the Nyonya cooking as diverse as the settlement itself.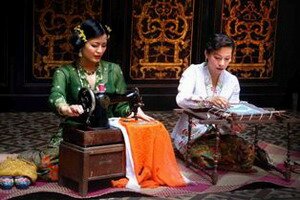 Specially prepared salty, sweet and sour sauces makes the kerabus and ulams so delicious. One particular Kerabu I have eaten is Kerabu Pineapple prepared by my late father. During his time, there was no precise measurement. When I asked him, he would replied with fingers movements, "follow how I put exactly".
This makes me laugh when I think back those days. But honestly, the Kerabu sauces he prepared was superb. Limes, lemons, assam jawa, assam koe, belimbing, green mangoes or green papayas are used to add a tangy taste to some dishes. One dish specially stood out is our Assam Laksa, it is an unforgettable experience when you try it.
See more photos of our Hawker food collection. Some of the Nyonya Flavours dishes are a novelty now. Only can only be found in houses with people who cooked with their hearts. These are now treasured, mouth watering home cooked recipes.
Traditional Nyonya Food
For prayers the Nyonya Food soupy dishes are : Kiam Chai Ark (Duck with Salted Vegetable), Too Thor Th'ng (Pig Trotter Soup), Tumis Gulai Hu (Fish Curry), Sambal Udang (Sambal Prawn),Pineapple Curry Patchree, Hong Bak (Pork Stew) and many more.
The dry dishes for Nyonya Flavours are: Jiew HuChar (Fried Dried Squid with Vegetable), Lor Bak ( Spice Pork Roll), Kerabu Beehoon, Hu Chee Char (Fried Shark Fin , Pnee Hu Char, Bar Char Rumpah (Fried Spicy Pork), etc. Batu Geling rempah using the anak dan ibu (pestle and mortar) and the coconut grater.
Nyonya Cooking at home
Learning how to use the Batu Geling (curry stone)to grind the fresh roots of turmeric, galangal, serai, chillies is a feat, one can boast. The worst is the chillies, my hands burned for hours, so my cousin (Irene Chew) used to rub salt all over my hands to take off the heat.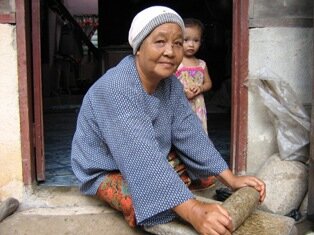 The best is grating the younger coconut to make Sagun (toasted parut coconut with sugar and teel seed. We eat till we had sore throat. We made our own "kacang putih cone" with our exercise book paper and pour the sagun in it and then pour into mouth, sometimes landing all over the face.
So much fun and laughter when silly things happen. But now, as I reflect on my young days trainings, trial and errors in cooking and life, I feel so proud of my heritage and upbringing.
Nyonya Everlasting Food
For dessert, fruits are seldom served and are instead replaced by cakes. Penang Food Nyonya Flavours cakes are rich and varied, made from ingredients like sweet potato, glutinous rice, palm sugar, and coconut milk. I love this ever lasting porridge or sweet dessert, which we have after a big meal or for tea.
Nyonya Flavours Kuih traditional dessert are yummy, simply a must eat for every occasion whether it is for weddings, births, birthdays or tea time. For dessert: try our Kuih Bengkar, Sri Muka, Pulut Tatai, Abok Abok, Sago Moey and kaya are some of our Nyonya dessert.
Penang Kuih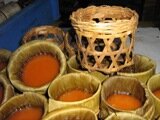 Not forgetting too our very very traditional kuih. I hope it will not diminish from Penang as the traditional method of doing it, is really too laborious and back breaking of us. Well folks, hopefully some youngster will follow the mums or aunts footstep. I hope to get good traditional Nyonya Flavours Kuih when I am in my 70's.
My cooking guest says this our Nyonya food, It is a triumph. A total winner. An explosion of colors, flavors, and textures, and guess what? It instantly snapped me out of the funk I may sometimes be in.
Some interesting great guide and information for Women Health, get the links here.Maybe more web sites on food, recipes and drinks from other countries, they can be great food talks for you.
Nyonya Restaurant
Please do call to check time and date they open for business.
Perut Rumah, 17, Jalan Kelawei,
Mama's, 31-D, Abu Siti Lane, Tel:
Nyonya Breeze, 50, Lorong Abu Siti Tel:
Go to Top of Nyonya Flavours Page
Back to My Island Penang Home Page