Penang Dhammikarama Temple, is the temple I will never forget. I grew up visiting this temple with my aunts and uncles. Till today, it is still a practice as it is now our turn to care for our ancestors.
This temple offers services on certain festivities. You would hold onto the memory of this Penang Dhammikarama Temple like me. As I think back memories of good or sad times I had.
I did as the memories I have since coming here from at little as six years old. I learned the pali hymns. To chant correctly, it must sound like ocean soaring in the waves or chant from your stomach out.
This was lovingly taught by senior devotees who devote the time teaching us our Buddhist beliefs and values.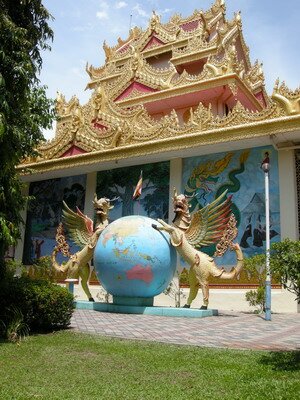 TRANQUILITY is an apt word to describe the historical Penang Dhammikarama Temple in Burma Lane, Penang. We just love the calm ambience and the serenity when we enter the temple. It is fabulous, they said.
I grew up visiting Penang Dhammikarama Temple. For half a century now, my uncles and aunts, blessed their souls are active devotees of this temple. So it was no surprise that we tagged along whenever there was an occasion to pray.
I looked at their names fondly on the names engraved on the walls and remembered all my childhood days. They never failed to tell the stories of how Buddha received his Enlightenment.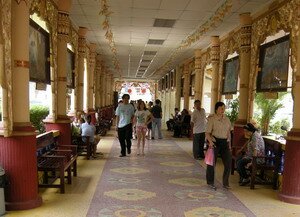 So today, as Joyce and Joseph walked down the aisle with me, looking at all the murals of the Prince, I shared the stories of Buddha Shakyamuni or Prince Siddhartha and his princely beginning.
There are many versions to Buddha tales but this one is forever in my mind as told by my father. He was born in 624 BC in Nepal. I was reminded of Buddha concentration power to received Enlightenment?
I concluded my stories, I pointed out why elephants, lotus flower, saffon robes, the alms bowl were considered sacred to Buddhist.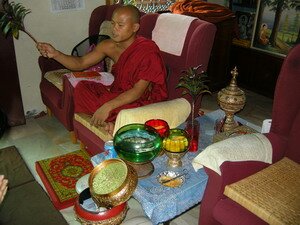 As we walked the passage way, it became meaningful to Joyce to see all the painted illustrated drawings. Beautifully and loving drawn and carved by the Burmese artists, the life and renunciation of Prince Siddharta. We then walked to the main prayer hall.
Although, there are many visitors daily, both foreign and local, the place is quiet and serene. Here one can feel the holy ambiance of the shrine. There is no words to describe how I feel when I am in Penang Dhammikarama Temple in My Island Penang.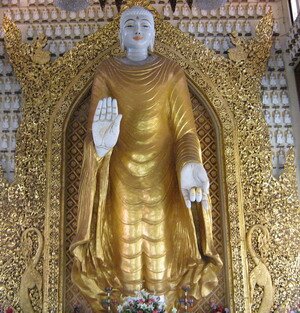 We went in to pray then bow humbly for the monk's blessing. He tied a yellow string around your wrist after the prayers. Just bow and pray and concentrate your thoughts and pray to have your prayers answered.
The monks have their lunch break between 11 am to 2 pm. Daily Opening hours is from 5.00am to 6.00pm.
On the main hall to your left, you will find the dining hall where the monks are offered their daily lunch. "Dana" offering can be done for a few occasions like birthdays, death anniversary, or just daily food offerings to the monks.
As prayers are recited, Reverend will deliver teachings before the food is offered to the monks. All devotees will lift the table of food and offered it to the monk.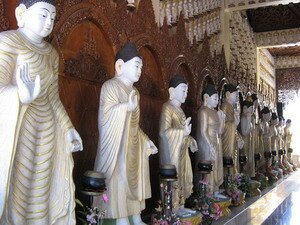 For Buddhist, the belief is that when you offer food "Dana" to the monks, your ancestor will be saved.
Dhammikarama temple is 204 years old, (Year 2007) it is the first Burmese temple built in Penang. The early Burmese settlers designed and built the temple way back in 1803.
According to the temple's record, the land was purchased by a Burmese, Nonya Betong.
She purchased it for 390 Spanish dollars with official permission by LT Governor Prince of Wales Island from a British named George Layton. She then donated the land for the construction of Penang Dhammikarama temple.
Sasana Vamsa Sima Shrine Hall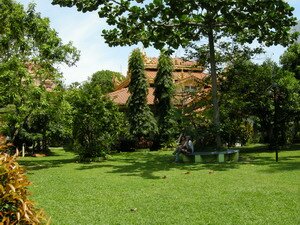 Two huge chi lings(lion looking statues) stood at the entrance of the main hall. As you enter the main hall, standing in the centre of the hall is a huge statue of Buddha.
"The head and feet of which were made of carved marble stones The SIMA Hall is the most sacred place in a Buddhist temple, therefore we wanted to make it unique", say Uncle Yeap, a senior member in the temple committee.
Behind the main Buddha image, you will see two rolls of marble Buddha statues in absolute fine details. Each of these Buddha statues are replicas of various localized Buddha image form of many countries, the earliest shown form can traced back to 3rd century.
Take a stroll along the garden; you'll come to a colorful wall mural illustrating the Great Renunciation of Prince Siddhartha.
In front of the mural, there are nine rotating coin bowls. The bowls represent 9 types of blessings, example, happiness, good health, bon voyage, good luck and prosperity.
Focus and throw some coins into the bowl, you will receive a blessing if the coins get in.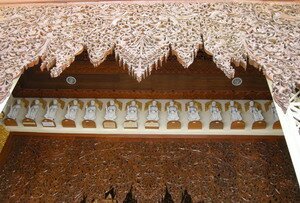 I pointed out to Joyce the Sunday school classroom, we used to attend. My niece goes there every Sunday to be taught how to chant prayers in Pali.
Due to its long history, this temple was designated as one of the fifteen Penang State Heritage Sites to be preserved as tourist attraction for Penang back in the Visit Penang Year, 1988.
With the Penang State Government identification as heritage site's funding as well as continual donation from public, the Penang Dhammikarama Temple is able to upgrade its many facilities.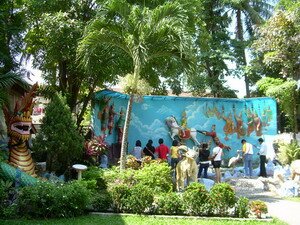 The activities carried out by the temple are:
Water Festival
Wesak Day celebration
Pali chanting classes
Observation of Buddhist lent
Festival of light (Soon Dawgi)
Kathina, Ordination of monks
Nuns and novices
Arahant Upagutta festivals
Dhamma Discourses
Meditation classes
Sunday schools
Offering of food to poor
Candle lighting etc.
Go to Top of Penang Dhammikarama Temple Page
Back to Places of Worship Page
Back to My Island Penang Home Page