The Pinang Buses, Penang transport system can said to be efficient. Why, because the driver ensures the passengers safety and that is important to me.
Getting around independently by buses, taxi or car can be exciting and an invigorating experience. Have a Pinang Map with you at all times.
Trishaws rides is one inexpensive way of seeing our island. As for taking Pinang buses for your transport, I would say it is pretty cool and fun way to catch the sights. Bus terminals can be found in different parts of the island.
The Pinang buses are pretty regular. Two common starting points to take your Pinang buses are at Weld Quay, the area where you get down from the ferry. The other is in the middle of town, Komtar.
At Weld Quay, there are two types of Pinang buses services, one which is free and the other is a paying service. The free shuttle bus service takes you along the main hub of Georgetown.

And once you reached certain parts of the island, there have smaller terminals. You might have to ask the locals around that area for the Pinang buses schedules as they canbe quite irregular, I must admit.
Nevertheless, if your choice is taking the Pinang buses, it means you want to enjoy the country side and want to meet or see some quirky character.
Mainly two common starting points are at Weld Quay, when you alight from the ferry. Walk to your right, there is a free shuttle service bus stop.
You will not miss this bus stop as there is a red sign that tells you, it is a free shuttle bus stop. The number on the bus also tells you which roads it will drive through.
Before using the bus, get the proper change. Most Pinang buses used coin machines to collect fares.
The paid mini bus and public buses services will drive through Weld Quay, goes along Georgetown and many parts of the island. The map of Penang will help you with some directions.
The Komtar bus terminal, has private mini Pinang buses. The local areas where the Pinang buses are plying can be seen on top of the boards.

Transit Link (Lane 1)

Bus Number 2-1
Starts from Komtar, main road like Jalan Dato Kramat. And all the way to Air Itam terminal.
Places of interest:
Kek Lok Si Temple, Air Itam Dam.
REAL Penang Chinatown. Foods and fruits are cheap and nice. Wander into the food courts. Ice Kacang, Laksa, See Koe Th'ng, coconut water.
Take Bus No 8 bus to Penang Hill. If not, stop halfway before the Air Itam roundabout and walk up to the Penang Hill train station.
Before reaching Penang Hill, on your bus right, you will see an arch guiding you to Jade Emperor Temple and Tua Pek Kong Bat's Temple.
And time is not a problem, come one early morning for breakfast. Walk up to Paya Terubong bridge.
Turn right after the bridge and have a bowl of one of the island's best curry mee. It has the same flavour and taste as when I had it when I was 6 years old. You get to see people sitting on stools bending over a bowl of curry mee.
Air Itam wet morning market is a must see. Along the road to Kek Lok Si, shops selling all things from nutmeg can be purchased.
Preserved nutmeg or its oil is a MUST BUY. This is the only place in Penang you can find good nutmeg stuff. A delightful and fascinating experience!
Bus Number 2-3
Starts from Komtar, main road like Jalan Dato Kramat. Goes in Farlim township. Take a round drive passing the back of Kampong Melayu, Paya Terubong and ends at Air Itam Bus Terminal.
Places of interest:
Indian Temples at Jalan Dato Kramat
Sivan Temple
Kamachi Temple
Buddhist Temple
Mahindhrama Temple
The late P. Ramlee Birth House (a famous veteran actor, well loved by all Malaysians).
The State Mosque
Han Chiang
Chung Ling Private and High School
Transit Link (Lane 2)

Bus Number 2-2
Starts from Komtar, main road Jalan Dato Kramat. Goes into Jalan Padang Tembak(Rifle Range Road east side of Air Itam) and round inside of Kampong Melayu township.
Round drive passing the back of Kampong Melayu and ends at Air Itam Bus Terminal. Look at the Penang Map for this location.
Places of interest:
Before turning in Kampong Melayu, an Indian Temple. If you come around April, this temple celebrates an annual festival. Devotees performed fire walking ceremony.
Bus Number 2-6
Starts from Komtar, main road of Jalan Dato Kramat. Goes into Jalan Padang Tembak (Rifle Range Road east side of Air Itam) and ends at Air Itam Bus Terminal.
If you come in the morning, go into Rifle Range market, you find the cheapest stuff, clothes and all necessities.
Transit Link (Lane 3)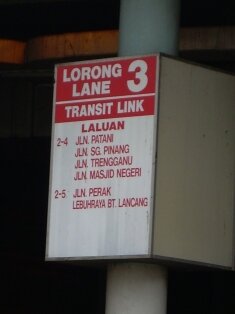 Bus Number 2-4
Starts at Komtar, goes through Jalan Patani, Jalan Sungai Pinang, goes through Perak Road township, Jalan Trengganu. Rounds up at Jalan Masjid Negeri and make a turn back to Komtar.
Places of interest:
The late P Ramlee Birth House.
The night pasar malam sells all kind of Chinese and many kinds of good food.
Bus Number 2-5
Starts at Komtar, goes through Dato Kramat, Jalan Perak round up part of Perak Road and Green Lane township, turn in Batu Lanchang.
Back to Komtar passing Lam Wah Ee Hospital, Wat Pingban Onn, a big meditation centre in the temple.
Dato Kramat, turn in Jalan Patani, circles through Jelutong township.
There is a night wet market serving the community.
KGN Hin Lane 4

Bus Number 2-5
From Komtar, beginning of Burma Road, middle of Penang Road into Pulau Tikus township, straight up to Bagan Jermal, Tanjung Tanjung and all the way up to Teluk Bahang passing Batu Ferringhi.
Places of Interest:
Sleeping Buddha and Burmese temple (STanding Buddha)
Pulau Tikus Wet Market
In the morning, the wet market has good Chinese food with good coffee or kopi kau in the stall opposite Char Koay Kak in the food court.
Most food stall for lunch and dinner in Pulau Tikus are a haven for most people. You can find many shops with good food in Pulau Tikus.
The wet market is called the mistress market, as in the old days, the mistress of rich man will have their Ahmad (Chauffeur) waiting for them while they do their marketing.
Lots of good Nyonya kuih and dish can be found all over Pulau Tikus. The freshest produce and a little costly place to buy stuff, but it is worth it.
Shopping Complex One Stop
Adventist Hospital
Beach Hotels at Tanjung Bungah like Sandy Bay Paradis
Copthone
Toy Museum
Hotels at Batu Ferringhi
(Park Royal, Rasa Sayang,Ferringhi Beach, City Bayview, Holiday Inn)
Seafood Restaurant like Eden Seafood, The ship can be found in Batu Ferringhi
Lane 5

KGN Hin Bus Number 1-2
Jalan Macalister, Jalan Utama (Western Road) , goes into Gottieb Road, Mount Erskine then rounds Pepper Estate and U -Turn back to Komtar. The Penang Map will show you these locations.
Places of interest
:
General Hospital
Governor Resident
Island Hospital
Penang Sport Club
Botanical Gardens
Chettiar Temple
Waterfall Hill Temple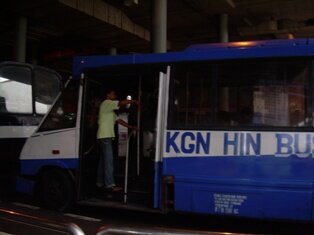 KGN HIN Bus Number 1 -3
This bus passes through Jalan Sultan Ahmad Shah, Jalan Burma, Jalan Kelawai and goes through Tanjung Tokong and only to the beginning of Tanjung Bungah and turns back. Roads Jalan Kelawai and Pulau Tikus (Burmah road) runs parallel.
Shopping complexes, Gurney Plaza and Parkson are along the route. Coastal Hotels like Evergreen Laurel, Northam and Gurney are situated along your right side of bus. Left side view are the two Buddhist Temples.
Go to Top of Pinang Buses, A Great way to travel in Penang
Back to Penang Free Shuttle Page
Back to Traveling to Penang Page
Back to Penang Bus Schedules Page
Back to My Island Penang Home Page