Penang Modern Home recently designed for Ann and her son Adrian is one of the latest of Teik Ong's showcase in Tanjung Bungah.
Chandra and I was invited to Ann's modern home last week and most definitely the first impression we got was "What a home to come back to".Penang Modern Home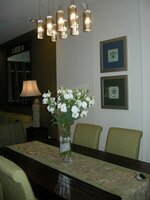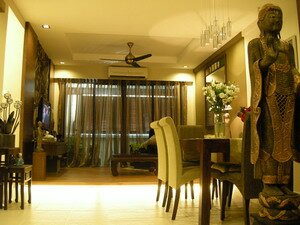 This beautifully style home has a combination of relaxing colors for the eyes and the soul. Ann's loves for green, brown together with Adrian fanciful youngster "all things black" makes their homes stress free, bold but enchanting.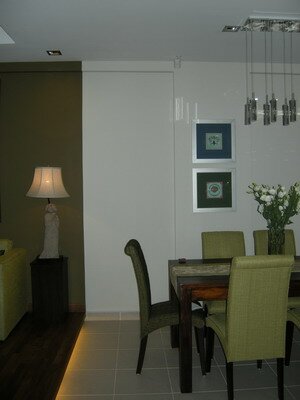 My eyes captured the whole interior of wall materials, like stone, brick, and wood, all combined on the same surface. Exposed wood beams, an abundance of glass had me mesmerized by Teik Ong contemporary modern home.Penang Modern Home
Split levels with lighting warms the sitting room striking a brilliant idea to this new home. It adds depth between the hall and a little garden in Ann's home.
Notably, modern interior decorating with Teik Ong's clean and contemporary look and feel. Low lying furniture in neutral colored fabrics are key with this look.
Texture is used often when decorating the modern room. Different textures can keep your space from looking dull and lifeless.Penang Modern Home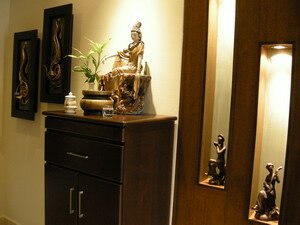 What fascinate me is Ann choice of beds. Yeah, a four poster bed, indeed a luxury we should indulge in.Penang Modern Home
She furthers pampers herself with beautifully lined soft flowing curtain surrounding her beds. If that is not all, a tassel like curtain continues to accentuate leading to the bathroom.
Not only showers for your usage but also evolved with different functionality and you see how Ann fits her bathroom.With Teik Ong's advise Ann is made aware of their functionality, making wrong choice will make all the decoration useless, he says.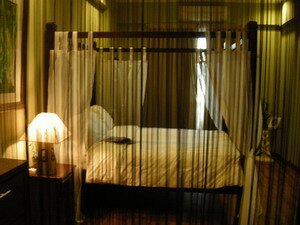 I was there when Ann chooses the curtains for her modern home. Curtains can to match with the floorings, walls and poster beds for the two bedrooms.
Every details was carefully discuss to my amazement at such patience, too. The color that they choose would necessarily involve would be slightly muted. Furthermore, this color is quite fashionable in this decade, advised the curtain maker.
In case you want to add color to the space, cushions and rugs make make nice floor decor additions.Penang Modern Home
To add a bit of freshness to the room, accentuate the muted sophistication of the theme with a couple of bright flowers and perhaps a well chosen painting with a color selection that matches the home decor accessories.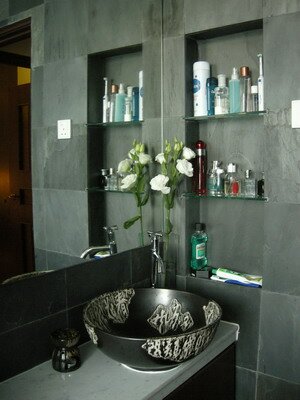 There are few things in life that are more satisfying than being able to sit back and enjoy what you have created.
Of course, your own approach is likely to be determined by a number of factors. These will include the amount of money that you have available to spend on the project and how much time you are able to dedicate to it.
It always help to have some tasks that don't require too much work but which will have a big impact.Penang Modern Home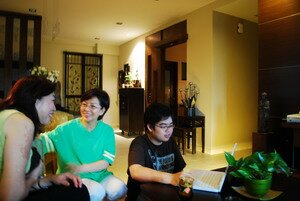 By doing these early in the overallproject, you can make a big impression and give yourself more confidence in your ability to bring about the transformation that you require.
If you're lacking in inspiration then don't be afraid to get in touch with Teik Ong. Get to know Teik Ong here. Ann considers this carefully with Teik Ong advise. One can see the special relationship between the designer and the client here.
As Ann shares her dream home with Teik Ong, our designer goes shopping for idea and inspirations.
Be it contractors or accessories, Teik Ong never fail to discuss with his client first. You can be assured of your dreams materializing with the special home decorator.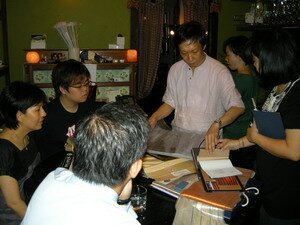 As what Teik Ong shares, there is no homes that is too small or big. Your happiness is my joy. See how Ann beams! Ohh another home that caught my eye is Doreen's house.
Doreen Nyonya apartment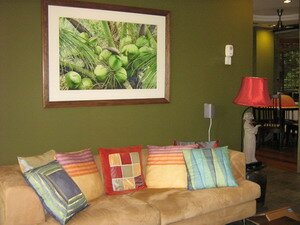 Doreen being from Malacca or Melaka, will never forget her roots being a Nyonya. Her home is center with many contemporary Nyonya theme.
After a good discussion with Teik Ong, he went for a shopping spree, looking for stuff to fit into Doreen new home.
Doreen has since settled in Penang for a good 20 years but when getting accommodation in Penang where she had worked most of her life, Teik is her answer to build her dream home.
I specially loved the brown and greenish color scheme. Rich wooden furniture in all rooms and furniture's. Teik further accentuates the apartment with keepsakes from her Nyonya heritage. Some were beautifully frame and hung, what a brilliant idea!
I wonder how he managed to frame a Nyonya bowl, porcelain spoon and kum cheng (a Nyonya steam bowl) in a frame. But I guess you can leave it to the design expert.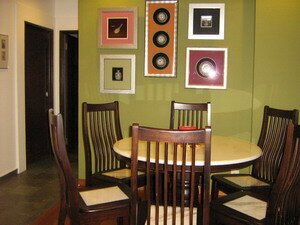 Old childhood black and white photos became a centre of attention when we were in Doreen house. I see Doreen with her siblings playing on swings and jumping up and down in the hop scot game.
Some photos in crew cut and coconut shell hair cut style in the 60's. What a memory! All I can say is leave it to Teik Ong to think of all these nitty gritty ideas.
And he sure does it with STYLE. Simple mementoes but he sure knows how to bring the best of of any theme.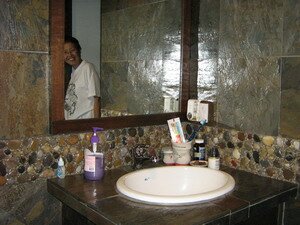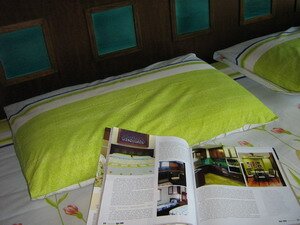 Every picture has a story... Whether you're thinking about renovating, emodeling, decorating a new house or redecorating your existing home, perhaps with new furniture, different window treatments or maybe just a color change.You've come to the right place!
Teik Ong is devoted to inspirational home ideas. I know who will be happier after this. This Nyonya home was featured in a magazine Impiana some time back.
If you're lacking in inspiration then don't be afraid to get in touch with Teik Ong. Get to know Teik Ong here.
Go to the the Top of Penang Modern Home here
Back to My Island Penang Home Page