Ernest street art or Ernest Zacharevic's quirky, wall murals are George Town's latest 'must-sees'. At any time of the day there's a crowd huddled by the Armenian Street junction.
The young, the old, cameras in hand waiting patiently to take their photos with two painted kids on an old bicycle.
Visitors have swarmed from all over the country to capture Zacharevic's wall art on film. They want to see his art and they also want to be a part of it.
Can you find the eight murals?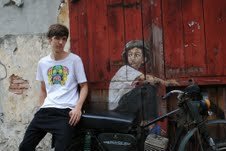 The Lithuanian's series of eight murals are scattered throughout George Town, some like the trishawman are huge and easily spotted, others are smaller and more tucked away.
The hunt for the murals is just part of the fun, and the Facebook response has been spectacular.
"I've spent the day in George Town looking for all the paintings, it's been fun!" giggled a young girl who declined to be named.
She and her friends had driven up from Ipoh for the weekend armed with heavy SLRs, hundreds of photos ready to be uploaded.
The accessibility of Zacharevic's wall art, celebrating everyday people doing everyday things brings an instant smile to the faces of those passing by.
You don't need to appreciate art to get what you see and there are no hidden metaphors to decipher.
In this cynical age of digital trickery, the appeal of Ernest street art lies in its simple purity – a mix of the artist, paint and plenty of soul.
Walls alive!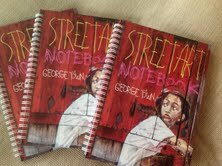 Pulling off your own giant wall murals isn't as easy as it seems unless you have access to a large building, a crane, gallons of paint (and of course permission from the relevant authorities).
There is a simpler solution with Ernest Zacharevic's Streetart Notebook George Town, featuring his own wall art as well as photographs of George Town's textured walls.
"The idea for the notebook was a bit of fun. Not everyone can go out and paint on walls, but they can create their own wall art in this notebook," explained Zacharevic.
To coincide with the launch of the notebook, Zacharevic is giving away a signed limited edition print, signed books and postcards for the most unique entries to the Walls Alive! Challenge.
"It can be anything, draw, paint, create montages in the notebooks. Hopefully in the future we'll be able to put together an exhibition of the craziest entries!" he explained.
Ernest throws a challenge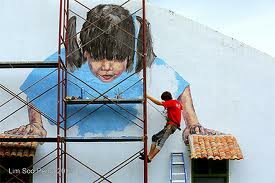 The Walls Alive! Challenge is open until the 30 September 2012. Upload photos at https://www.facebook.com/Ernestzachas.
Streetart Notebook George Town is available for sale at:
Pik Nik, 15 Nagore Road, Penang.
Tropical Spice Garden, Teluk Bahang, Penang.
Online at: www.clarity8.com.
Go to Top of Ernest Street Art Page.