Penang Dessert is part of Penang Food. Nyonya desserts are all time favorites for tea. The most popular is Traditional Malaysian Food is our curry puff, a hot and spicy tasty Malaysian heritage culinary unforgettable dessert. But in this article, I shared all about sweet porridge.
Some desserts are quick and easy to make porridge or pudding. But some say dessert is a little more dowdy especially if it is porridge pudding like but still we love our sweet dessert Malay or Baba Nyonya recipes dishes.
This pudding or porridge is perfect for entertaining. Food lovers ends the meal with dessert as the simple Chinese sayings goes. Most meals starts happily and so it must end sweetly and melodious too sometimes with a song. Some Penang Dessert listed in this page are: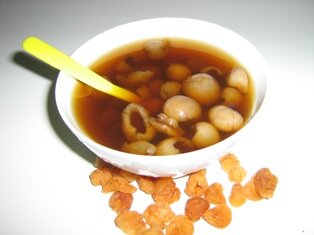 Dried Longan is a seedless longan. After it is sundried, it turn hard and brownish. To extract the goodness of the dried longan, boil in water till it soften and add sugar for taste. When cook in rock sugar, it can be preserved longer and it keeps well in the refrigerator. Also the sweetness from rock sugar produces a distinct clear sweetness.
When added with ginger and plumped raisin, one can drink it to get rid of wind (angin) in our body. For a new mother, we will prepare dried longan, pitted red dates and Tong Kui called Ang Cho Teh (Longan and Red Dates Tea). Throughout the confinement month, to substitute for drinking water, this pleasant Penang Dessert drink helps her in maintaining general well being.
It is said to increase the flow of milk in a breast feeding mother. Tong Kui, known as poor man's ginseng plays a role in enhancing blood circulation. This dried longan soup or tea is also base for another sweet Penang Dessert called See Koe Th'ng.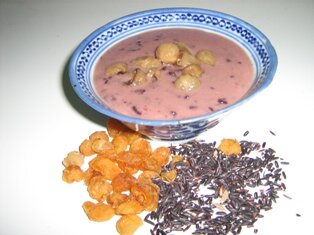 Bee Koe Moy, black sticky rice porridge or Bubur Pulut Hitam are local names. It is a slightly sweet explicitly served with coconut milk or santan. In other words, yummy! The Nyonyas would add boiled longan for this recipe dish. My Indians and Malay friends love theirs with scoops of white glutinous rice.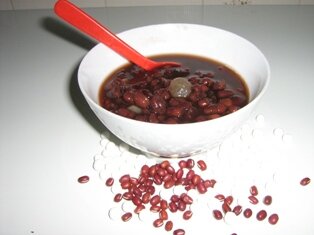 The Red Bean Penang Dessert, originally is a poor man's dessert. I remembered our camping days, Red Bean Porridge keeps us warm and such fun we had when we were young. At a few cents a kilos, a group of 20 youngster would warm up for the night.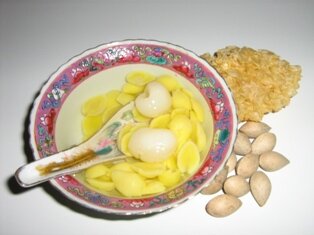 Peh Koay Teh is quite a supreme dessert. I love mine with Lychee. It is believed that gingko nut improves memory. Less well known is that, in traditional Chinese medicine, gingko is believed to have a cooling and healing effect on the lungs.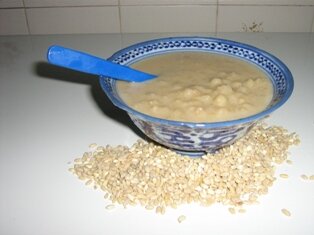 Sweet Wheat Porridge makes me think of Goldilocks and the Three Bears, Peas Porridge and other children's stories. But there's a lot more to it than what was dished out in those nursery rhymes. It makes a delicious and nourishing breakfast, a comforting snack on a high tea dish, or even a dessert at the end of a light meal.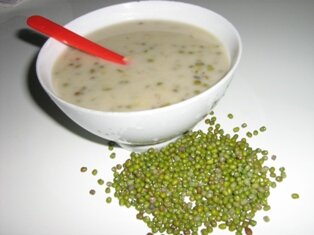 This Green Bean porridge is the dessert love by many Indians and Malays. Adding dollops of white glutinous rice fills up their stomach during tea time. The strange thing I now recall is this dish must add coconut cream or santan or else it cannot be eaten at all.
So as you can see, add coconut cream or santan, sugar and any bean becomes a great dessert.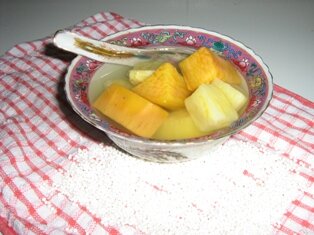 The Sweet Potato are cut into cubes. When well cooked, it is creamy and soft. Especially Sweet potato soup, the first soup was taught to us when we were learning to cook. Sweet Potato soups is a delicious introduction to the art of Penang Dessert soup making. As soup is water and we all know how essential water is to our health, soup making is very easy.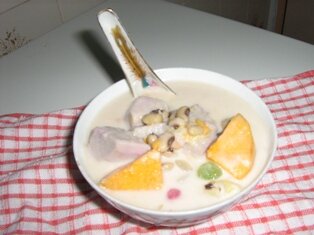 A 3 colors sweet potatoes Penang dessert based on coconut milk, yam and bananas is called Bubur Cha Cha. A lot of people think Pengat and Bubur cha cha are the same. They are not. In Bubur Cha Cha recipe dish, you can note that there is no black eyes peas and Tapioca Flour Jelly.
Usually for Nyonya Pengat is only served during Chap Goh Mei, whereas Bubur Cha Cha is eaten any time of the year.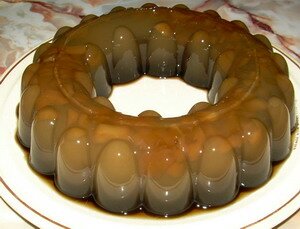 A must have dessert at any time. An easy enough recipe dish which can be hooked up within minutes. Somehow, agar agar or chai yean is a cheap dessert we grew up with and mind you me, it is to me still loved by many of us.
You can see our local santan agar agar in my Penang Food page as it is important for guest to have a sweet recipe dish at the end of their meal .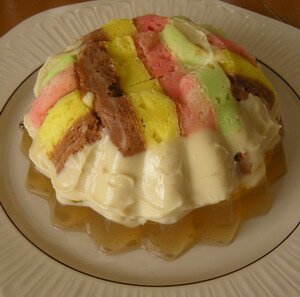 Then I top this dessert with a delicious combination of chocolate cream and fresh fruits for toppings. When fruits are added in the gelatin mixture, then you stand it with the colorful fruits up. YES! YES YES!
It is a yummy sweet dessert is a wonderful after dinner sweet concoction best eaten after a party or get together. Don't blame me when your guest won't leave! My own personal version of trifle is always a hit with my kids and guests. I made my trifle layered with cakes, agar and gelatin, a mixture of agar and konyaku, fruits and custards.
Read the labels of the gelatin as some is made from animals bone marrow. These agar agar or konyaku uses gelatin from seaweed. I had many successes making these jellies for vegetarians too.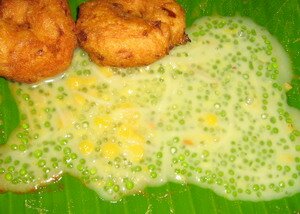 Payasam is a must have for the Indians. Payasam is served with Vadai or Papadums generally at any happy function. Sweet Indian porrdige is a mixture of milk, a dash of tumeric, little ghee, cashew nuts and sago. Sometimes Indian noodles, dhall, raisins makes it richer.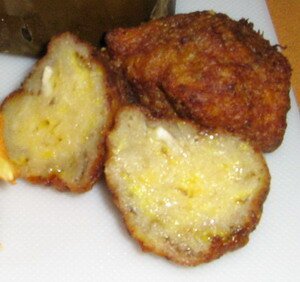 Not all dessert are porridge or soupy. Kuih Kodok or Cuk Kodok is one delicacy we kids cannot forget. Reason being we grew up eating this kuih or dessert. A mixture of ripe bananas, chempedak with young grated coconut and sugar make up a far more supreme Cuk Kodok.
Check out the recipe here. These Penang desserts can be considered traditional Malaysian Food, where not only herbs and spices are linked to us. There will be lots of desserts coming up each time I have time to read the recipes. For now, enjoy with my blessings and share it with your friends. See more photos of our Hawker food collection.
Where to eat desserts in Penang?
Padang Brown Food Court
Pulau Tikus market
New World Park
Swatow Lane
Food court in the mainland Prai to Megamall called Pacific
Go to the top of Penang Dessert Page
Not enough of food, back to Nyonya Food Page
Need hot and spicy Indian curries?
Home cooked but away from home food, try then if you are never invited to our houses or too shy to accept invitations.
Still have more space in your stomach, eat my cookies
Back to My Island Penang Home Page