The Eurasian Flavour, a Penang Food style of cooking is slowly dying off. Just like the nyonya food which needs to be preserved, Eurasian food is a blend of Dutch and British influence.
The Eurasian friends I know are of Portuguese or Dutch descent. With surnames like Rozells, De Win and Boudville, they maybe the smallest group of Eurasians left in Malaysia Penang.
Some of the Eurasian flavourrecipes uses herbs and spices lightly. When you blend herbs and spices in the cooking, the fusions created by the spices lights up Lina's cooking.
For all we know, the Rozells may be the last remaining descendants of Captain Francis Light who founded Penang back in 1786.
Living around Georgetown Penang in the early years and moving to Pulau Tikus, the Eurasian community has a special place called Kampong Serani.
In the 90's, they had to vacate again to Tanjung Bungah to make way forcondominiums. And some are descendants of the VOC or Dutch East India Company pioneers, who was in Malacca in 1641. So as I met Lina and we chatted, we got quite emotional and sentimental.
The good old days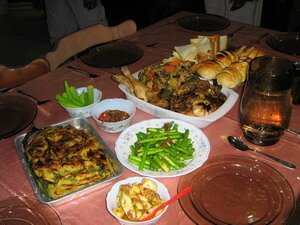 And it suddenly dawned upon us that all would be lost if no one starts to record our traditions, culture, our way of life and the festivals and things we do. And if nothing is done, there will be nothing left except our names on the tombstones.
Eurasian Flavour cuisine are a melting old and somewhat new fusion of both east and west, as is the heritage of the Penang Eurasian.
So according to Lina, Eurasian family get together meal consists of seven or eight dishes of which at least two are curries, a fried or roasted dish, a pie, stir-fried vegetables, salad, pickles and sambals. A variety of cakes, pastries and trifle are normally served as dessert.
The everyday Eurasian flavour dish are a curry pork dish (devil curry) accompanied by stir-fried vegetables with small pieces of meat or seafood. A tomato sambal is also served. All dishes are placed on the table at the same time and served with rice.
So this is how I started to be inspired and spurred strongly by Lina and some other friends. Presently Lina is compiling more recipes handed down by her grandmother to her mother.
She has so far shared her Jam Puffs and Tart. Lina's Jam Puff is different from what i used to baked. She like her jam pastry done the same method we did curry puffs. Where my mum's made hers as tarts. See more photos here.
Joseph's Herb Baked Potato is my son's favorite. Instead of making potatoes patties, Joseph loves herb Baked potato, an easy dish to make.
Another favorite of ours is Bacon and red beans, our style. It is yummy. And Garlic Asparagus is Chandra's too. There are a few Eurasian recipes which are actually very good.
Go to Top of Eurasian Flavour Page
Back to Malaysian Cookies Page
Back to Lina Jam Puff Photos Page
Back to My Island Penang Home Page