Penang Shopping is mind-boggling, which provides the ultimate shopping. After food, shopping in Penang is a favorite past time.
Why, let me share with you. Well, there are a varieties of shopping establishment coupled with Mega and carnival sale.
Sales carnival is truly a shopper's paradise shopping is almost the national sport for some. Shopping where quality, variety and pricing is hard to beat. And not surprising, incredible bargains are offered with a typical Malaysian smile.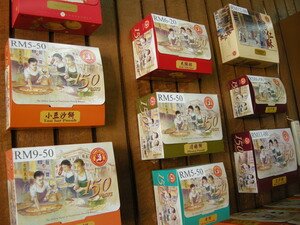 Whether you are in a shopping mall, exclusive department stores or bazaars, or buying gifts and souvenirs, I know it will be an interesting day for you.
Let me share with you the types of Penang shopping available for the majority of people and visitors alike.Penang Shopping
Shopping Malls and Hypermarkets
There are a fair amount of shopping malls in Penang and surrounding its lovely island. Penang Shopping
Queensbay Mall in Bayan Lepas, Gurney Plaza over the drive proves to be very popular in the island. The constant rush of shoppers can be seen in Penang Plaza, Prangin Mall, One Stop and Komtar.Penang Shopping
Sometimes if you are lucky, you find rare performances at the promotion stalls. This is where I found Master at work, deeply concentrating sculpturing his dough figures.
His collection of miniatures are a sold out. Get to see some before it was sold. I had some people writing to me for orders but it has been.
A candy blower from China was here to show his expertise at this China dying art. I chance upon a young girl cutting intricate paper decoration fit for our beautiful homes.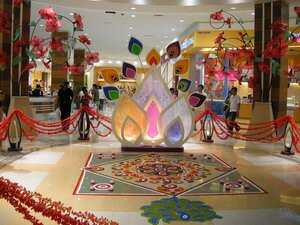 Prestigious shopping complexes that boast international names as well as quality local products becomes a haven for branded shoppers.
The recent openings of Gurney Paragon, Straits Quay, Tesco Sri Pinang, Precinct 10, New World Park, 1st Avenue add quality selection for more branded Penang shopping.
A wide range of shops including beauty salons, art galleries, exclusive boutiques, costume accessories and apparel from top to local designers become a day trip to the mall for some.
It has become almost a weekly habit to chill out in shopping malls, giving the love one a treat with the different affordable variation of food.
Team Activities like bowling or archery allows youngster to hang out with their peer is sprouting up in many shopping malls. Penang Shopping
Street shopping
An interesting mix of shops offering household items, clothing's, leather goods, cosmetics, electronic products, cameras and liquor can be found in some streets.
Campbell Street, Chulia Street, Penang Road and Little India are places one can walk and be fascinated by the colorful sights and music blast.
Retailers are almost outside the doorsteps calling out to enter the shops enticing you with gifts, offers and fun filled competitions.
Bargaining is still very much a part of life in Penang, hence one should not be afraid to haggle over prices or to ask for discounts, especially in smaller shops.
Remember to check on particular items such as electronic items for the types of voltage use. Most items like cameras and watches carries a warranty 6 months to a year.
Make sure the retailers stamped on the warranty card. The reason is simple. In case you need to replace, the address is on the warranty card.
Gifts and Souvenirs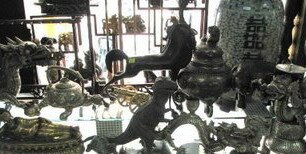 Popular Asian handicrafts hunts is found in the alleyways going up Kek Lok Si Temple in Air Itam. For potteries, pewter' wares and antique items, places to search for it is around Light Street and the heart of Georgetown.
Malaysian Batik is the best in the world, the bold designs and dazzling colors of Batik set it apart from others within the region.
Batik, the highly versatile fabric available as individually designed pieces or as clothing, table-cloths, napkins and furnishings, may be purchased at factories in Teluk Bahang and in souvenir shops at Batu Ferringhi.
Galleries along Penang Road, Lebuh Leith and Batu Ferringhi have a wide selection of batiks paintings.
Jewelry retailers can be found in abundance along Campbell Street and Kapitan Keling. The things that are uniquely Malaysia are handicrafts of local origin.
They range from hand woven mengkuang fans, tribal carrier bags, stylish pottery, shadow puppets, pewter - a shiny luster alloy, used in tableware, gift items etc., intricate silverware, brassware.
Pasar Malam and Flea Market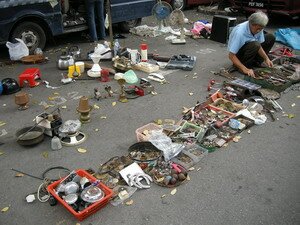 Penang very famous flea market is none other than Lorong Kulit. Antique lovers looking for collectibles sometimes find good value items. But never ask for history or origin of the item for I am not sure you want to know where they come from.
Located at the heart of Georgetown, the Chowrasta market is the largest, busiest and most exotic wet market in Penang. Not surprising it is a great Penang shopping location.
If you have the time and love for junks, walk along Rope Walk and maybe your keen eye might find something really authentic and old like porcelain ware, chains, coins, old glass, old ceiling lamps and antique clocks.
Every month there is even a flea market for the tourist in Upper Penang Road. Crafts from homes made dolls, nyonya wares, old postcards, local food from some of the hard working locals participated in this monthly event.
Look out for the Penang events here. Many activities like book reading, live jazz performance keeps the crowd entertained on this monthly Penang Heritage City day.
Go to Top of Penang Shopping Page.
Back to My Island Penang Home Page.