LimBianYam Cooking Students, today are in four corners of the world. Whether near or far, they would still call the Master up for tips and advises. It can be new combination of sauces or flavors.
He would always inspire them to challenge the norm but stick to the authentic which he called "chneah tor" in the Hokkien language. Even through telephone calls, he can imagine the taste and tells you it is going to be a good sauce or flavor. This is how I remembered him.
But if he tells you it is unique, it is something he has not tasted. Be sure to ask again whether it should be research further for he will never use rough words as he is an "ewe siew" (refined) man.
This page is dedicated and certainly to be treasured by most who knows Lim Bian Yam.
Though he is considered as one of the leading food and cooking master or grandmaster, he is humbled and amazed at the hard work his students put into to flourish their cookery schools, home cooking classes, eateries or restaurants.
Globally many chefs from his international school of cooking is hired to cook our Malaysian food. In his 40 years of cooking, his students are those passionate for fine cooking and they are housewives like me.
Chefs coming to learn from this "master of chefs", professionals and not forgetting royalties. He used to reminised the old days and the most treasured by him was when the late Sultanah of Kedah came for the class.
He was humbled by her telling him not to change the menu even though pork was used in the lesson that day.
Personally, once I was there when she came for the class and she smiled and mingled with us. Her entourage of ladies would be near but we could still hear her sweet voice. What a sweet memory.
I love to name all but it is impossible as the list is endlessly long. Here are a personal few of Lim Bian Yam Cooking Students.
Peck Siang's Penang, Red Chopstick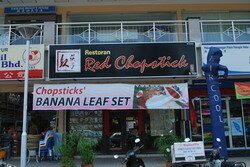 I can't help but be amazed with Peck Siang's skills. Her passion for cooking is simply marvelous. She is sharp and has great taste buds. What I love about her cooking is her openness to research and dares to try new varieties of food.
So in her restaurant, you get lots of choices of good food from hawker food, to ala carte. Some of her "must taste and share with your friends" list are many.
Her Nyonya ngoh hiang bak or 5 spice lok bak, banana leaf set, pasembor, hokkien mee, lamb satay are daily sell out. Her choices of desserts and tong sui will make you come back for more. Her chendol is one of the best in town.
Having lunch in Red Chopstick is for me a refreshing experience. Make your next lunch date at Red Chopstick soon. Telephone for sitting arrangement or deliveries, / LimBianYam Cooking Students
Wants to learn to cook? Call or, write to us here.
Rosie's Penang, Nyonya Breeze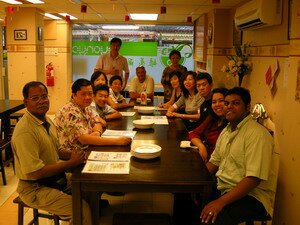 At Nyonya Breeze, Rosie Yew dream is to keep these culinary secrets from becoming another history lesson. It allows you to rekindle appreciation for authentic Penang Nyonya cuisine.
Typical Nyonya spices complemented by the subtle fragrance of lemon grass (serai), lengkuas (galangal or wild ginger), kunyit (turmeric root), fresh or dried chillies, candlenuts (buah keras), shallots, kaffir lime leaves, pandan (screwpine), and ginger buds are crucial in the making of authentic Nyonya cuisine.
Sauces made from coconut milk, tamarind seeds and curry pastes (freshly pounded with shallots, garlic, lemon grass, ginger and selected curry mix) is a testament of an excellent cooked meal at Nyonya Breeze. LimBianYam Cooking Students
Shop is situated at 50, Abu Siti Lane, 10400 Georgetown, Penang. Tel: Gerard or Rosie Ewe. Or you can find Nyonya Desiree in Straits Quay
Florence Tan, KL Celebrity Chef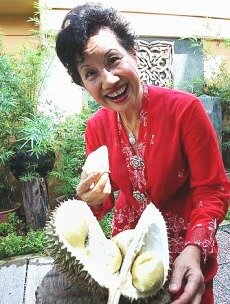 The idea of working as a cook had never occurred to her. She worked as a home economist for 25 years. It was a chance appearance on Kuali, a cooking programme on TV3 back in 1985 that changed all that.
A star was born and there was no turning back. More television shows and bookings for public appearances came after. She who had not wanted to be a cook had become Celebrity Chef Florence Tan. Offers came from food companies and hotels.
She was the spokesperson for Malaysian Palm Oil council, the Malaysian Pineapple Industry Board, and edible oil companies such as Seri Murni and Carotino Oil. LimBianYam Cooking Students
Apart from Nyonya cooking, Florence is also adept in the art of international cuisine, having studied under famous Chef Lim Bian Yam who is also her mentor. To her credit, Florence has a Nyonya cookbook "Secrets of Nyonya Cooking" which has helped to promote an integral aspect of Malaysian culinary delights to the world. Another book is on the way.
Themed "The Nyonya Heritage", she hopes that it will be "a guideline for future generations in preserving the country's rich Nyonya heritage and traditions". - "Ida of 1001Resepi.com"
LimBianYam Cooking Students
I strongly believe that one of the things Malaysians miss most is the food they grew up with when they are living away from home. Nothing relieves the endurance of homesickness like flavors and tastes that reminiscent of one's homeland.
LimBianYam Cooking Students
During exam periods or when I fall sick, I will miss my mom's home cooked food and my grandma's chicken soup. They fill the plates and bowls with goodness and unconditional love. Suffice it to say, it's their love and care they sincerely pour into every dish that undeniably makes me miss home even more as the days go by. LimBianYam Cooking Students LimBianYam Cooking Students
Bee Lee and Beng Lai's Melbourne, Nyonya Hut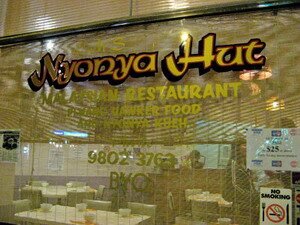 So pop into Chef Beng Lai & Bee Lee Lim for good great food, value for money, nice atmosphere, that was why we've been there many times. Pull up a chair for some delicious and affordable authentic Nyonya food. - "Shirly Khor when in Australia"

I met Beng Lai and Bee Lee about 25 years ago and at that time, Beng Lai was a chef in one of the top Singapore hotels. He did a demonstration on how to de-bone the chicken.

I tell you, it was no joke when the cooking master gets you to do a live demonstration on the spot and there he was skinning the de boning the chicken for us all. His restaurant may be simple but the food is classic for us Nyonyas. Lim Nyonya Hut is located at 240 Blackburn Road Glen Waverley, VIC, Phone
LimBianYam Cooking Students
Liang and Maria's Johor, Sedap Corner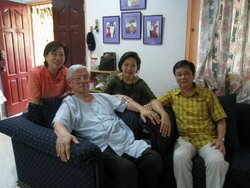 When I met Liang and Maria in the 80's, they were just coming to Malaysia to take professional cooking class from Datuk. From them, we got lovely Thai cooking which Datuk was able to research along with them.
Having tasted refined Tomyam and green curry, I fell in love with Thai cooking. One tip I never forget is a dish quot;steamed lala using some basil is some finer points Liang and Maria shared.
Today, Liang is a very successful restaurateur with 9 eateries to his name. 8 of them are in Johore and 1 newly opened in Singapore. If you are an "AFC" - Asian Food Channel fan, then you would know Skuter Chef who works for them.
Listed are the 9 eateries of Liang and Maria (Mrs Apinom Lam).
Head Quarters
No. 11, Jalan Abdul Samad, 80100 Johor Bahru, Malaysia, Tel : +6LimBianYam Cooking Students
Branches:
Singapore (New) - 282 Bedok Road, 469438 Tel:
Plaza Kotaraya - Lot 28 & 36 -
Plaza Angsana - Lot L1-20, -
Plaza Pelangi - Lot 5.03 -
City Square - Lot J2-13 -
Perling Mall - Lot 2.31 & 2.32 -
Jusco Taman Universiti - Lot LG 09 -
Jusco Permas Jaya - Lot 13 -
Mary and family, UK Nyonya Restaurant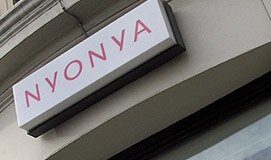 Nyonya sits at the busy junction of two roads, within easy walking distance of Notting Hill Gate tube. Patrons can see the traffic and passers-by from their seats behind the floor-to-ceiling windows and passers-by can gawp back at them, if they have time to be interested.LimBianYam Cooking Students
From deep-fried dumplings to satay sticks of chicken with a delightful peanut sauce that has that 'je ne sais quoi' about it, or the coolness of the Kerabu prawns with a sweet chilli-imbued sauce. ('Kerabu' means 'salad' in Malay).
Mary, Teng Chye and their two daughter runs this restaurant. I heard they kept the restaurant speck and span. LimBianYam Cooking Students
Pearly's Penang Homecooks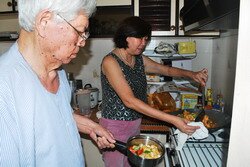 Last but not least, me who loves home cooking. Sometimes, Datuk comes to stay with us. Oh Gosh what fun we had!. I get to try out real authentic food, the way he would remember his aunts and mother cooking.
That is how he was recommended to "Masuk Medan" (qualify to compete by his old and experienced cooks, his relatives).
As for me, having cooked and entertain, having cooking parties for friends spurs me to share with some of you who are keen to learn about our cuisines and local fares.
So if you are interested to learn Nyonya, Indian, Chinese or Malaysian style cooking, we are sharing with our hearts.
What happens here is we provide you with the kitchen or work station, recipes, all fresh and dried ingredients for cooking.
You will provide us your hands for pounding, cutting, frying or cooking the curries, soups, variations of cooking rice.
My students were amazed at this hands on style of home cooking class. To me, washing the rice before cooking is normal, some European students were surprised that rice have to be washed.
I was told they never washed their rice before cooking so seeing some locals students washed the rice, they quietly asked me why they are doing that. So you see we do learn and share many tips in our casual cooking class.
How about that, if it is fine with you, booked the Penang home cooking class here.LimBianYam Cooking Students
Go to Top of LimBianYam Cooking Students Page
Back to Penang Homecooking Class Page
Back to My Island Penang Home Page