Hear Patrick Thaipusam Story, as he fulfilled his vow in Penang during the last Thaipusam. Well how should I start? I'm sure most of you know about the Thaipusam celebration and the significance of it.
Here's a brief introduction to the celebration. Thaipusam celebrates the day, Goddess Parvathi gave her son Murugan the invincible vel (lance) to vanquish the evil asuras (demons) Soorpadman, Singamugam and Tarakasuran as well as their army of soldiers.Patrick Thaipusam Story
According to Patrick Thaipusam Story
Although this is clearly stated in the Hindu scriptures, to the average Malaysian Hindu, the festival is either celebrated in conjunction with Lord Murugan's birthday or is a special day for Hindus to pay penance.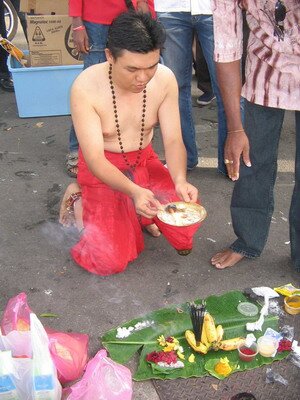 Thaipusam falls on a full moon day in the auspicious 10th Tamil month of Thai when the constellation of Pusam, the star of well-being, rises over the eastern horizon or for this year it falls on the 23rd of Jan 08.
Furthermore, it is a common practice for devotees here to pierce themselves with numerous hooks and long skewers as well as to pull heavy chariots hooked to their backs to fulfill their vow or to pay penance.
I've a vow to fulfill and here I am with 300 miniature milk pots, 25 mini bells, a 3feet long skewer across my cheek and a small skewer pierced on my forehead. Let's start with the preparation before the big celebration day.
What Patrick does for his Thaipusam?
To prepare for the celebration, firstly there abstinence/celibacy for 1 month. Imagine sleeping in a different room from my wife when I just got married and it's not even 1 month. Then, there's a strict vegetarian meal to adhere to.
For the last 10 days before Thaipusam what I have for my meal is vege, peas, vegetarian instant noodle and the artificial vege meal. Trust me, it's not cheap!
Since I travel a lot to work and vegetarian restaurant is not easy to find, most of the time I'll be in my car with a bunch of bananas munching away. It really makes me think of a good friend in the club with such craving for bananas.
My feeling that time?
Well there's still ten days to go, no worries. Scared? Well you can say I'm already feeling the heat of it. Thoughts of backing out starts coming to my mind maybe faking stomachache, headache or anything else that comes to mind then.
Hey, I'm not Rambo ok. By the way, all this is just a fleeting thought that comes in my mind on it's own.Patrick Thaipusam Story
Also with friends bombarding me with phone calls asking me about my feeling, whether I'm scared or any thoughts of backing out really starts the brain thinking negatively.
Preparing skewer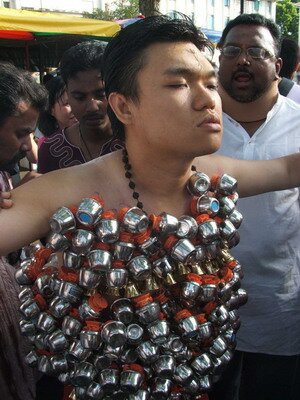 Preparing my skewer, miniature milk pots and some of the prayers item. Firstly, the miniature pot have to be cleaned and then filled with the holy ash. Then, the mouth of the pot is closed with a piece of cloth and tied with rubber band.
This is really no easy task and my fingers are all swollen and puffy after that. Then, there's the needle and skewer that needs to be sharpen and smoothen with more holy ash and sand paper.Patrick Thaipusam Story
All this keeps me busy and thus my brain with it's miniscule capacity is able to free itself of any negative thoughts.Patrick Thaipusam Story
Truthfully, the skewer on the forehead, the miniature milk pots and the bell I can handle but it's the one through the cheeks that's really making me jittery.
One more thing I left out on my list of item is 16 hooks behind my back. Due to my laziness, it can't be used because I didn't sharpen it and secondly the tip is spoiled due to me using the high powered tool of "Makita".
The last 4 days to go and counting
Well, tonight is when me and my buddies will start spending our time in a temple. It starts with and elaborate ceremonies whereby we invited a friend over to enter into trance to bless us all.Patrick Thaipusam Story
After prayers, the "God" put on the bead necklace for each of us, we're not allowed to wear shoes, no more comfortable chair or bed to sit on anymore. Most of the time we're sitting on the ground trying to finish some last minute item before the big day.
How am I feeling now?
Nervous? Scared? very nervous actually but trust me there's an inner peace and calmness by then. The mind is clear and there's no negative thoughts at all. Not sure how to explain it as I can't really find the exact word to describe it.
Anyway, we'll be sleeping on hard cold cement tonight with lots and lots of mosquito as company. Sleep comes naturally after a hard day running errands and getting the necessary item ready for prayers.Patrick Thaipusam Story
Hehee, now for some advertisement. To deal with mosquito find our member Mr Lim Tok Peow because he have the best medicated oil to deal with all this little pest.
22nd Jan 08. Thaipusam Eve
Today is the big day. As per advised, we're suppose to offer our prayers as the chariot made its way to the temple in Waterfall Road. Here we are rushing to get the freshest flower, coconut and fruits.
Hmm, the traffic it terrible. Maybe the politicians campaigning for the coming election should address more on this issue.Patrick Thaipusam Story
After getting the necessary item prepared, we made out way to the piles of coconut that we have ordered earlier. After smashing the coconut to symbolize cleansing the way to Lord Muruga, we made our way towards the chariot to offer our prayers.
Then, we made our way back to the temple again to get some rest and prepare ourselves for tomorrow morning journey.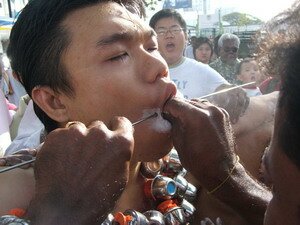 Strangely, we don't feel any fear nor is there any negative thoughts that comes to our mind. The feeling is very relaxing and calm.
We were also advised not to go near any temple where devotees are having their piercing as not to scare ourselves, but being young and macho(ahem!), we join in the celebration by walking around and admiring the different types of kavadi.
The time now is about 2am but we're not feeling sleepy at all. So back to the temple, chit-chat and more chit-chat until sleep took over us.
23rd Jan 08-Krriingggg! Thaipusam Day
Pesky alarm clock, we woke up at 6am and took a bath before checking through all our items. After that, all of us are kneeling in-front of the temple to offer our prayers and to seek blessing for a smooth and painless journey to fulfill our vow.
Reached Lorong Kulit car-park at 8am which is also the designated area where all the devotees prepare themselves to undertake the pilgrimage along a set route while engaging in various acts of devotion, notably carrying various types of kavadi (burdens).
Various types of kavadi
The simplest kavadi is a semi circular decorated canopy supported by a wooden rod that is carried on the shoulders, to the temple. In addition, some have a little spear through their tongue, or a spear through the cheeks.
The spear pierced through his tongue or cheeks reminds him constantly of Lord Murugan. It also prevents him from speaking and gives great power of endurance.
Other types of kavadi involve hooks stuck into the back and either pulled by another walking behind or being hung from a decorated bullock cart or chariot carrying various deity of their choice.Patrick Thaipusam Story
At its simplest this may entail carrying a pot of milk as offering to Lord Muruga. The most spectacular practice is the vel kavadi, essentially a portable altar up to two meters tall, decorated with peacock feathers and attached to the devotee through 108 vels pierced into the skin on the chest, side and back.
After the walk
Back to me now, after arranging all our items and getting ready to pray, we took a bath at the temple by adding saffron into the water to cleanse and purify us for the journey ahead.Patrick Thaipusam Story
I'm the first one to step up to offer my prayers and having the miniature milk pot hooked to my body. For sport enthusiast I'm sure you are familiar with the term adrenalin rush, it's about the same thing but with a little twist to it.
First, the small skewer on the forehead, then the bells followed by the miniature milk pots. How do I feel by now? No idea cause my body is already numb. It actually feels like ants bite, I thinks that's as close as I can try to describe it to you now.
With the chant of Vel Vel and the beat of background music I'm beginning to really feel peaceful whether it's mentally or physically (with cold sweats running down my forehead).
The test of faith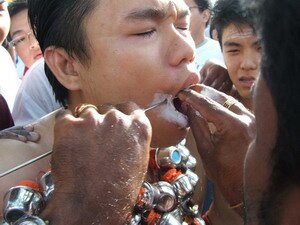 3 feet long skewer to pass through my cheek. I can feel the skewer as it penetrate my right cheek then out my left cheek.The end not really cause this is only the first part.
After this there's the long wait for the others to complete their Body Piercing and the long journey to offer our prayers at the hilltop temple.
Before I forget, there's also the compulsory prayers to offer to Lord Muruga as the chariot made it's way back on the final day of Thaipusam.
A few bits of blood, no scar, no side effect and not much pain (ahem!) but great satisfaction for completing the whole ordeal.
This has been really a spiritual journey and I would really like to thank my family, friends and last but not least clubs members who have been there to support me.
Taking all those lovely picture, traffic control, chanting(Vel Vel) their hearts out (it really help!) and also taking the journey along with me.
Thanks a lot and may god bless all you kind and wonderful souls out there for making this possible.Patrick Thaipusam Story
Ps: I would also like to apologize to our Indian reader if there's any mis-information in here as this is told from my own experience with regard to the Thaipusam celebration.
Regards Patrick C.W. Ong Penang
Pearly note: Patrick Thaipusam Story is real and amazing. Only when you have gone through, you know what you are talking about. Patrick wrote to me that he will be participating in Thaipusam Festivals for another 2 years.
Let us applaud this young man courage in participation as well as sharing his story. Thank you so much Patrick.
Go to top of Patrick Thaipusam Story
Back to Penang Vel Thaipusam Page
Back to Photos of Thaipusam Vel Page
Back to Photos Kavadi Ceremony Page
Back to My Thaipusam Story Page
Back to My Island Penang Home Page