Penang Cheap Hotel has every sort of hotel and guesthouse you can think. Single night dormitories in the heart of Georgetown on Chulia Street to luxury beach guesthouse on Batu Ferringhi.
Some budget inns and cheap hotels in Penang are livable and as you know some are too dodgy to be mention. They are not bad but I can only recommend some which some friends have stayed while holiday in Penang Cheap Hotel.

View in a larger map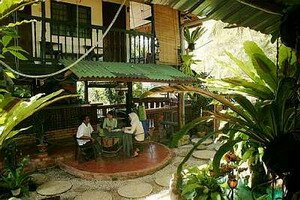 The first guest house to be built at Batu Ferringhi in 1975 is Ali's. Mohd Azhar Ali, 36, and Mohd Johan Ali, 37, continue to run the house after their father and founder passed away few years ago.
"During weekends, we receive many tourists, both foreigners and locals", said Azhar. The guest house, which is named after their father who previously worked at the Rasa Sayang Resort, offers services such as cable TV, laundry, water sports, taxi, fishing trip, round is-land trip and Internet access. Top to consider as Penang Cheap Hotel.
Need a holiday escape from the hustle and bustle and traffic jams? An do you have a peaceful break, but have no idea where to go? So head to 53 and 54 Batu Ferringhi beaches in Penang.
Apart from the many first class hotels along the tourism belt there are low budget guest houses with five-star view of the sea. Facing the beach, it has 18 rooms and the rates range from RM45 to RM140 per night.
Book Ali's Ferringhi Guest House Penang, Malaysia.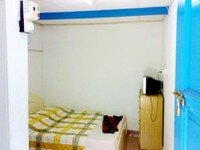 Annie's Homestay, is a clean double storey house in the heart of Batu Feringghi with breakfast and a very convenient and central location, just 6 minutes from the beach.
The rooms are clean. No worries to curfew or lockout. Free tea/coffee and local breakfast are offered to the guest.
They pride themselves to speak fluent English and will do everything to make your experience both pleasurable and hassle free. These services are available to you based upon your personal requirements.
There are rooms with fan and shared bathroom. Also rooms with air conditioning with attached bathroom. You should be quite comfy, I think. Book Annie's Homestay in and feel you never left home. :)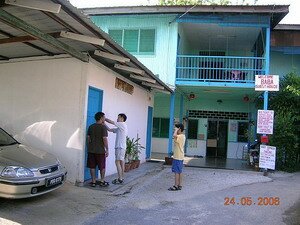 This is a wonderfully ramshackle, brightly blue-painted house that shows of the heart and soul of its resident(and very active) Chinese family.
Rooms are large and spotless, most have shared bathrooms and the dearer air-con rooms come with a fridge and shower.
It's a very friendly place and the owners will really do their best to help you out with anything. The location is very good if your looking for a beach as its a 5 seconds walk.
Grandma's cooking up something tasty in the kitchen, sister is doing the laundry and grandpa is snoozing in a chair in the back garden.
Grab your book, put up your feet on the colonial wood terrace and relax the day away. The beach is only about five steps away.
When you're ready, the family can help arrange onward transport. The Penang Cheap Hotel Baba's guesthouse provides laundry services too.
Book Baba Guesthouse, Penang here.If you have a big or extended family or organized groups outings, this package is special,Penang cheap hotel.
You will find clean and well maintained guest rooms, fitted with air-conditioning and attached bathroom. Most rooms comes with ceiling fan and shared bathroom. All rooms are with mosquito net.
The owner ensures security and the cleanliness of guest house to be comfortable for your stay. You can get tourist information, bus tickets for Malaysia, Singapore and Thailand, ferry tickets to Medan, Langkawi and Coral island.
The service includes free beach mats, alarm clock to borrow or book exchange, hot and cold drinks to sell at common price.
Providing reliable information where to find taxi, motorcycle to rent and laundry are part and puzzle of E.T. budget guesthouse as one of Penang Cheap Hotel.
Book E.T. Budget Guesthouse, Penang here.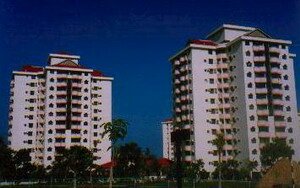 The Eden Seaview apartment provides the perfect backdrop in an idyllic location for your holiday. Where the delights of coastal living are virtually at your doorstep, allowing you to submerge yourself in a sumptuous synergy of sun, sand and sea.
The apartment is conveniently located near basic amenities such as banks, mini markets and food stalls. There are also many restaurants, mini markets, banks, post office, ATM, internet cafe, fresh fruit stalls, hawker center and famous night bazaars. Great vacvation at Penang Cheap Hotel.
Book Eden Seaview, Penang, Malaysia here.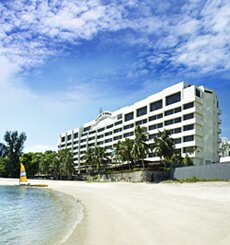 A precious gem along a stretch of white sandy beach with tranquil TANJUNG BUNGAH shimmering sea. We are the first hotel along Tanjung Bungah with its own private stretch of beachfront.
Whether you're traveling on business or with your family, comfort and choice are yours at Tanjung Bungah Beach Hotel, Penang.
With 200 rooms hotel with both sea and hill view at the coast of Tanjung Bungah area, it promises to pamper and please you with comfort of our Hotel Rooms, Fitness Center, Swimming Pool, Kiddies Club, Outdoor Jacuzzi, Water sport Facilities and Seafront Restaurant.
Book Tanjung Bungah Beach Hotel here.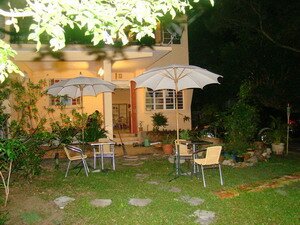 Baan Talay is a your boutique urban homestay and executive guesthouse in Penang, Malaysia. It is available on daily and monthly basis.Located in one of the foremost residential housing complexes of Penang, in Tanjong Tokong Just 2min walk to Tanjong Tokong beach.
Baan Talay is the kind of house where you actually feel right at home the moment you walk in.They offer fully furnished rooms, with FREE Wi-Fi, TV and Vegetarian food for a very affordable rates.
Book Baan Talay Home stay, Penang here
Sea Wind motel is housed in a 1950's beach getaway home of a wealthy Chinese businessman. After changing of hands, the beach getaway has now been converted into a small motel in a little cul-de-sac just behind Naza Hotel in Tanjung Tokong.
This place is strictly for those who can take the odd untidiness and unkempt. This is a basic accommodation but quite comfortable and furthermore its facing the sea.
There is only 8 rooms available in this guest house, first come first serve for the sea view room cause only 2 rooms facing sea. There is a living room and a balcony facing sea on second floor which for all in house guest.
Please bring your own bed sheet or pillow case if you want to stay here cause I find some sand here. Furthermore just 10 minutes drive to Gurney Drive (a food heaven) so food is no worries.
Booked Sea Wind Beach Motel here.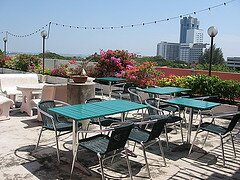 Hotel Mingood is situated right in the middle of the city center. Mingood Hotel Penang is an established which offers friendly and courteous services.
The main goal is to create a cozy atmosphere for an enjoyable stay. We actually enjoyed a quiet stay recently.
Hotel Mingood, Penang Cheap Hotel is located close to the chic part of town with excellent nightlife, surrounded by cafes, good multi-ethnic restaurants, shops and the coolest bars and pubs.
In fact, the famous New World Park Food Court and Entertainment Center is just 520 steps (a mere 5 minute walk) from the hotel.
Hotel Mingood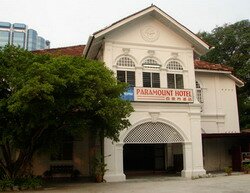 PARAMOUNT HOTEL is one of a few in the heart of George Town City, Penang, with a beach front where, traditionally, locals would come for a leisurely meal by the sea and fishermen in small boats would their catch for the local market. They still do, Penang cheap hotel.
While you stay here, expect to see the nearby fishermen land fish, crabs, even lobsters. And you can get it cooked immediately at the hotel's restaurant, Ocean Green, which is one of the best seafood eatery in town.
Established in 1948 and run by a family for three generations, Paramount is housed in a quaint British colonial bungalow that has retained its old charms. Its management remains traditional – as in the good old days, fuss-free, friendly and efficient with personal attention.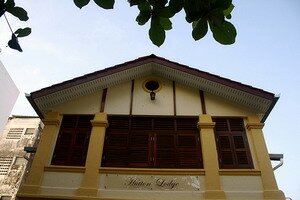 Hutton Lodge located in the heart of the city, just off Penang Road at 17 Jalan Hutton. It's ideally located within walking distance of George Town's many tourist attractions.
The location of the hotel is good close to sightseeing, nightlife, and buses, and the amenities are fine.
The building is cute and stands out on the street. The shower was hot and had great pressure. The room was a bit cramped, but it is good enough for two.
The staff I was told are very helpful with providing a map and bus information etc. One thing that stands out is the security which is good, Penang cheap hotel.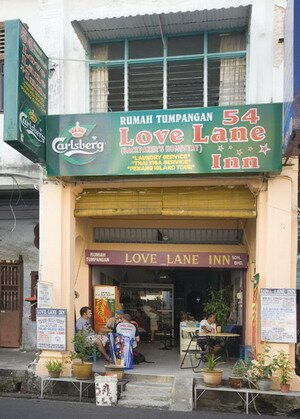 The owner Mr. Jimmy is an ex traveler with quite a characther. Its clean No Curfew and No Lockout FREE tea/coffee from 0800hrs to 2300hrs.
The rooms were spacious and quiet, with locks on the doors. I would recommend this place to anyone looking for a well priced budget accommodation that is near to the main food and shopping areas in George Town.
Jimmy and Amy as some travelers would recall are the friendliest people on earth and it is a great experience staying in 54 Love Lane Inn Georgetown Penang.
Love Lane Inn, Penang Cheap Hotel is 30 mins away from Sungai Nibong Express Bus Terminal (NEW) 15km away. Train and Ferry Terminal 15min walking away from Butterworth and Airport is 25kms or 45 mins by car.
Book Love Lane Inn, George Town, Penang here
YMCA is one of the oldest hostel still around today. It has a total of 70 private furnished room with air-conditioning, attached bathroom with hot/ cold shower, telephone, color TV and clothes wardrobe.
Today, the commitment remains to offer travelers with clean and comfortable accommodation within affordable range.Penang Cheap Hotel
Book NOW YMCA in Penang, Malaysia
.
If you have a big or extended family or organized groups outings, this package is special if you have more then 10 people.
Do you have any experience staying in Penang cheap hotels, inns or guesthouses or travel lodge? Nice to read about them. You can also booked Batu Ferringhi Hotels here.
Go to Top of Penang Cheap Hotel Page
Back to My Island Penang Home Page