Nyonya cooking classes are specially selected to take you to the next level of authentic cooking experience in Penang. How happy will your spouse be when you achieve to be the next great cook in your family with our Nyonya cooking classes?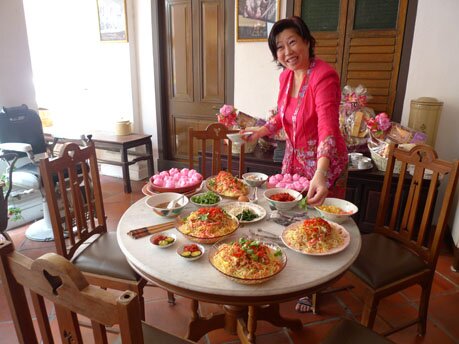 Nyonya cooking classes dishes in Nyonya Peranakan Mansion
In the many years of teaching, many easy and understandable replies, tips and secrets were given to students. Secrets knowing the correct usage of lemongrass, garlic, fresh turmeric, galangal. The why, what, when, who and how to use the medicinal properties to the fullest is explain in the classes.
When to use onions or shallots and why. How to make your coconut creamy dishes remain creamy and not one oily surface, seeing all the oily floating. Many were amazed at the fresh herbs they have seen. The best part for me is when they told me these fresh herbs are available in their own country, only issues they never knew how to use them. Do refer to Nyonya cooking class packages here.
Our market or shopping takes them to our wet market to understand how to select and choose fresh herbs and green for Nyonya cooking classes. Some of our Nyonya cuisine are eaten daily.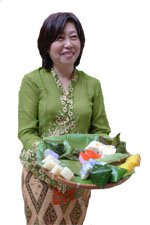 Pearly presenting Nyonya Kuih
,
nyonya cooking classes
Our tea time desserts are steamed cakes or kuih or sweet porridge. Some unforgettable like Bee Koo Moy or black glutinous rice porridge is what my Aussie guest loves. You get to learn them in our Nyonya cooking classes too. Know who are the Nyonyas here.
Come and experience what is the real way to learn Penang Nyonya cooking classes. We are prepared to pamper you and hand guide you to step by step cooking to your heart's delight. We know you will go back say" this is the highlight of my trip in Penang.
Don't believe me? Read from Tripadvisor. To be honest, teaching cooking takes up all my times as I also teach in Tropical Spice Garden cooking too. Research, food testing, preparing step by step recipes sheets is what I deem important for my students. So if they are happy and recommend me, I feel I am very privileged, delighted and see me now, grinning form left to right as far as my mouth could open.
Some wrote me a mail recently, simply words saying :You are highly recommended in Tripadvisor! Oooh I thought, what is that? I have been so busy teaching and sharing until I forgot the power of internet. Holly molly, it does have good uses. Do refer to Nyonya cooking class packages here.
Chinese/Nyonya Cooking Class in Penang
I thoroughly recommend Pearly Kee, a fabulous cook, as keen on detail as on taste and variety. Pearly's a huge personality and an excellent communicator, and I wanted to take her and her sous chef home with me to London. She teaches from home and at the spice garden. Do her course and you'll never be the same again!! I think you can find her as Pearly Homecooks at https://my-island-penang.com
Judy M Sept 30th 2010

Penang has been one of my favorite holiday getaway, in order to try something new, my friends and I decided to learn authentic Penang cooking. We manage to find Pearly's Homecooks, where she conducts the cooking classes at her house. This trip we learned some Nyonya dishes such as Wind Pork or Hong Bak, Stir Fry vegetable, curry Kapitan and some Indian dishes such as mutton rendang and chicken curry. What interest me the most was the fact that Pearly makes her own spices for the Indian cooking, therefore her cooking is successful every time. She even teaches us on how to stored in bulk, how to use fresh herbs and spice and most importantly we liked her style, it's clean and hygienic.

The next time when I visit Penang, I am definitely coming to Pearly's Homecooks again attempt other delicious and authentic Pearly's dishes. You can call her mobile at or register at her website my-island-penang.com. No joke, every kitchen must have a Pearly.
Sasha 29 Sept 2010
Go to Top of Nyonya Cooking Classes Page
Back to Penang Cooking Packages Page
Back to Penang HomeCooks Setup Page
Back to Penang HomeCooks Guest Page
Back to Nyonya Homecooking Dishes Page
Back to Lim Bian Yam Cooking Student Page
Back to Penang Home Cooking Class Page
Back to My Island Penang Home Page