Traditionally most weddings are prepared by parents who usually uses relatives as Indian Wedding Decorators. Sometimes it can be very successful, other times just plain disastrous.
It is the case of too many cooks spoils the soup. Modern youngsters do not leave their most important days of their lives to the hands of relatives and friends.
So with a little planning management, Jivan and Uva got to choosing and talking to some carefully selected Indian Wedding Decorators. I dedicate this page to both my daughter Uva and son in law Jivan for the good planning and help.
Still without other numerous support, the Indian mixed wedding in Sungai Petani, not far from Penang would not be successful. Certainly without their good management skills, both parents would be running around till the hairs stands on ends.
Well, at most Chandra, the most excited got ATTACK!, a massive heart attack.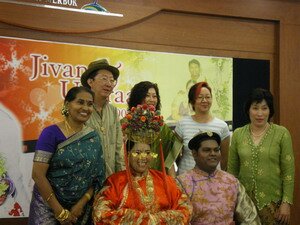 A good majority of Uva's Indian Wedding Decorators are carefully selected through recommendation by family and friends. And as they were very established, we too decided to use their services. Those whose services are needed were :

The most important, any Indian Wedding Decorators will search is the Venue where to have the Thali tying ceremony. Most common places are Indian temples or community halls around the neighborhood where they lived.
Reason being relatives and guest can find the venue easily. Depending on the occupancy to accommodate the invited guest, a venue is chosen.
But Jivan happened to belong to the prestigious Buddhist society called Soka Gakkai and getting married in front of the sacred altar is important to his parents.
The Laguna Merbok township where the Soka Gakkai Association is situated in Sungai Petani not far from Penang (Exit 170) by highway was the venue where all Penang relatives and friends came for the early morning ceremony.
The help provided by the Soka Gakkai members receiving guest was well appreciated. Smiles and greetings of Good morning to our guest was happily received.
A tooth pick breakfast was given for some guest who might need it but all was gone within minutes on the table.

Ganesan from Bedong, a good friend of Chandra was chosen to cook for the 800 guest. We later heard from the relatives and guest that the dishes were well done. Very delicious especially the mutton kromah. Even got a "thumb up" from Aunty Kamachi.
We had White Rice, Briyani Tomato Rice, Sambal Roasted Chicken, Mutton Kromah, Vegetable Dalca Curry, Cabbage Pakora (deep fried cabbage with chickpea flour), Mango Pacheri.
Some fruits were offered and to wash down the rich food. Mango juice drinks were offered.
The Vegetarian corner had Payasam , Vegetarian Chicken and Mutton and all that can be taken as vegetarian food. What a feast!
The guest were pleased with the services provided as it was a buffet style lunch, the tables were cleared quickly. Dirty table cloth were changed immediately.
A real good and commendable service provided by Mr Ganesan and son, one of the Indian Wedding Decorators.

The theme having a long streamer of the wedded couple can be seen as we entered the reception hall. On every table, a flower arrangement with Cinnamon Stick (Kayu Manis) stand to welcome all the guest.
At the end of the day, all flower arrangement were carried home by some well wisher as the Cinnamon stick was too lovely to be left behind.
The kids had a field day with the balloons. The smaller kids even used chairs to get the helium gas balloons of the ceiling.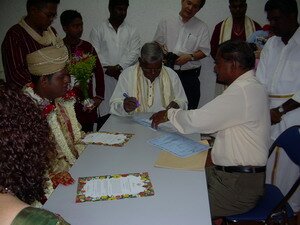 In today wedding registration, the bride and groom must have their marriage solemnized. For convenience sake, the Registrar of Marriage can solemnized the marriages in temples or community halls.
This so called representative vested by the Government will come on the actual day to witness the wedding and solemnized it together.
During the midst of all these Indian Wedding Decorators discussion, some younger generation cousins seems to understand and wanted to add their role to the Wedding Celebration. We were amused and pleased with such wonderful show of support.

It is every mother's dream to see their daughter married off happily. Additionally Uvaraani understood my need to have a Chinese Nyonya Tea Ceremony which would really complete her unique wedding.
This truly authentic Indian wedding with a dash of Malaysian culture in a great package. This ceremony complete some Indian Wedding Rituals which we had the day before.
Happily dressed in Vintage Nyonya century old attire, both bride and groom looked truly radiant and words could not express how I felt.
Micheal a Nyonya Peranakan curator of Nyonya Mansions helped by dressing both of them up in this vintage 200 years old wedding dress.
And later Jivan perform the "unveiling of the bride". We would have called in Patrick, Penang Wedding Band if not for the little cousins performing. That is another day's story.
My younger sister Junnie has the privilege to assist in the Tea ceremony servings. Tea cups and tea pots for serving "Ang Cho Teh" was being handled carefully by Junnie. This prided tea cups and pot has been with my family before I was born.
Go to Top of Indian Wedding Decorators Page
Back to Indian Wedding Rituals Page
Back to Indian Engagement Page
Back to photos of Indian Engagement Page
Back to Malaysian Indian Engagement Page
Back to Malaysian Puberty Ceremony Page
Back to Puberty Ceremony Photos Page
Back to My Island Penang Home Page