The Segara Ninda located at 20 Penang Road, was once home to the nineteenth century official of the Sultan of Kedah named Ku Din Ku Meh.
This beautiful century old Straits Eclectic style double story mansion has been restored five years ago by the descendants of Tengku Baharuddin bin Tunku Meh or known as Ku Din Ku Meh.
Chandra and I had a detailed historical tour by Tengku Yahaya, the fourth descendant of Ku Din Ku Meh. Tengku Yahaya shared an insightful version on the long historical and economic ties between Penang and Thailand and the Island's significance as a regional entry port.
Old World Charm
According to Tengku Yahaya, the trustees had renovated this antique architecture building with some modern necessities while preserving much of the original features.
The interior of the charming colonial structure has an interesting mix of European, Indian and Malay cultural influences.
And I am glad to note much of the Italian tiles floorings, beautifully carved wooden ventilation panels and louvred windows are very much in place.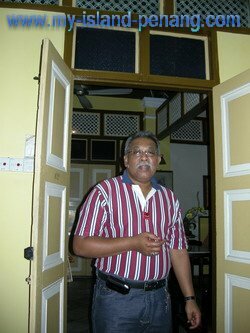 Tengku Yahaya,
4th descendant of Ku Din Ku Meh
So set in the heart of Georgetown Penang with hotels like Cititel, Eastern and Oriental Hotel, Hotel Continental in its front and surrounding all the corners, this green historical building is mostly booked by word of mouth or friendly recommendations.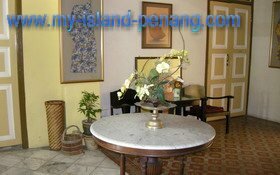 Main Hall in Segara Ninda Penang.
Though many travelers come from far and wide, different parts of the world, mostly it serves as a centre for learning. Students researching early 18th or late 19th century Malaya, or Satun Thailand history chooses Segara Ninda for their stay in Penang.
Segara Ninda is one of the few remaining examples of urban-Malay built heritage in Penang. Today, this heritage house still stands regal as in its glorious days, exuding warmth and a touch of history and nostalgia while offering tranquility and comfort in the very heart of George Town.
Who is Ku Din Ku Meh?
The mini museum seated next to the main hall has an archive of the interesting life of Ku Din Ku Meh who originated from Kedah. Tengku Baharuddin bin Tunku Meh was born in Anak Bukit around 1848.
A well read man fluent in Malay and Thai, he started his career at 14 as Head of Kedah Prisons. A copy of his book in Jawi can be seen in the mini museum.
According to the record, he was bestowed the title of Phraya Purminard Pakdi (or 'The Devoted King') by the King of Siam in 1902 and appointed as the Raja of Setul (in today's Satun Province of Southern Thailand) due to his great administrative skills.
At that time, Setul, Kayang and Phuket were provinces of Kedah under the domination of the Kingdom of Siam. Well versed in Malay and Thai, Ku Din Ku Meh was a literary man who introduced many developments to Setul in administration and trade.
He used his mansion in Penang as his office, trading in such exports from Southern Siam as birds' nests, coconut, timber and using his own fleet of shipping vessels.
The Thai National Archives in Bangkok has his diary and some records pertaining to his administration in Setul (Satun). The Siamese government retained Ku Din Ku Meh in his position until he retired in 1916. He passed on in 1932 and was entombed in Setul.
Ku Din married a woman from Penang. She lived in a beautiful mansion in Penang Road. Today, Segara Ninda is the aforesaid mansion that has been converted into a hotel. Even without booking for the accommodation, visitors are welcome to view its interior.
Rooms and facilities in Segara Ninda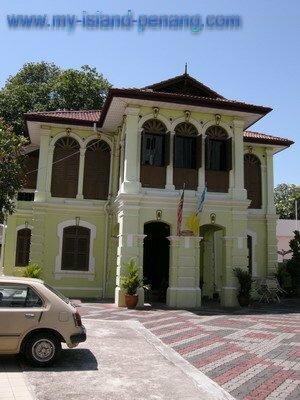 Segara Ninda in Penang Road
A grand mansion in the hey days now converts to 14 furnished rooms to cater to travelers. The mansion offers a place for people who appreciate history and heritage. It exudes the 'old world charm&', very private, no frills, free and easy for some who wants to do their own things.
Type of Room and pricing
There are basically two types of Segara Ninda offers.
A Standard Room with 2 Single beds
A Deluxe Room with a Queen size Bed
A Superior Deluxe Room with for three.
See more pictures of room here: http://www.tabblo.com/studio/stories/view/1374802/
Room rates are between RM80 to RM120 excluding taxes. Happy with the find? Book it here.
Simple clean sheets filled the heavy wooden beds. In the main hall, old seasoned furniture craves the rustic grandeur set in colonial days.
It has a verandah that overlooks the beginning of Penang Road and what I love most, the sweet smelling white flowering tree. The Chinese calls it 'Kow Tiam Wah' meaning 'nine o'clock flower' which blooms only in the evening approximately 9pm.
For me it is a great place for family reunion and gathering of friends. The compound is perfect for barbeque, almost an envy for city dwellers outside. Attached washrooms are seen in most rooms downstairs with fans and air conditions.
Site Seeing
These are places of interest when you come out and turn right of the mansion.
Chowrasta Wet Market, a 5 mins walk. Have a good Chinese hawker or street food for breakfast. Then walk around and enjoy the daily stuffs the locals markets for the family. All kinds of fruits, vegetables and tit bits like preserved nutmeg or get sand fried chestnuts to nibble.
Campbell Street, a 5 mins walk for shopping like textiles, shoes, watches and jewelries retail shops.
Chulia Street, rentals of motor bikes or bicycles.
Komtar a 10 mins walk, is a central bus terminal to go to other parts of Penang Island.
Prangin Mall a shopping mall, a cineplex is 10 mins walk away. As you pass Penang Road.
These are places of interest when you come out and turn left of the mansion.
Farquhar Street, St George Church and Francis Light Monument.
Penang State Museum
Cathedral of the Assumption
Night scene, Slippery Senoritas (SS) is the "in place" to chill out.
Every last Sunday of the month, this is the spot called Upper Penang Town which features all locals products and crafts.
Francis Light, the founder of Penang burial ground is just after the Shell Petrol station.
Food Paradise
Segara Ninda is in the heart of Penang so food in every corner is edible and cheap. One can just walk into Kopi Tiam (coffee shop or cafe, stall) or if you prefer restaurant, fine dining. No worries, there are plenty around. 'Go where the crowd heads to' is my advise.
And as for Segara Ninda, it is a real heritage find that does not pinch your pocket.
Location
Enlarge the Google map to locate Segara Ninda. Coming out from Penang Ferry Launch, use a bus shuttle to Heritage Homestay is free. Bus stop #8 is a 10 minute walk to Hotel Continental, Malaysia and Segara Ninda.
If you are coming by car, there are two ways to reach. Crossing Asia longest bridge between Butterworth to Penang is 10 minute on a good day without traffic jam is possible.
The drive through Green Lane or used to Penang Outer Ring Road by car or bike is another alternative.
If you fly in, a cab will ensure you reach the homestay, 20 Penang Road. If not, walk to the Bayan Lepas town about 20 mins away and take a bus downtown to Penang Ferry Terminal.
A second rapid bus to bus stop #8 in Campbell Street. An adventurous 1 hour journey if time is not an issue.
Let me be your travel agent if you are going home or visiting other destinations. Hotel combined, an affiliation I trust has most of the hotels anywhere in the world which are affordable, even the pricey ones. Have fun in Penang and have a safe journey when you leave Penang.
Go to top of Segara Ninda Page
Back to Balinese Homestay Page
Back to Chalet Sportfishing Page
Back to My Island Penang Home Page