Getting here to my island is not difficult. For some who are new to this part of the world, here are some basic ways to come here. You get to know more about getting here to my island by planes. And cruises if you are on a holiday in neighboring countries.
With flight, we have Malaysian Airlines and Airasia to support you. Some visitors do come to Penang with the cruises from Klang or Singapore or Phuket.
Well, you can come by train too from Thailand or Hatyai. The point of arrival for train is in Butterworth, which within walking distance from the ferry, buses and train.
Flight to Penang is make easy with many airlines landing in Penang International Airport or Kuala Lumpur International Airport (KLIA).Getting here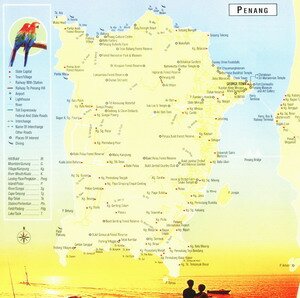 Maybe a map of Penang might help you. Click on it for a bigger map. You will find more maps, some trails and hikes of Penang.Getting here
As Penang is an island, there are two ways to get into Penang. One is by the ferry in Butterworth and the other is by Penang Bridge. By land whether you are driving or taking a bus, these two points of entry are fun way to travel within.
Don't forget to check the weather before coming to Penang. Enjoy the train, ferry or bus ride and see our way of life here.
Our diverse cultures and warmth is one you will enjoy. People arriving by ferry in Penang disembark at either the Pengkalan Raja Tun Uda jetty or the Port Swettenham pier.
There are also ferry services between Penang Island and several destinations including Butterworth, Langkawi and Medan. Getting here
And if traveling by bus is something you would enjoy or on a budget, there is plenty of choices here. The bus terminal in Penang is situated in Sungai Nibong and for Butterworth, it is within walking distance from the ferry and train station. You won't miss it.
Any day in the year you come to Penang, there is always some kind of festivals. It is as if Penang never sleeps. I share some events and happening here.
In Malaysia, we do enjoy a fair share of holidays. It would be good to know whether it is low or peak season before setting out here.
Get to know some local news would be an advantage in preparation for your visit.
Have fun and enjoy your stay here. And if I can be of any help, do keep in touch. If you have any more queries, do write to me. I will try my very best to help you. Cheers.
So come here and enjoy our sunshine and wholesome healthy life style here in Penang. Get my newsletter here.
London to Sydney by coach
Can't bear the thought of 24 hours on a plane with horrendous jet lag awaiting you at the other end?
Well, passengers desperate to see Australia but wanting an altogether more leisurely way of getting there can take the slow route down under - without compromising on comfort.
A recently revamped overland coach service, Oz-Bus, connects London to Sydney via an epic 92-day journey that travels through 17 countries. Tickets are on sale for £4399 per person and stops en route include Turkey, Iran, India, Pakistan, Malaysia, India, and Indonesia.
http://www.oz-bus.com/en_index.html
Affordable Airlines Promotions
Continental Airlines is offering a round-trip economy promotion for flights between Hongkong and various cities in the US and Canada in celebration of its 75th anniversary.
Passengers can fly to New York, Atlanta, Boston, Washington DC, Miami and Orlando for HK$5,550 (US$716), to Toronto for HK$5,350 (US$690) and to other East Coast and Midwestern cities for HK$6,550 (US$845). Fares do not include applicable taxes.
Call tel for reservations.
Scandinavian Airlines in Thailand has launched a fare deal for Business and Economy Extra passengers from Bangkok to 36 destinations in Northern Europe.
Passengers pay THB67,000 (US$1,964) in Business and THB47,000 (US$1,377) in Economy Extra and tickets can be booked until August 15 for travel between July 21 and December 15. Prices exclude applicable tax.
Tiger Airways has launched a seat promotion for flights out of Singapore in celebration of its nine millionth passenger.
Travellers pay S$0.09, excluding tax, for flights between Singapore and Penang, Bangkok, Guangzhou, Clark, Haikou, Hanoi, Phuket, Kuala Lumpur, Langkawi, Macau, Ho Chi Minh City and Shenzhen.
Tickets are on sale until July 22 and are valid for travel between August 1, 2009 and March 27, 2010.
AirAsia will commence flights between Singapore and two cities in Borneo from September 9. These are the four-times-weekly Singapore-Miri and thrice-weekly Singapore-Tawau services.
Jet Airways has launched its first service to Saudi Arabia, a daily flight between Mumbai and Jeddah utilising a Boeing B737-800 aircraft.
Korean Air (KE) and Uzbekistan Airways (HY) have expanded their existing codeshare to allow KE passengers to accrue Skypass miles on HY's twice-weekly Incheon-Tashkent service.
Tiger Airways has announced that it will resume its four-times-weekly Singapore-Krabi service from October 25.
Go to Top of Getting Here Page
Back to Penang Free Shuttle Page
Back to Traveling to Penang Page
Back to Penang Bus Schedules Page
Back to My Island Penang Home Page