Uvaraani's Malaysian Puberty Ceremony was performed as in a traditional Indian or Hindu culture. Aunty Kamachi, her Patti(grandaunt) presided the ceremony.
Most commonly this Puberty ceremony is called Ruthu Sadangu or Pen Vaisu Vanthachu. The Ceremony is usually witness by very close family member in the Indian tradition and culture circle.
The coming of age rites have to be performed on the very day the girl attained puberty. But for Uvaraani, as the Malaysian Puberty Ceremony was not conducted then, it has to be perform before she got married.
If you ask me, why I did not perform this Tamil puberty rites when she came of age? To me, it was embarassing to announce to the world, you have turn to a woman.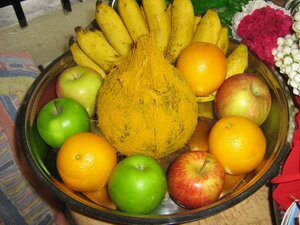 The sisters of her father or mother (Ate's) will be the first people to be told of this good news. In this modern times, not every girl wants the whole world to know she has menstruated.
At the threshold of womanhood, she patiently listen as it was explained to her the customs that she has to go through the next two weeks.
For approximately 2 weeks, she is advised to stay home, ritual baths were performed by the aunts on 3rd, 5th and 7th day until the 15th day.
For some Hindus, before she is clean, she is considered to be in a state of ritual pollution (thittu).
For 15 days, best she goes on a vegetarian diet as eating seafood and meat will cause the menstruation to be smelly. What age are we living, I wonder.
The rituals bath, for example 3rd day requires 3 colors flowers, 5th day 5 colors, and I guess on 15th day, I jest with my sister in law, 15 colors of flower?
I ask them to go find themsleves. Well the reply is different varieties of flower can be acceptable.
That is not all, I cannot believe after 15 days, clothings and pillow and beds covers worn during the 15 days are all thrown away!
Keeping her in the room is important or else the boys who sees her will get lots of pimples. Go figure that one out.
After the 15 days, eggs and selected food with gingerly oil are prepared for her consumption to gain strength in time for the Malaysian Puberty Ceremony. Once she is "clean", a special Malaysian Puberty Ceremony will be held.
In the olden days, once the girl becomes a woman, she will be announced and the mother's brother, uncle or relative are the first choices of getting her as a bride.
This is usually the message pass on to the girl. No wonder they would simply say NO to the Malaysian Puberty Ceremony.
The house where the Malaysian Puberty Ceremony and rituals are performed must be decorated or changed with fresh mango leaves.
Either nine of eleven leaves will be washed, dotted with sandalwood and kumkuman (red dots) and tied in front of the house entrance.
Hey, don't forget I am Chinese and I am no expert in this Malaysian puberty ceremony. I am literally writing as per se from the Indian sisters in law who is following their Southern Indian rituals.
You need not have to follow through and through that is why in my own daughter's times, I refuse outright for it to be done.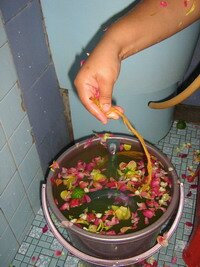 Five aunts or sister from the father side will bath her with specially prepared water. Dried turmeric powder, seven types of flowers and 3 limes, will be added to this special bath.
Generally in Malaysian puberty ceremony, she sits in the bathroom on a stool for this bathing ritual. The five aunts will take turns to pour this turmeric and flower bath over her head till she is wet through.
The most privileged person is Aunty Kamachi, her Patti being the father's aunt, followed by Chandra's sister then blood cousins.
After the Turmeric Bath, Uvaraani will be escorted to the room to dress for the Malaysian Puberty Ceremony. The honoree has to be dressed up with silk saree and shining jewellery.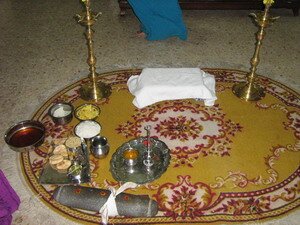 A Nirai Kudam (special place) in the house is prepared for the Malaysian Puberty ceremony. Usually a low stool, covered with a piece of white cloth is placed. A typical position to sit facing the entrance of the house.
Beside the low stool stands two kuttu villakku(brass oil lamp) dotted with kumkuman and decorated with flowers.
In front of her, a total of nine Ruthu Sadangu items is arranged in sequence and kept in different trays in preparation for the Malaysian Puberty Ceremony.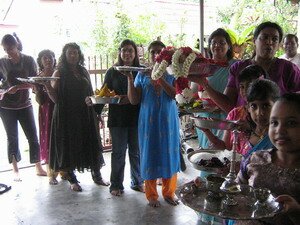 A small silver bowl with Turmeric water to make a Manjal pillaiyar. A few stalks of arugam grass is place in the turmeric water.
A tray filled with kumkuman (red powder), Santhanam (sandalwood paste) and rose scented water.
A silver pot filled with clean water.
A silver tray filled with a can of paddy and a lighted kamachi lamp. The kamachi lamp must be placed on top of the can of paddy during the rituals.
3 pieces Paal Roti Biscuit made of milk, flour and sugar.
An amie kale (rolling mortar pestle) with Santhanam sandalwood paste) and kumkuman pottu is dotted in three positions
3 plates or bowls, sweetened rice, rice cooked in green peas, curry or vegetable is prepared.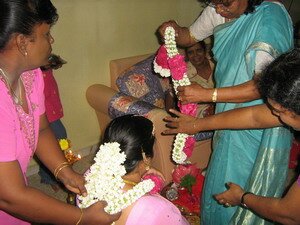 A tray of assorted fruits (odd number in total)
A turmeric dressed coconut
Betel leaves (sireh leaves), dried areca nuts (Pinang) and topped with lemon
Indian Sweet meats in odd number (Palakaram)
Assortment of Loose flowers
Some relatives comes with trays of gifts, consisting of fruit, garlands of flowers, home made local sweets cakes, Saris and Jewellery.
Now the ceremony begins with the aunt accompanying her to the specially prepared Nirai Kudam. The brass oil lamp is then lighted and the Malaysian Puberty ceremony commences.
5 lady relatives will performed these puberty rites. But first, she will be cross garlanded across her arms and neck.
Then the five ladies will take turns to bless her with the prepared items. This is a intricate sequence of events using the prepared Ruthu Sadangu items.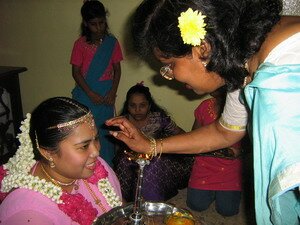 What happens is this, the first lady will begin the ceremony by blessing the body of the honoree starting from her right hand.
She will used the manjal pillaiyar to wipe both her hands as a sign to purify her. She ends the purifying on her left hand.
The sequence the first lady begin is slightly touching her right knee, right shoulder, her head, her left shoulder then her left knee.
One by one the ruthu sadangu items will be used to blessed the honoree and placed on the right side of the performing ladies.
The second lady will then begin from the left side of the her knee and ending on the right knee. This goes on until the five ladies performed this simple ceremony.
She will in turn present a small gift to the ladies who performed the ceremony. Watch the ceremony here.
Once all the ladies completes the rituals, they will gather around her to perform a folk dance. With hands clapping and singing a folksong, they will circle her and dance. Approximately 5 to 7 turnings around her till the singing stops.
She will now proceed to the family altar room to offer her prayers. This ceremony now turns into a celebration with dances, singing and clapping.
Folk dances and songs will be happily performed as she changes and parades all the saris gifts given. All the saris must be worn as not to offend the presenter.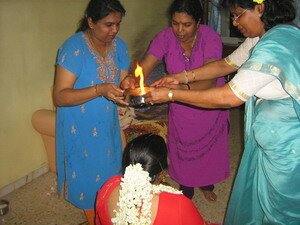 A shallow round tray of turmeric powder, squeezed lime and water is prepared for this final ceremony. A camphor is lighted and placed on top of the betel leave.
Three ladies will hold this tray in trinity above the honoree head and circle 3 to 5 times.
Then the eldest aunt will swipe her face with the fire flame. After which, the fire is put off and the remaining water is poured on the any plant outside the house. The final ceremony is performed to ward off evil influences.
Interestingly, Malaysian Indians, locals though do refer to the book. The Book of Omen or prediction, so it is referred to. This is beyond my comprehension and a part I would not have any opinion.
On that momentous day when the girl's body signaled that she was no longer a child, but a young woman. That for the Indians in Malaysia is very significant as some would consult the book of omens.(We did not consult the book, spare her that).
But I was told the day and time are use to predict the future of the young marriageable lady.
What happen is this, when a child is born, the parents would note the date, birth time and hour and seeks the astrologer and numerologist advise.
Usually they will prepare a Book of Prediction or Books of Omens based on all the timings and dates given. This is considered to be the first JATAKAM for the child. In this books, the good and bad timing of the said child is being foretold.
With this books of prediction, some names are given and selected for the child too. By the same token, the second JATAKAM is prepared after the first show of blood. The timing, date and day it happened is calculated and becomes her second book.
Monday - She will be eminently chaste.
Tuesday - It is not favorable, as she is likely to be a widow early in her days of wedlock.
Wednesday - She will be wealthy.
Thursday - Is good, for she bids fairness and virtuous.
Friday - is not considered auspicious.
Saturday and Sunday - are also bad days as she runs the risk of being poor.
They would then ask the time it happen, for it has some meaning. These customs seem to be a reflection of the South Indian customs.
These rituals of first menstruation are also found in most Sri Lanka and India's many ethnic groups. There may be a few variants but overall the rituals are similar.
What a wondrous future lies in front of us as these young women mature and take their places of leadership in the world!
Go to Top of Malaysian Puberty Ceremony Page
Back to Indian Wedding Rituals Page
Back to Indian Engagement Page
Back to photos of Indian Engagement Page
Back to Malaysian Indian Engagement Page
Back to Puberty Ceremony Photos Page
Back to Indian Decorators Page
Back to My Island Penang Home Page