Groundnut cookies is one of my daughter's top of the list goodies for Chinese New Year. Since she got married, I am quite pleased she decided to learn cooking. So the first call home this year is "Mum, will you be making goodies for Chinese New Year? So yours truly decide to share and guide her.
Since she is so great in asking questions, I decide to share in case she forgets again. Groundnuts cookies for us must melt in the mouth and is quite a light cookie. In achieve this lighter version, the ingredients needs some extra job to be done.
Ingredients to make approx 150 pieces of peanuts or groundnut cookies.
500 grams Wheat flour or Rose brand flour (sieved 3 times to make flour lighter)
500 grams Groundnuts or peanuts (toasted and remove skin. Before mixing all ingredients, grind till fine. This will prevent losing the lovely toasted fragrance.)
300 to 400 grams Caster Sugar (milled till fine)
150 grams Cooking Oil (Smashed 3 shallots flavor the oil. Cool completely before use)
1/4 to 1/2 teaspoon Salt. (Some prefers it to be a little salty but it is to taste. If you use peanuts, add just a pinch.)
2 egg yolk for glace
Method: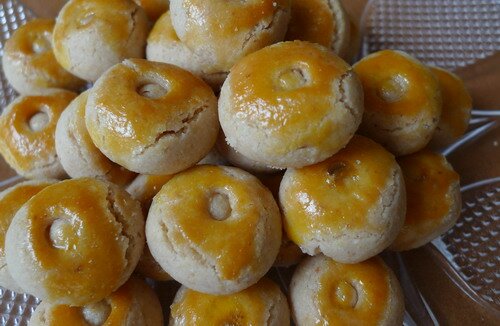 In a bowl, mixed sieved flour, finely grinded groundnuts or peanuts and fine sugar well. Tip in 50 grams of cool shallot flavored oil into the bowl and mixed evenly. At this stage, it crumbles, so add spoon by spoon the oil to prevent adding too much. Mixed till it formed a soft but firm dough.
Roll into 5 or 10 cents ball and placed in a non greased tray. Flatten the top by pressing with a straw. Glace it with egg yolk, it gives a good shine. It is not a good idea to add milk or white for glazing as the shine will be dull.
Bake in a preheat oven for 10 to 15 mins. Once the egg yolk changes color, best to remove form oven. Cool it before packing in a bottle.
If it does not melt in your mouth, what has happen?
Add less oil, it becomes crispy, it is ok if you like some bite.
Adding equal amount of sugar will also harden the cookie.
Greasing the tray will make removing the cookie harder to flip off form the tray.
Caster sugar not milled describe, you can actually have it
Groundnut not blend fine enough
As I told Uvaraani, it is no big deal as whichever way you have prepared it, it is really a lovely cookie so enjoy. But if melts in your mouth as she says, you can actually feels the smoothness of the cookies. I have to agree with her. I enclosed a step by step video. I hope you will enjoy this recipes like we did.
Go to the Top of Groundnut Cookies Page
Back to Malaysian Cookies Page
Back to My Island Penang Home Page