Penang Nyonya Kuih is simply delicious, mmm mmmm.
My earliest memories of eating kuih is hard to forget. Memories of my childhood in Sungai Bakap keeps flooding back to me.
This sweet Indian man, I can vividly recalled will come into our Kee Kongsi with all Nyonya kuih in a kandar. You can recalled the wooden yoke with two bamboo baskets.
My brothers, sister and cousins from 6 households will run out once they heard his voice chattering and teasing the kids.
You might not like how he looks. On his head, a loin cloth rolled up to cover his head.
In his mouth, he keeps chewing paan or sireh. A thin layer of quicklime paste was applied over the sireh leaf, along with a sprinkle of the astringent gambier and thin slices of areca nut.
When he walked in, his head shakes from side to side almost dancing asking you with those big eyes whether you can to buy his kuih?
And his mouth nevers stop chewing the betel nut. It was pretty scary for me as a child, a dark man with orangy teeth grinning and smiling at you. But my older cousins loves him like crazy.
Remembering my childhood kuih man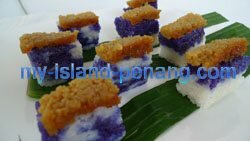 While he sings and plays with his favorite kids, most of us are happy eating away our favorite kuih. And boy thinking back really, I can smell the fragrance of those kuihs.
For booking, call or, write to us here.
Irrestibile Kuih
The greenish pandan colored kuih tarlam, bunga telang purple blue pulut inti, kow chan kuih or nine layers kuih, ondeh-ondeh or pleasure balls, abok abok, lempah ayam are unforgettable and simply the best Nyonya kuih.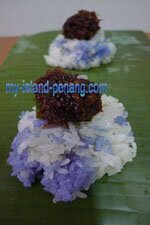 "Tua, tua, say, say" meaning all kids and adults: young and old, will surround the two baskets of kuih and eat to our heart's content, never bothering about paying.
The jingles we sang
I can even remember the jingles we sing about the kuihs. Some rhymes like this "abok abok pangsai boh che bok" and 'ondeh ondeh chiak leow mang lawn de" and "pulut inti chiak leow chui tee tee".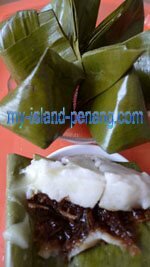 Well when kids gets together, what do you expect, make their own songs or jingles. I am not going to translate to English cos it is cannot capture the moments and fun we had, just making up the jingles along the way.
Anyway, I have to stop laughing or thinking about those jingles, songs and limerick or I will never stop writing about them. So really, those days the kuihs are superbly great and super delicious.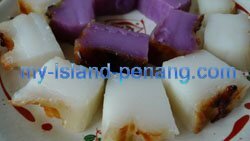 I know it is quite difficult to savor these old taste again. Lucky for me, my aunts loved making Nyonya kuih when I was young.
So far, we are the only Penang cooking class who does not demo cooking. We give you a place to cut and prepare the food item for your own cooking, on your own cooking station. See Penang Homecooks cooking set up work station here.
Younger days torture
Back then I did not enjoy when I was made to "bor che". From circling the granite stone pestle, feeding in the wet rice for grinding, my sister Junnie and I did it all.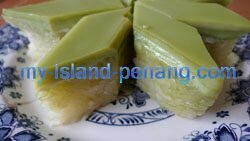 Making bedak sejuk, tapai, laksa noodle was something I wanted to forget and I did. Hard job and dare not utter a sound, it was real hard work.
Now I really can't recall those recipes. I used to remember how many cups of wet rice for these and that. Those days was like, ahh hard job again.
Washing the granite pestle, the sack for squeezing the grinded wet rice is not my idea of a famous chef.
I can remember a fair bit and working with the tools were no joke. My aunts being Nyonyas are "tua sim" or big heart. They would not know how to make just enough for a household of ten of us.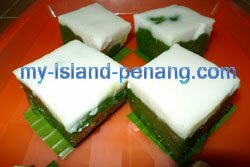 Made and distribute to relatives and yours truly job again to deliver. And this is how I recalled doing it. Either I walk to nearby house or elder cousin got me a rented trishaw or lang cher.
You would think I am driven right, fat hope those days where got cars yet?
So come and learn and I teach you step by step how to prepared super delicious Nyonya kuih. You will also be given colorful recipes for all kuih muih or local cakes.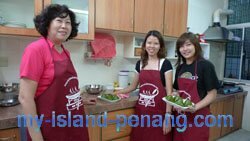 Ai yah, local Malaysian kuih already la, I must add as we can no longer consider it yours or mine.I look forward to hearing from you.