The Chinese Flavour food in Penang menus from the various Chinese society have retained their original characteristics. The Chinese food history have cuisine from the southern Chinese province of Guangdong mainly consists of Hainanese, Teochew, Hakka and Cantonese dishes.
Chinese Flavour cuisine is generally milder than the Malay or Indian fare. Penang food is never complete with Chinese Food.
With the inter marriages and cross cultural modern society, the influences of the cooking styles of other ethnic groups in Penang or Malaysia have resulted in spicy version of traditional Chinese Food and in some cases, reinventions of classic dishes.
Some example of Chinese Flavour Oriental recipes by various Chinese groups are:
Hainanese are good with their chicken and rice recipe. These quick cooking recipe by the Hainanese is none other then the Chicken Rice. Served with side dishes recipe of pounded chillies, garlic and ginger.
The Hainanese were cooks since the 19th century to the British so their favourite were pork loin recipe dishes and the famous chicken or pork chop.
The Chinese Flavor cooking recipes of the Hakka would be Yong Tau Foo, a delicacy of fish meat spiced with salted fish. It is stuffed into bean curd and vegetable like ladies fingers, bitter gourd, and brinjals.
A variety of fish balls, meat balls with beancurd and stuff vegetables are boiled in chicken or meat stock. It is served with a few drops of garlic oil and chilly sauce. The Hakkas were tradionally farming folks so their main course dishes are meaty.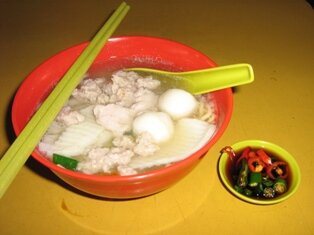 The Cantonese cooking in Malaysia has tried very hard to retain many of their original cooking styles. The Yee Sang eaten during Chinese New Year are food of the Cantonese.
Tim Sum, our morning breakfast are a popular Cantonese recipe. Combination of food starch, wrapping up in Siew Mai, a thimble shaped pastries stuffed with minced meat topped with crab roe, or steamed pork with dried shrimp called Har Kow are the Cantonese specialty.
Most Dim Sum dishes uses 3 layers food steamers with the bottom layer filled with hot boiling water. Once it is freshly steamed out, it will be delivered to your table by a push cart trolley or young ladies doing their balancing act.
The Teochews are good with making fish balls and served in soup called Fish Ball Soup (Wu Wan Th'ng). Cooked with a few strands of glass noodle (tung hoon) and ewe char koay, sprinkle with tong chai. A quick cooking recipe dish yet the most clear consomme soup one can ever taste.
The other popular cooking recipe is none other then the Teochew porridge. A soupy rice cooked with pieces of potatoes and served with a wide array of side dishes recipes such like pickles, salted egg, groundnuts and scambled egg with chai por (salted choy sim).
Fujian Cooking are mostly Hokchiu style kind of dishes. Fried oysters (Oh Chien) omelettes made from small oyster fried with spring onions and egg is a wonderful dish from the Hokchius.
The Foochows bought with them Po Piah (Springs rolls), which is shredded turnips, bean spouts, prawns wrapped in bean curd skin. You eat them freshly wrapped or deep fried. See some photos of our Hawker food collection.
To the Chinese, the harmony of food relates the five flavors of food. Sweet, sour, bitter, piquant and salty are the nutritional needs of the human body's five functioning systems : our heart, liver, spleen, pancreas, lungs and kidneys
Traditionally, all Chinese Flavour food are said to have Yin and Yang influences. Vegetables, fruits and clear soups are considered as Yin influences. And because cooling food should be balanced with warm food, rice starchy food and meats stuff are considered Yang.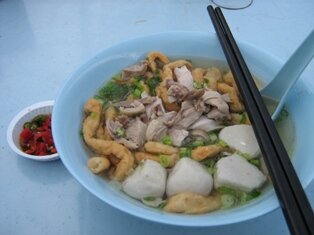 The correct proportion of ingredients for Chinese Flavour are important in the cooking preparation to ensure that the aroma, color, and flavor are bought out. And same time the nutritional properties will not be lost.
Cooking methods like deep frying, pan frying, stir frying, stewing, steaming helps to achieve the cooking results. Sautéed garlic, ginger, and onions are often used to neutralize the flavor of the main ingredient or balance their effects.
For meat recipes, scallions, chilly peppers, dried lily buds and mushrooms are used. So this is a short Chinese cooking history prepared by the indigenous Chinese society.
Clever adaptations reflect a rich and varied Malaysian palate and when prepared according to halal (no pork cooking) traditions will be enjoyed by Malaysian of other ethnic people too. Well, like any gracious Chinese gal, I love cooking Chinese dishes and I am proud of my heritage.
Top 5 best Chinese/Western restaurants in Penang
Colonial Restoran (Hainanese) 35A, Armenian Street, Tel:
Pinang Fisherman Wharf, Bayan Lepas, Tel:
32 Mansion, Jalan Sultan Ahmad Shah, Tel:
Corner Club, 55 Gurney Drive, Tel:
CRC Restaurant, Jalan Padang Victoria, Tel:
Go to Top of Chinese Flavour Page.
Not enough of food, back to Nyonya Food Page.
Don't salivate, go for more Nyonya desserts.
Home cooked but away from home food.
Still have more space in your stomach, eat my cookies
Back to My Island Penang Home Page