Teluk Bahang Tours with Iskandar
Enjoy your Teluk Bahang Tours with Pak Atan, Iskandar or Don. These guys have a multiple boats for your needs. Fishing trip, drop trips or day trips to various part of Teluk Bahang shorelines.
Fishing Trips would required fishing boats. Day trip for fishing trip or eco tours are rented as per boat and hours. The best to enjoy is gather a pack of ten people.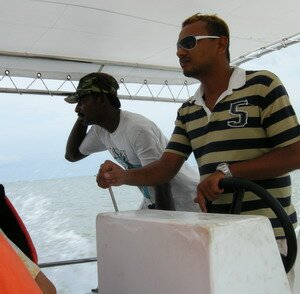 Iskandar and Don, our guide
Hiking Trip
Arrange a group of minimum 10 people and Iskandar will lead you to the few trails in our National Park. It is true you can do it by yourself without any guide.
I did the same a few years back but no one pointed out to you the flora and fauna, the wild life. Or what sound and which animals droppings you might be stepping.
You won't be able to appreciate the walk without realizing the wonders of our forest and hills. Iskandar takes your team for a very minimal fee.
Overnight Camping Trips
Permission is needed. Rentals of sleeping tents, and getting approval ahead for the Park rangers can be arranged if you inform Iskandar prior to your trip.
Safety Measures
On both occasions, we observed the boat man drove safely, to ensure the fisherman nets are avoided when we passed. Safety jacket are provided.
Rentals of fishing boats, Rental of boats
Of all the package, I prefer the boat rides. there are basically 4 places of interest along the shorelines of Teluk Bahang. These are drop trips which means when you arrive, assembled your team and be taken to the respective areas of interest. You will be picked back later in the afternoon. Calls are accepted if there is a need to return earlier.
Type of Teluk Bahang Tours
To and fro to Pantai Kerachut - Camping, Meromictic lake and Turtle Actitivities.
To and fro Muka Head or Monkey Beach
To and fro Mangrove Forest (More to Teluk Bahang boundaries - Kuala Sungai Pinang)
To and fro Sungai Tukun
To and fro for fishing along the shorelines of your choice.
Arrangement for romantic evening with your sweetheart.
One round trip from 1 2 and 4
One round trip for 1 to 4
So our two trips so far with the tourist has been well worth it. And I still want to go because there were things I missed seeing. It was worth the time spent. It was fun! Get the tour now. The season is just starting for people interested to see the Meromictic Lake with the high tide coming.
Not enough of activities, why not try another adventures. This time with En Suhaime in Batu Ferringhi. Jet ski, Para Gliding, Pony rides for the family. Banana boats can hold 5 people. Go rock and rumble till you burst! Be prepared to rock your sense out!
Cheers.
Go to Top of Teluk Bahang Tours Page
Back to My Island Penang Home Page
Subscribe to my RSS feed, if you don't know what this is, please read here more:
Let others know about this site by book marking at your favorite social book marking system: