The Anti War Memorial in Air Itam Penang may be recognizable but many do not know the great significance of it.
But Kek Lok Si and Penang Dam are places most people near and far knows. Now since the traffic is that heavy, it only means two things.
One, it is very populated and locals still love living in this part of the Penang Island. Two, with Penang and Paya Terubong Hills keeping Air Itam intact, it is the coolest part of Penang Island.
So despite the daily crawl, it is still a much sought out place to live. Air Itam town is not a location to miss when visiting Penang.
The Ayer Itam valley is fortunate to have some of the richest soil as two rivers flows Sungai Air Itam (Black Water River) and Sungai Air Puteh (White Water River) flourishes the town.
Captain Francis Light sponsored a program to establish the island agriculture base growing pepper and was first cultivated in Air Itam valley.
Today, flowers, fruits and vegetables are still grown on the surrounding hills. Nutmeg is a popular fruit found in this part of the Penang Island.
Parallel to this Air Itam road is the road that leads you to Penang Hill, Jade Emperor Temple and Penang Hill Tua Pek Kong Temple. In the triangle corner between Penang Hill Railway Road and Main Air Itam road stands this whitewashed obelisk.
A grim reminder to Penangites and Malaysians alike of what had happen during the Second World War.Anti War Memorial
In Air Itam Penang, this Anti War memorial served to remind us of the 700 locals who were brutally tortured then murdered during the Second World War.
It also buried some of the MPAJA (Malayan People's Anti-Japanese Army) who fought against the Japanese during the Second World War.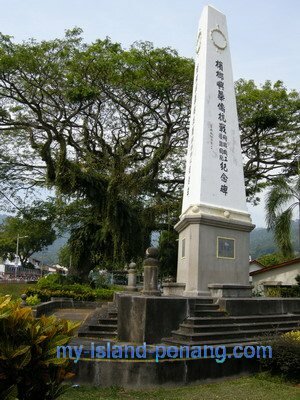 Air Itam Anti War Memorial in Penang
My Father's Experience
Dad will not let me forget how he went through Second World War. During this period of 3 years and 8 months, the Japanese went on a rampage torturing and brutally murdering Chinese.
Any suspicion roused, man would be beheaded. Pregnant women were speared with sharp and shiny Japanese sword.
Babies were thrown in the air and poked through the sword to the humor of the soldiers. young girls, my sister included had her hair cut short like a tom boy to escape being picked and rape by the soldiers.
Thousands of Chinese lives were lost during the Sook Ching Massacre.(Sar Ni Peh Koay Jze), is a Hokkien term for 3 years and 8 months to remember the duration of the Japanese in Malaya, the suffering, the brutality and massacre on the people of Malaya).
The Sook Ching Massacre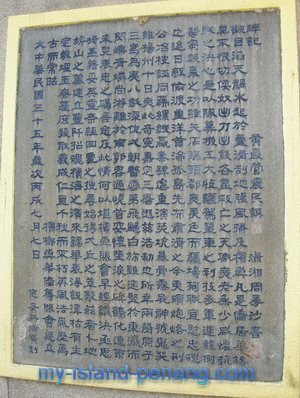 The inscription on the Anti War Memorial in Air Itam Penang
The Japanese Army carried out an identification and interrogation of Chinese youth, an Operation 'Sook Cheng' (to wipe out, eliminate or to purge).
Chinese youths were dragged out of their homes and ordered to register at 'Sook Cheng' Centers with severe punishment for anyone who disobeyed.
At these centers which were in open spaces with no water, masked men identified those whom they regarded were anti Japanese.
All those identified as 'undesirable' by the Japanese at Sook Cheng centre were loaded on military truck and driven away to be massacred. Each Chinese walked past a row of hooded informers, mostly Japanese agents.
Those including captured Chinese defenders or triad members who gave information to save their lives.Anti War Memorial
Some were women or children avenging themselves for earlier mistreatment, or trying to gain merit with the conquerors. When a hood nodded, a man was dragged away.
Others not under this classification were stamped on their clothing or body as 'cleared' and allowed to return home. Many were rearrested and executed.
The Nanking Massacre
The Chinese had supported the war effort in China through fund-raising campaigns and the boycott of Japanese goods.
Besides that, they also served as volunteers in the defense of Singapore and Malaya. So they were the natural targets.
Apologies from Japanese civilians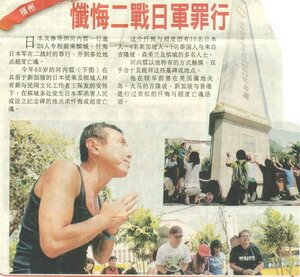 Japanese and locals remembering the fallen heroes
Translation from the Chinese paper:
A group of 20 over members made special trip here to pay respect and repentance for those murdered under Japan military occupation during the Second World War.
Headed by 60 year old spiritualist from Japan, they visited several locations in Malaysia to pay respect to those killed by the Japanese army.
The visit was arranged by Penangite Lin Yu Sin and cultural worker to conduct prayers at several murder locations in Penang, some without any tomb stones.
The group consists of 10 Japanese and other who join them from Singapore, Thailand, Kuala Lumpur, Negeri Sembilan and Penang.
The leader prayed by holding palms together, kneeling and touching the memorial stones. He has conducted similar repentance prayer for the victims at Guam island, Kuala Lumpur, Singapore and Hong Kong -Sin Chew Daily 30 Jan 2007.
Why were we involved in WWII?
Malaya was of strategic value, for it provided access to the vital oil fields of Sumatra, and because of Singapore's naval base.
The Japanese pursued a policy of ethnic discrimination, the ethnic Chinese being treated the worst. The Malays, comparatively more lenient. The ethnic Indians somewhere in-between.
The Malay Peninsula was rich in rubber and tin, which, for Japan were of little interest as both resources were not in short supply.
The Death Railway
Chandra my husband, shared his late father's experience with the Japanese. During the Japanese occupation, Chandra's dad was sent to built the Death Railway linking Malaya to Thailand and Burma.
He was one of the few survivors who had praises for the kind Japanese officers who gave him a pair of army boots as both his feet were badly bruised from days of walking barefooted to Thailand.
According to Chandra's dad, many British soldiers became weak and died because they were not adapted to eating rice like us. Tapioca and rice porridge were then the staple food during the Japanese Occupation.
Today the Penang Chinese Anti War Memorial stands to be forgotten as Air Itam becomes increasingly urbanized. Lest not allow these relics of the Second World War.
This anti war memorial must not fade from our memory. This should be a constant reminder what and how war is cruel and terrible.
Get a better understanding of Second World World in South East Asia here. Like all Old Chinese in his time, dad kept harping on the two World Wars he had survived and these Japanese song he was made to sing. Listen to this.
Britian's History
The fall of Singapore to the Japanese Army on February 15th 1942 is considered one of the greatest defeats in the history of the British Army and probably Britain's worst defeat in World War Two.
Yearly Commemoration of the Memorial
Once a year locals, Chinese schools commemorated the Anti War Memorial at the Air Itam roundabout. The Anti War Memorial is held on the 11th November, time 11 am sharp without fail. Wreaths and food are offered on the ground of the memorial.
Have you participated in this event? Do you want to share your experience? We like to hear from you.
Don't forget to take the right turn if you are exploring Penang Hill, Bat Cave or Jade Emperor Temple.
This page is dedicated to the fallen heroes of World War Two.
Go to Top of Anti War Memorial Page
Back to Jade Emperor Temple Page
Back to Penang Bat Cave Temple Page
Back to Cheng Kon Sze Temple Page
Back to Shrine of the Seven Sisters Page
Back to Photos of Seven Sisters Page
Back to My Island Penang Home Page