Hotel Penaga, there is only one word to describe it - phenomenal!
When you walk into the hotel, the reception area is like any other hotel. So what is the fuss all about?
Talked to the staff and they share stories of the owners' love for beauty and charm. Hotel Penaga is the brainchild of Hijjas Kasturi and Angela Hijjas.
Put an architect and an environmentalist designer and walaa, what do you get? An absoletely gorgeous charming boutique hotel.
As the hotel is facing 3 main corners of Penang roads, the rooms and suites are so named after them. You will find 32 Hutton Deluxe rooms, with poster beds and furnished with contemporary and some antiques around Asia.
Hutton Rooms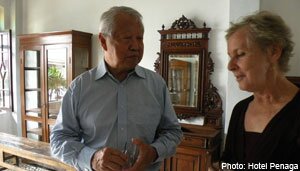 They even thought of the physically challenged who goes on holiday. But I think pets are not allowed,ya.
So Hutton rooms faces our Penang Hutton Lane which takes you to the length and breath of Penang road and straight across is Campbell Street for Chinatown shopping.
Transfer Suites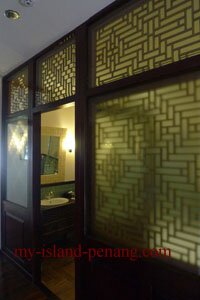 For 8 Transfer suites, it comes with room and balconies, not one but two. So stay a few nights and even moved from room to room and feast your eyes at the collection of antiques and arts work.
Come evening, relax and enjoy in the privacy of your room. One balcony faces the garden which is a sight for sore eyes, with sweet smelling fragrances permeating the air. I almost felt dazzled with some local flowers I remember from my childhood.
Feel connected to reality while sinking in the silence of your own voice with the hustle and bustle of town life in the balconies facing Transfer Road. Smell the freshly baked bread across the street.
The locals eating Nasi Kandar, an Indian Muslim cuisine and loud spattering of local dialects in the air.
So does it get any better? A room with a view, a man watching silently from the balcony, smells of curries and left over food and people chattering. Even a million dollar won't buy you this scene. You need to capture the essence, you got it at Hotel Penaga.
Unless you want to walk, Transfer road takes you to Jalan Sultan Ahmad Shah and walking to your left towards Gurney Drive.
Or to your right, find Francis Light tomb or Catholic Cemetery. Further down the road for in the evening, night life scene begins to come to life with Slippery Senoritas or SS. It is a lounge and club and a few more around. Interestingly, look out for gays having a night out.
Straight man, be on a look out on Penang Road as night falls and your eyes may be challenged to know which you choose to talk too or swayed by. Hotel Penaga is fairly near to many diversions of characters.
Booked the The first Green Hotel in Penang here.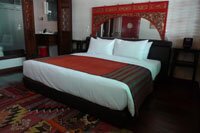 Clarke Terrace Houses
Five Clarke Terrace Houses are great for family getaways. 2 bedrooms in each newly restored and elegantly designed traditional terrace house makes it the new jewel dwelling in town.
Huge & impeccably clean room with king sized four poster bed. There is enough space to move around plus an enormous shower room and a jacuzzi bath too!
Every detail in terms of furnishing are passionately and carefully thought out. Placement of artwork, sofas etc plus various mod cons (e.g. Large LED Samsung TV).
The bathrooms are awesome. The family jacuzzi can accommodate 4 in the whirl pool and some sitting areas for relaxation and fun games. Most bathrooms has wooden paneled with dim lights, he and she showers and love nest jacuzzi.
Their bathrooms are passionately designed for the guest to feel special. Blissful and divine in Hotel Penaga!
So Clarke Terrace houses sits on Lebuh Clarke or Clarke Street. Facing small lanes towards Jalan Agryll, Jalan Dato Koyah and Jalan Hutton.
Affordable Penang Spa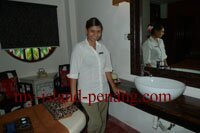 For me, the most exciting find is the spa. Mariana, an experience therapist has a few ladies working with her. The numerous packages look enticing and i am sold!. The ambiance in the spa is soothing, with soft lighting's and earth tones colors.
Very earthly and down to earth but the feeling is heavenly. They have several packages which is worth mentioning:
Fabulous Monday couples massage for 1 hour at RM120
Inner Beauty body Polish for 1 hour at RM80
Wednesday, Coffee Scrub and Massage for 1.5 hours at RM85
Thursday, Traditional Borch Body Wrap and foot massage for 1 hour at RM60
Friday, Back body Massage and Foot Reflexology for 1 hour at RM70
Garden stroll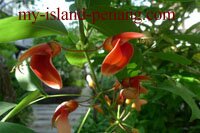 I would imagine the garden being less then 100 steps would take me 10 mins to observe the flora and fauna. Honestly, I spent hours in the little garden.
As I walked, it was just a green place. But as you walked, the sweet smells of yesteryears caught me by surprise. I searched for the floral that turned me to running kids in our kampong.
Memories of scent, reminders of elders not to talk about sweet smells as ghost are around to place spells on you came flooding back to me. Now 50 years later, as a matured adult, we realized we were taken for a ride. Reason being, our elders cannot look after us if we run too far.
The dedication to combine all floral and fauna with beautiful scents are so intoxicating. I could not recalled any hotel in Penang where I can enjoy this experience. It is simply wonderful in Hotel Penaga.
Resident Artist Program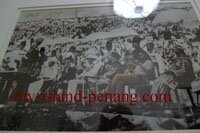 Hijjas and Angela has an artist program. In it, airfares, accommodation and a monthly stipend to cover the artists' expenses. It is offered annually to Australian and Malaysian artist. In return, artists donate two pieces of their work for the gallery collection.
Says Angela, "This program provides new opportunities for local artists who want to make art their career." She feels, there seems to be a lot more scope for serious cultural development.
One artist, a Malaysian had me captivated to his humorous art in "Recollection of long lost memories." His inspiration was drawn from Malaysia 50th independent day.
He used old archival photos related to the event as reference, so you see a contemporary person juxtaposing the past with the present, creating a dialogue. It was so humorous and hilarious and somehow thought provoking.
Two rows of Ahmad Fuad's Recollections of long lost memories, is hung in Transfer Suites.
The Cinnamon - Lunch and Dinner Menu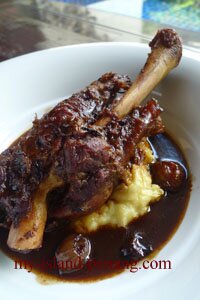 Recently, they got a new chef. We got talking and in no time, we eat till our stomach says great, it is enough for today. My hot favorite was the braised lamb shank with mashed potatoes and Asian sauce. It was super delicious.
The chef being a Malaysian hooked up the dish using many herbs and spices. As we eat, he willingly shares the recipe but we were more involved eating in Hotel Penaga then writing the recipe.
We completed our lunch eating menus from dinner as it was more attractive.
Green Rating
The owners having restored Hotel Penaga with pride and joy ensures laborers safety and living conditions in a humane environment. As such it was awarded the first heritage restoration with a green rating.
Usage of traditional encaustic tiles grace the ground floor of Penaga Hotel. Second hand lumber recovered from demolished colonial buildings is used in the restoration. The list is endless. So see for yourself when you come and stay in Hotel Penaga in your next holiday.
Booked the The first Green Hotel in Penang here.
Go to Top of Hotel Penaga Page
Back to My Island Penang Home Page