The Chalet Sportfishing is run by the Fisherman Association of Teluk Bahang. Directly as you reached the end of Teluk Bahang, a greenish building Penang National Park stands to welcome you.
The chalet is just on your right after the Fisherman Association. Right after the chalet is the Sportfishing Restaurant.
Staying nearby or near the jetty can be exciting if you are ok with the sounds of the waves or smells of the fishing village. It can be fun experiencing the lifestyle of our local fishing people in Teluk Bahang.
The chalet offers 12 rooms from 3 to 7 people accommodation to 2 huge dormitories for 10 people per room. Some room faces the sea while the other half faces the Hills. For the price of RM 70 to Rm210, it is a real bargain.
Most days are full so you need to booked early to avoid disappointment. When Chalet Sportfishing is fully occupied, I tried another new place which has only 3 bedrooms, the Balinese Homestay.
Seafood from this part of Penang is the freshest as the catch for the day is sold directly to the restaurant. But both the restaurant have closed down as business is really bad.
Nevertheless, most people come to Teluk Bahang for relaxation. Look at some photos of the Chalet.
Photos of Chatlet Sportfishing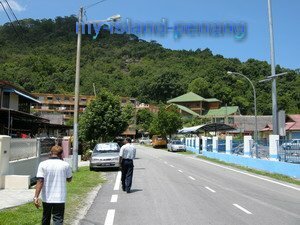 Walking towards Penang National Park, the Chalet is your the right.
| | |
| --- | --- |
| View from the Jetty | Standard room for 3 people |
| Family Room | View from Chalet Sportfishing |
| Breezy Chalet from first floor | 2 Dormitory available in the Chalet |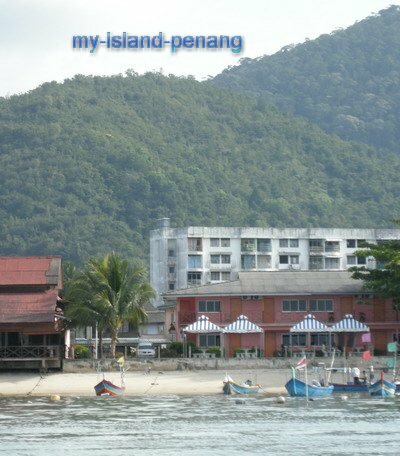 Beautiful seafront view of the chalet and restaurant in Teluk Bahang (close shop)
Type of rooms :
Standard rooms for 3 people
Family Room for 7 people
Family Room for 6 people
Dormitories for 10 people
Multi Purpose Hall for 200 seats
Book Here
Booked the Eco tours in Teluk Bahang here if you are ready. It is simply a marvelous way to enjoy your holidays.
Let me be your travel agent if you are going home or visiting other destinations. Hotel combined, an affiliation I trust has most of the hotels anywhere in the world which are affordable, even the pricey ones.
Have fun in Penang and have a safe journey when you leave Penang.
Go to Top of Chalet Sportfishing Page
Back to Teluk Bahang Shorelines Page
Back to Balinese Homestay Page
Back to Penang Free Shuttle Page
Back to Penang Bus Schedules Page
Back to My Island Penang Home Page