More Chap Goh Meh Drummers Photos as I can't helped myself looking at their skills and determination to sound the gongs. There was at the same time a Chingay display of our heritage culture.
We round up our Chinese New Year with Chap Goh Meh. For the Penang Chinese, the fifteen day and also the last day is a closure to Chinese New Year but a new beginning for the year.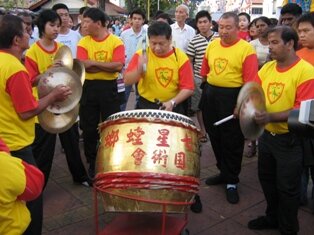 We got the opportunity to see and listen to the new beginning of a fruitful and bountiful year. The sound of the drums and lifting of the Chingay poles is really sending an awareness of wishing all of us present, a new beginning.
All around Penang schools or clans houses, practices for drummers and Chingay procession has been going on for a year. The highlight and performance for these people is performing during Chinese New Year or any grand function in Penang.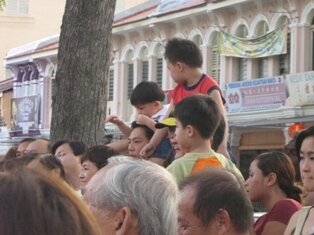 The seventh day and 15th day of Chinese New year are days the drummers will play in full attendance. Sometimes, as many as 40 drummers playing various interlocking rhythms roaring like the dragon dance or ocean waves captivates the crowd.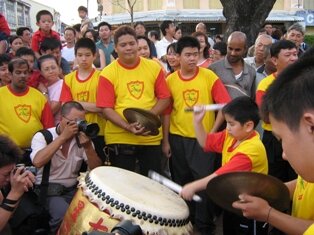 The thunderous sound like the ocean waves roaring in and out, lifting our spirit higher and higher is such a enlightening sense of comfort.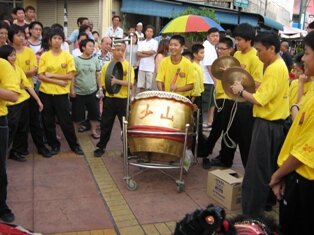 I could feel the ambience of new hope as I watched the crowd witnessing the Chingay, one man lift to triple man head stand balancing the Chingay bamboo poles. I felt elated by the encouragement and I look forward to further success for all. God bless Penang.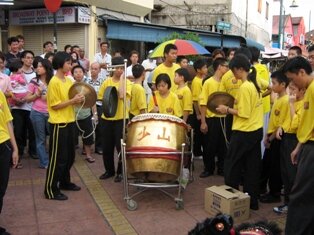 I hope you enjoyed the Drummers Photos taken. Cheers!
Go to Top of Chap Goh Meh Drummers Photos Page
Back to Photos of Hokkien New Year Page
Back to Nyonya Chap Goh Meh Page
Back to My Island Penang Home Page