Jade Emperor Folklore, is one of many Penang folktales past down from Ancient China. The Jade Emperor is the supreme ruler of Heavens, the Hades and the protector of Mankind.
According to Chinese traditional stories and folktales, Thnee Kong (Jade Emperor), is the highest ranking deity of the Taoist pantheon.
Jade Emperor Folklore has been told over and over again to us. Many times this folklore serves to remind us the greatness of Jade Emperor.
The Jade Emperor (Yu Huang Da Di)
From the ninth century onwards, he was the patron deity of the Chinese imperial family. The Jade Emperor presides over Heaven and Earth just as the earthly emperors once ruled over China.
Jade Emperor folklore is one folklores or Penang folktales, I never got tired of listening. It fascinated me from young as I am always listening to stories by dad and uncle.
His glorious birth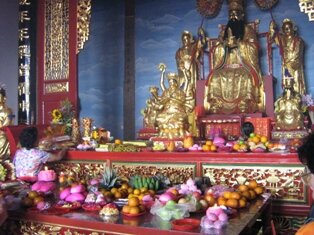 It seems at birth he emitted a bright light that filled the entire kingdom. You know when uncle said this, his eyes goes big and mine too was glowing. So how could I forget this story!
Even when young, he has such high standards being benevolent, intelligent and wise. He devoted his entire childhood to helping the needy - the poor and suffering, the deserted and single, the hungry and disabled.
See his Penang devotees worshipping the Jade Emperor during our recent Chinese New Year. Furthermore, he showed respect and benevolence to both men and creatures.
After his father died, he ascended the throne. He made sure that everyone in his kingdom found peace and contentment.
His thousands and one trials before attaining Immortality
That is just his beginning, then after over thousands of trials, he attained Immortality. It took him another million years before he was chosen to become the Jade Emperor.
How does he look?
The Jade Emperor is usually depicted seated on a throne in imperial robes, his flat-topped crown embedded with strings of pearls that dangle from the front.
He holds a short, flat tablet in clasped in both hands before his chest. He looks very majestic with his flowing beard.
His birthday is celebrated on the ninth day of the Lunar New Year commonly known as 'Tian Gong Dan' (Festival of the Heavenly God). See more photos of the celebration here.
It is an important festival to the Taoists and Chinese community. Taoist temples throughout the world held gathering and prayers together to worship him.
To beseech him to grant peace, prosperity, protection from calamities for the entire year, favorable weather conditions, and abundant harvest.
Go to the Top of Jade Emperor Folklore Page
Back to Goddess Parvati Vel Page
Back to My Island Penang Home Page