The Penang Maps covers the 285km of the island. Our tortoise shape island has many interesting places of interest. Georgetown itself holds many interesting places to visit. Separated from the island by a narrow 3km channel is Butterworth.
I hope this compiled version of Road Maps of Penang will help you enjoy our island and possible you might extend your stay, or maybe come back to visit us again.
Betel Nut Pinang Island thrills and woos using our roads and landmarks, our hills, map of Penang.
If it is the natural beauty you crave, our hills and beaches will be your answer to idyllic getaways. Not forgetting one of the main draws is our food, both street food or fine fining.
Penang Food is truly second to none and one of the main reason why visitors keep coming back.
The 1.5 million Penangites form a close knit community of diverse ethnicities, traditions, cultures in various areas in terms of worship, food,languages and dialects.
Learning Google Maps
How about playing with this Penang Google map. Just click on the above link. As an example, Penang map is shown to you, for those who are like me, would not know how to use Google map.Penang Maps
See the + or - sign, it is for expanding or reducing the map. So hover your mouse over the sign and see how it works.Penang Maps
Further up, you see 4 arrows, North , South, East and West. Hover the mouse over to move North, South, East or West of Penang. Easy? It is, isn't it?
The better way to explore Penang map is "View Larger Map". It may take some time to upload so please be patient.
See the word "more"? Place a tick on photos, all photos taken by net users will appear. So you have an idea where the location is.
Then you have three choices of maps, "Map, Satellite and Terrain". Click on each of them and see what happen.
If you click on Map, it shows some main roads. Satellite will show the picture taken a few days back by Google. Terrain shows the hills, mountain and flat roads. How you understand the maps better now. Play it and you will understand better.
Making Maps
By and by you will see maps of towns, streets or Hotels posted here. For a start, I show you . I find maps prepared by Google easy and interactive. The easier way to see a google map is always click on " View Larger Map".
Once you have done so, it opens up to a bigger map where you can see what has been prepared.
For example, the Batu Ferringhi hotel maps shows you all the hotel as if you are driving along the coastal stretch of the north part of Penang Island.
Then here is the trick. There are two ways to enjoy the map. You can click on the green pins on the map or you can click on the left side of the map which states the names of the hotels along Batu Ferringhi.Penang Maps
For now, I won't delete old maps. you get to view some old and some new maps here. Old maps are taken from brochures when I started this web site. Now even me, half century old learns the new way. :)
Anyway, I won't want you to lose out and try my best to furnish you with some great maps of Pinang, same time you can get more idea how to get around in our island with ease. Click on the picture for a bigger photo.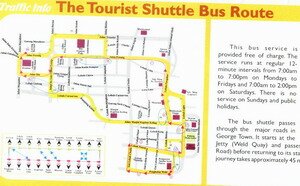 There is a free bus service shuttling on Monday to Saturday from 7am to 7pm. Half day service on Saturday till 2pm. Sunday and Public Holidays, there is no bus services. Click to enlarge on most photos.Penang Maps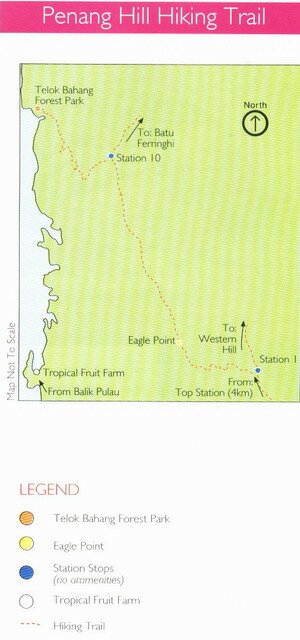 Penang Hill Hiking Trail lies between Telok Bahang and Western Hill. With 6.6 km forest between them, it is Penang longest forest trail.
Chirping of the birds and insects coupled with the natural highland air makes the hiking trek a truly recuperative excursion. Click on photo for a bigger picture.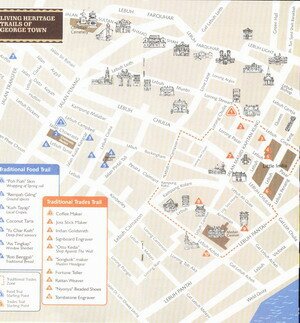 Here with Georgetown, along Lorong Chulia, Lebuh Cina, Lebuh Chulia and many other streets, you get to see traditional crafts like Joss Stick Maker, Coffee Maker and Songkok Maker.Penang Maps
This is now a dying art and for me walking down here really brings back memories of my childhood days. Foods like Benggali Roti, Coconuts tarts are a rare sight. Click on photo for a bigger picture.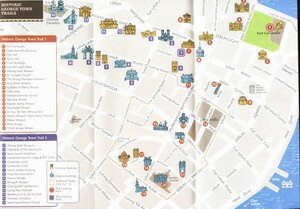 Marked in orange and purple are two trails for you to explore. Trail One will introduce you to historical places where civic and religious places are located. Lick on photo for a bigger picture.Penang Maps
Trail two will highlight some landmarks and buildings, with Christian cemetery and St Francis Xavier Church. Walk around Georgetown using these good maps and discover why I just love my cheery and warmth locals.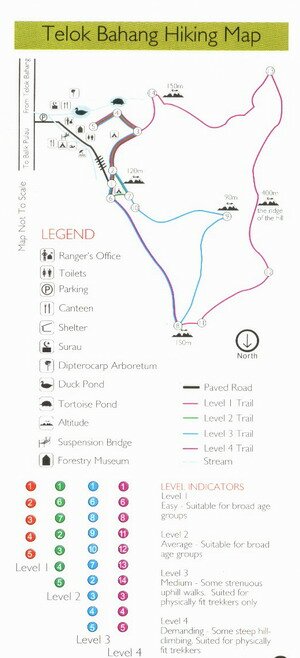 The Teluk Bahang Forest Reserve is situated on the north western part of Penang Island. As you hike, you will learn the exotic plants and herbs used in modern medicine as well as traditional remedies. Click for bigger photo.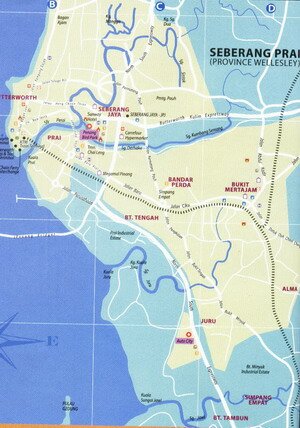 If you come from the North or South using the train, buses or ferry, Butterworth has some interesting places of interest. Click on the photo for a bigger view.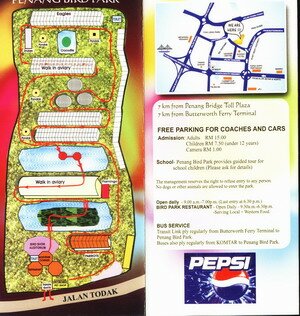 In Seberang Jaya, you get visit the Bird Park or Nine Emperor God Temple in Raja Uda. It is just 10 mins drive form the Penang Bird Park.
The Penang Bird Park garden is beautiful landscaped with many aviaries. Two huge "walk in aviaries , Geodesic domes and has more then one hundred cages of colorful birds.
You get to see 150 species of birds of Malaysia and over 150 more from other parts of the world. Swans, stocks and pelicans wanders freely around the ponds.
Macaws, parrots, pheasants, hornbills, soft bills, and many others are kept at the park for exhibition and breeding purposes.Penang Maps

At the Bukit Mertajam Forest Park, if you are a hiking enthusiast, you will enjoy the forest. The greens with ferns, epiphytes and wild flowers is a sight for sore eyes.
Watch out for the bee hives, exotic butterflies and insects. Click on the picture for a bigger photo.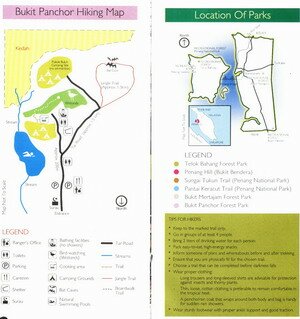 The Bukit Panchor Forest park is a 8 hectare lowland forest, located in the outskirts of the town of Nibong Tebal.
Just 40 mins by car from the Penang Bridge, this park has a flowing river amid lush greeneries that blanket the sweeping landscape.
Click on the picture for a bigger photo. The location of parks gives you a pretty good idea where they are located.
There are lots of tours arranged to visit this park even though it is a 4 hours drive to Kuala Lumpur. I though I will share a little on this park as it seem to be a very popular place to visit. Click on the picture for a bigger photo.
Taman Negara is one of earth's oldest rain forest, with a history that stretches back to 130 million years ago.
Lush vegetation and trees that form a giant canopy above you plays a warm welcome to the start of a great adventure into an unknown and mysterious world. It is reputably older than that of the Congo and Amazon.
Back to Malaysia Calendar Page
Back to Penang Introduction Page
Back to My Island Penang Home Page