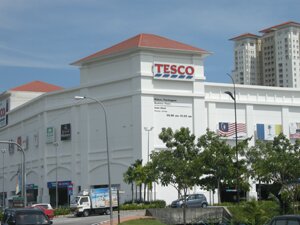 Penang Tesco Sri Pinang, the newest addition to the Tesco hypermarket chain in Penang is situated in the busy Tanjung Tokong district.
Indeed, it is a wise move for Tesco to land here as it caters to shoppers around the northern district, not to mention that it is strategically located at the high-end Tanjung Sri Pinang area.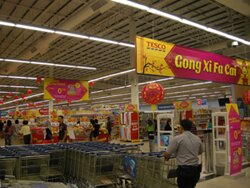 The layout of the hypermarket here is similar to other Tesco(s) out there. The toys and electronics are found right near the entrance, while food and beverages are found to the left of the entrance.
Clothes and apparels are found right in the middle. And with 30 over counters, shoppers could worry less about congestion at peak hours.
Perhaps taking advantage of its location, Tesco Sri Pinang is unique in the sense that it houses quite a number of notable restaurants.
Sakae Sushi, Mizi Bistro, Hakka Tree and Swensen's can all be found here, while the ever-present McDonalds and KFC are here as well.
Several smaller stalls offering snacks and waffles are available too. Let's not forget there is also a food court for those on a budget.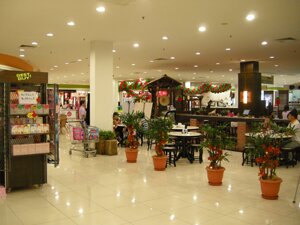 There are also several other shops that may be of interest. Sen-Q offers digital devices ranging from televisions to mobile phones and kitchen appliances.
There is also a shop selling traditional Malay costumes on the upper floor. A pharmacy is here too. All in all, shoppers can find most of their daily needs here.
This article is written by Patrick Cheang.
Go to top of Penang Tesco Sri Pinang
Back to My Island Penang Home Page