Penang HomeCookingClass Registration was started after many months of encouragement from friends, relatives and most importantly from Datuk Lim.
Home cooking creates an opportunity to learn how to prepare authentic local cuisine from me, an experienced instructor with hands-on cooking experience.
There is no need to worry whether you can cook or not.
My class commences with introduction to our kind of food. I will explain our way of using fresh herbs and spices.Penang Home Cooking Class Registration
And certain benefits eating them. I want to inspire you to go home and cook with your own country local herbs and spices.Penang HomeCookingClass Registration
To me, nothing beats fresh and wolesome food. Most concerns or worries you have will be gone as we share some local tips and secrets, pitfalls to cooking.
Cooking Classes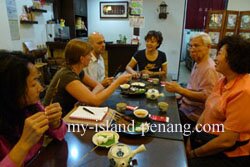 Look at the schedule at Penang Home Cooking Class Registration as I am now teaching in Tropical Spice Garden cooking school.
You can learn on Tuesday, Thursday and Saturday in the mornings. You get to cook 3 dishes and it makes it real affordable there. In Tropical Spice Gardern, cooking is HALAL. Penang HomeCookingClass Registration
Other days, I teach in my own home at Shanta Niketan. In my home, we cook pork, beef, chicken or duck for meat dishes, just fill up the form below and book in advance if you want to select. See our location and set up here.
Booking ahead is best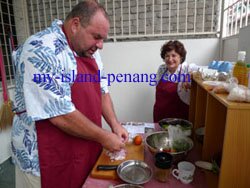 There are days, when classes are so packed and we have to run 2 sessions. I really don't want to do that as it tires me and I can't give my best.Penang HomeCookingClass Registration
When you write to me and I get the chance to sit down and planned for you, that is the best.Penang Home Cooking Class Registration
Lately we have too many guest who write a day before arrival. In this case, they have to fit in the planned classes which it might not be to your selection of food. Advance booking means, pay some deposit first and you locked the date and dishes.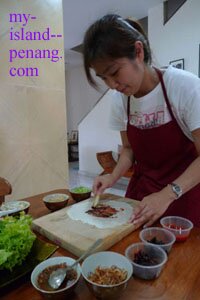 See some of them here, luckily they arm themselves with camera. Some missed out alot as Chandra is sometimes away. Chandra, my husband is my sous chef, driver to my guest. So if you see an Indian man coming to fetch you, you know he is Chandra,ya!Penang HomeCookingClass Registration
Cooking class Schedules
Nyonya FoodPenang HomeCookingClass Registration

Street Food

Penang HomeCookingClass Registration
Hot Indian FoodPenang HomeCookingClass Registration
A complete set lunch or dinner.Guys, do not be confused. So long as you book early, just pick and booked!
Choose any 3 for RM250/person.
Choose any 2 for RM300/person.
Choose any 3 for RM250/person.
Choose any 2 for RM300/person.

5 spiced Porkroll,

is belly pork or shoulder marinated in 5 spice powder, diced water chestnut and deep fried. Serve with a special prepared sauce.

Mee Goreng

is a egg noodle stir fried the Indian way.

Lessons: 4 Prep work gravy, garnish, main Ingredients and sauces.

 

Butter Chicken Curry

Pan fried chicken cooked in butter, yoghurt,  Specially selected mixed red spice flavors this dish.Penang HomeCookingClass Registration

 

Traditional Popiah

a variety of vegetables, prawns and pork, chicken roll in a popiah skin or crepe.

Penang Home Cooking Class Registration

Dark Sauce Pork

is belly pork or shoulder cooked in dark sauce, lots of pepper and garlic . Firm taufo and hardboiled egg completes the dish.

 

Chicken Rice with steamed white chicken

is served with specially prepared chilly sauce and spring onions.

Hot and spicy Fish Curry

Fish cooked in tamarind sauce with okra, tomatoes in a Southern Indian style.

Pasembor

is a sweet and spicy vegetable salad, top with prawns fritters and sweet and spicy gravy or dips.

4 types prep work.

Curry Kapitan

is chicken cooked with fresh turmeric, galangal and coconut cream. Lime is used to lighten the creaminess.

Wanton Noodle

Learn 2 type of noodle dish, dried and soup. 2 types of dumplings with char siew or roasted chicken in the wok.

Meen Molee

Fish cooked in coriander powder and leaves, a Kerala Indian style fish stew. Specially selected mixed spice flavors this dish.

Coconut cream rice set

Rice cooked in coconut cream. Served with tamarind prawns and sambal deep fried fish.

4 types prep work.Penang Home Cooking Class Registration

Otak Otak

is seafood mousse steamed with fresh herbs and coconut cream.  Correct usage of sticky rice and kaffir lime leaves will stabilize the dish.

Curry Mee

Yellow egg noodle prepared with curried chicken and crispy fried tofu. Bean sprout, long beans brightens the dish.

Hot and spicy Prawn Curry

Prawn cooked in tamarind sauce with onions and masala spices in a Southern Indian style. Specially selected mixed spice flavors this dish.

Laksa

a tamarind based gravy served with rice fat noodle with lots of cucumber, pineapple, mint and torch ginger. Not forgetting sweet prawn paste.

Sambal Goreng

is cashewnut cooked in tamarind and lemongrass in a prawn white curry. Penang Home Cooking Class Registration

Claypot rice

Pork or chicken cooked in claypot. Served with roasted meat and prepared special sauce.

Indian Lamb or beef Rendang with a twist

Meat is marinated with tendorizer and slowly cooked to perfection.

 

Birthday Mee or Noodle, is a supreme egg noodle dish served to elders on their birthday. Egg noodles symbolize longevity.

Duck Stew

or Hong Ark, is duck simmered with cekur or sand ginger, corianders, nutmeg powder and bean paste.

Fish Ball Glass Noodle Soup

is glass noodle served with home made fish and prawn ball.

Hot and spicy Dried Crab Curry

Crabs cooked in tamarind sauce with onions and masala spices in a Southern Indian style.

Crispy Spring Roll, is a supreme spring roll dish served with Lee and Perrin worster sauce. A traditional dish for weddings or big event.

Fish Curry

is fish cooked in tamarind with fresh herbs and spices. Mint and okra is added so it won't be so spicy.

Char Koay Teow

Stir fried rice noodle, vermicelli or yellow egg noodle. Eggs, pork slices are some ingredient added depending on the dish.

Arabian Almond Chicken curry.

A mild chicken curry with garnish with flaky almond

slices.

Nasi Kunyit or sticky yellow rice with potato and chicken curry, steamed turmeric glutinous rice served with chicken cooked with local herbs and spices curry
Sambal Udang

is prawns stir fried in spicy shrimp paste sauce.

Complimentary Dessert

Black rice porridge

Chendol

Ice Kacang

Wheat Pearl Porridge or Gandum

Complimentary Drinks

Mango Juice

Lemonade

Ice Lemon Tea

Ice Bandung

Kerabu Beehoon or vermicelli sambal salad, garnished with steamed prawns, beansprouts, dessicated coconut and lime to zest the dish.
Duration of Penang Cooking Class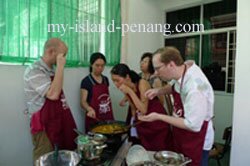 Classes are 3 to 4 hours for 3 or 4 dishes. It includes food preparation, cooking and dining. Classes commences in the morning at 10am and ends after lunch. Penang HomeCookingClass Registration
Evening classes are available by arrangement. Penang HomeCookingClass Registration
Standard cost is based per person approx RM250 for 3 dishes. We accept Western union, Local cheque or Pay Pal, this payment is inclusive of all cooking ingredients.Penang HomeCookingClass Registration
Nyonya Cooking 1 - Some Party Food
See some dishes and photos here.
Ready for your fun and cooking adventure, register here:Penang HomeCookingClass Registration