The Assam Laksa is a piquant dish amongst the best known and loved of hawker fare in Penang.
A bowl of steamed spaghetti-sized rice vermicelli is first generously garnished with finely sliced vegetables including onions, cucumber, red chilies, pineapple, lettuce, mint and pink bunga kantan (ginger buds). Laksa......., now which Laksa would you like to eat?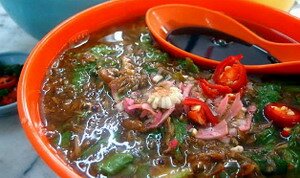 Three main choices of Laksa dishes and different recipes dishes can be found in Penang.
Laksa is considered one of Malaysian best food and is equally tried, kitchen tested and savor by many outside Penang or Malaysia. The Penang Nyonya Laksa is reputedly one of the best in Malaysia.
Read more here. See some dishes and photos.
The sourish sweet curry Laksa dish by Nyonya are called Assam Laksa. The Thai add coconut milk to their laksa so it is called Siam Laksa Lemak.
The Malays does their in a deep small hole clay pot so it is called Laksa Buyong. And a specialty of Kulim is Laksa Sotong using dried squid cooked in sweet curry recipe.
Ground spice ingredients A:
5 fresh red chilies.
15 dried red chillies.
150 gms shallots.
5 cloves garlic.
40 gms galangal (lengkuas).
4cm knob fresh turmeric root.
20 gms Belacan.
3 Stalks of Lemon Grass (serai).
Ingredients B:
300ml water with 4 tbsp tamarind paste (asam jawa), mixed and strained to obtain tamarind juice.
10 sprigs polygonum leaves or laksa leaves,(daun kesom ).
3 stalks lemon grass, lightly smashed.
Main Ingredients C:
1 kg mackerel (ikan kembung) or horse mackerel (ikan selar kuning), wolf herring (Ikan Parang), cleaned.
1.8 litres water for boiling fish.
1 kg fresh laksa noodles, scalded.
2.5 litres Water for scalding noodles.
Seasonings
2 Tablespoon Sugar.
1 teaspoon salt or to taste.
The salt and sugar must be added during to achieve a smooth balance of flavour.
I love to squeeze one lemon before serving.
Garnishing D
1 torch ginger bud (bunga kantan), halved and finely sliced.
1 cucumber sliced.
1/2 pineapple, sliced to strips.
1 onion, finely sliced.
2 red chillies, seeded and sliced.
A few sprigs mint leaves (daun pudina).
Prawn paste (har koe), diluted with water to a drizzle consistency.
A sprig of basil leaves.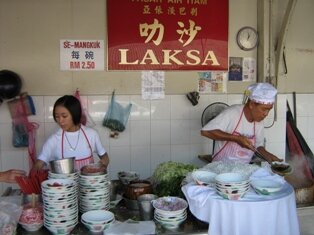 Method:
Boil fish in just enough water. When cooked, remove the fish and strain the stock. Then flake the fish and set the fish aside.
Strain the fish stock into a deep stock pot. Put tamarind juice, ground ingredients (A), water and fish stock in a pot. Add B and C, polygonum leaves, and lemon grass.
Bring to a rolling boil, scoop up the laksa leave, turn flame to simmering boil for 40 minutes.
Add the flaked fish and seasoning to taste. I would heat it up again for an extra 5 minutes before serving.
Remember to soak and scald the laksa noodle if you purchased the dry pack. But if you got form the market, precooked packet, scald it first before serving.
Serving Method:
Pour a ladleful of Laksa soup or gravy over the noodles. Repeat twice to allow the fish flakes to stay on top of dish. Garnish with a little of each garnishing in D.
Drizzle a little prawn paste over and serve immediately. You can also serve the prawn paste separately.
The top few I love are at:
Nyonya Laksa : Bani behind Giant Supermarket. This Nyonya Assam Laksa dish is piquant with exact taste as my mum's recipe.
The Deaf and Dumb man in Air Itam Food court. He does it a milder recipe dish and equally great.
The Laksa stall in front of Air Itam wet market. This family has been operating here for over 30 years.
Assam Laksa: Sar Chew coffee shop at Cantonment Road, Pulau Tikus.
Sin Hwa coffee shop, opposite the Pulau Tikus Police Station.
Lam Kong coffee shop in 67 Main Road, Balik Pulau opposite the Balik Pulau wet market.
A bowl cost approximately RM 3 to 4 depending on location. Well, you can also refer to Wiki for more details of these vibrant Penang Laksa dish.
Curry mee cannot be mix with Laksa, in my opinion as the noodle used are different.
Laksa for any kind of laksa dish be it Laksa Buyong, Sotong laksa, Curry Assam laksa or Laksa Lemak all uses the thick or thin rice noodle strands.
Curry Mee used yellow flour noodle so locals Penang will not classified this as Laksa but Curry Mee. I am so glad Wiki pointed it out.
Go to Top of Assam Laksa Page.
Back to My Island Penang Home Page.