Pinang Cars would be your choice to pick for a variety of reasons. Either you need to drive the car for site seeing. Or rent the car for your Penang travels or holidays.
Or be chauffeur driven to your business meetings, browse through for the Penang car for hire details.
Well if you can drive, renting Pinang cars offers you great flexibility and convenience. By paying a deposit, you can book a car to drive around and pay the corresponding rate measured daily.
As for me, driving or owning a car in Penang is a necessity not a luxury. I love driving around Penang. It does take some skills to drive in Penang. And some say, if you can drive in Penang, you can drive anywhere in the world.
Traffic in Penang can get quite hectic and the locals are what we called "road gangster" or road bullies.
Taxis
Another mean of Pinang cars would be taxis or kereta sewa (car for hire). There are two kinds of taxis.
One is legal, going by meter when they choose to do it. Although they are designated by the Authorities to use a meter for transport charges, most do not conform to the standard and it would be best to agree on a fixed fare before boarding.
Taxis normally charge between RM5.00 - RM10.00 for short distances within the city.
The other taxis is what we called "Taxi sapu". Ordinary cars with no taxi meters, they ply around town picking up passengers when buses are late. Fares are cheap.
One word of advise, get in only when you need to make up the number of people going along that routes so you will not be charge exorbitantly.
Pinang cars rental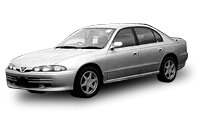 If you wish to venture further at your own leisure, it might be a good idea to drive around yourself. Most major international and local car rental companies offer a good choice of vehicles and packages.
A valid car license with a photo is required to rent a car. An international Driving Permit is not necessary. Pinang Cars are right-hand driven on the left side of the road. The use of seat belts is compulsory for both front and back seats.
The parking system here consists of parking metres, tickets and coupons. Most office buildings and shopping complexes have car parks. The speed limit at 60km at some areas but you better follow or a compound fine of RM300 may be slapped on you.
So getting around the island in Pinang cars is most convenient. Pinang cars Richard Goh has been working for this agency since its infancy. When some visitors recommended that I checked this agency out, I never knew I will find a very old friend again.
I have heard of New Bob Agency but never really know how great this company was until a few travelers felt, I should check them out. Refer to a map of Penang before you drive. Have fun!
Penang Car Rentals
New Bob Richard self drive car can be booked or rented by day or weekly. Below is a table for your reviews.
Grp
Make/Model
Capacity
Drive
Daily
Rates
Nett
Weekly
Rates
Nett
 
 
 
 
150km limited
Excess km
Unlimited km
150km limited
Excess km
Unlimited km
A
Perodua Kancil
 850cc
Manual
107.40
0.30
138.90
659.40
0.30
833.40
B
Proton Iswara
/Perodua Myvi
1300cc
Manual
128.40
 0.30
159.90
785.40
 0.30
974.40
C
Proton Wira /Perodua Myvi
1300cc
Manual/
Auto
149.40
0.40
180.90
911.40
0.40
1100.40
D
 Proton Wira
1500cc
 Manual
164.90
 0.45
196.40
1009.40
 0.45
1198.40
E
Proton Wira / Iswara
1500cc
Auto
175.40
0.50
206.90
1072.40
0.50
1261.40
F
Proton Waja / Wira
1600cc
Auto
217.40
0.60
248.90
1324.40
0.60
1513.40
G
Proton Perdana V6
2000cc
Auto
274.90
0.60
316.90
1674.40
0.60
1926.40
H
Toyota Unser /
Toyota Avanza
1800cc
1500cc
 Manual
Auto
 243.40
0.60
285.40
1485.40
0.60
1737.40
I
Toyota Unser
1800cc
Auto
285.40
0.60
316.90
1737.40
0.60
1926.40
J
Naza Citra
 2000cc
Auto
238.00
0.60
278.00
1453.00
0.60
1693.00
K
Naza Ria
 2500cc
Auto
392.50
0.80
453.40
 2380.00
0.80
2745.40
Find out more from Richard, on Non waiver able damage deposit and ERW. You may need to read the terms and conditions before renting the cars.
Car rentals booth in Penang International Airport
The great news is that when you booked a car here with New Bob Agency, you get to collect the car from their main office or from Penang Airport.
You will also drop off in the airport when you depart. And all cars are fitted with air conditioning and radio and cassette players.
Where to find New Bob Car for hire in Penang International Airport?
As you come out after claiming your baggage and immigration clearance, New Bob car rental booth is situated on the right. Once you have paid here, a receipt is given.
Produce the receipt to get the key for the car you hire. Or show the receipt to the supervisor and she will arrange for your journey home or to the hotel of your choice.
Or other alternatives can be:
you arrive late at night, you need a taxi home
or you are in between connective flight and have a few hours to spare, take a short Penang tour by private car
or need to 2 hrs ride home to Ipoh
or need a private taxi to Lumut or Sitiawan
or need a private taxi to north or Alor Star
or get corporate rates when you booked for monthly rentals
or day business trip
I hope you can understand, it is not possible to list all the prices for a taxi in Malaysia here on this page. If the destination you require is not listed, please use this form, to request for more information.
In short, which ever is your needs or requirements, we will cater. Just let us know. A much more elaborate site other then Pinang cars, big big cars like 4X wheels and how to enjoy 4X wheels is written by Thrandur, who stays in Iceland.
Read from Thrandur, an Irish whose love for 4x4 and off roads travelling has made him an expert in this subject. He wrote an excellent site about 4x4 Off Roads.
See some of his pictures of his awesome 4x4 wheelers. Make me imagine I am in those best of the best treasure hunts shows going on a wild adventure! Awesome Thrandur.
Back to Penang Free Shuttle Page
Back to Traveling to Penang Page
Back to Penang Bus Schedules Page
Back to My Island Penang Home Page