I was at the public forum this morning in Penang for the new mega project PGCC (Penang Global City Centre)
A mega structure costing RM25billion covering 104ha at site of the Penang Turf Club with hotels, condominiums, commercial centers and even a park should excite the Penangite, don't you think? On top of that, we will have 37 blocks of apartments each 40 stories high.
As I look at the flyer and questions posed that needed answer, I felt I have to listened more intently what is going to happen to our Penang Island. Will PGCC, be good for us or not?
The PGCC Public Forum
Penang Watch has uploaded 6 videos, this is the one of six videos.
There wasn't much news I could gather from reading the newspaper. All seems great as quoted on July 31st 2007 STAR, our local newspaper.
"Hani Rashid from Asymptote Architecture in New York will design the architecture, which includes two iconic towers, while Nasrine Seraji from Atelier Seraji in Paris will design the master plan," he told reporters after the launch of the NCER Penang portion blueprint by Prime Minister Datuk Seri Abdullah Ahmad Badawi on Tuesday.
Two iconic towers? What should I understand from this? I know "bionic" but "iconic" seems too big a word for me. My small island Penang, does it need two iconic towers?
All I know is traffic congestion issues have not improved and with 37 blocks of apartments means another 6,300 more residents. How many more cars will this brings about?
Then it goes to say Dato Patrick Lim saying the project would be launched in eight to twelve months. At the same time, most of my relatives and friends are curious how such a mega project planning be conducted so secretively. Questions raised by them were
"How come they were not told? Why the secrecy? Sounds like there is no need for public to know?"
I went with an open mind, as I believe changes and progress are inevitable. But not being transparent enough is causing a lot of concern. I can understand why our Penang people have questions they need answered.
PGCC Flyers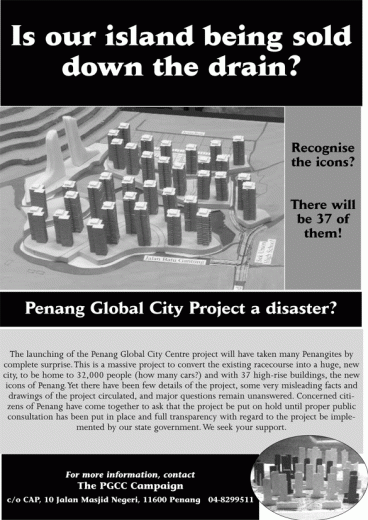 You can imagine Dewan Sri Pinang where the forum was held was packed. NGOS, local people, communities living near Batu Gantong, Jesselton Height, Scotland Road were there to voice their opinion and unhappiness.
We were told all approvals have been given for the mega project to commence, but we also heard that the local council have yet to make any decisions. Many Penangite fervently hope that the Chief Minister Dr Koh Tsu Koon will listen to their pleas.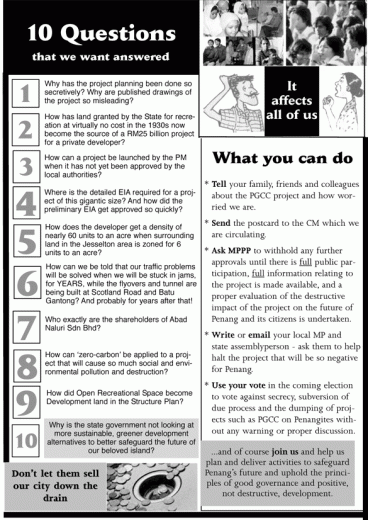 Read more from here. Komtar was supposed to be the major administrative center of Penang. After 30 years it is not yet completed. PGCC will take 15 to 20 years to complete. The concern raised, "Can this mega project be completed"?
Penang Traffic Jams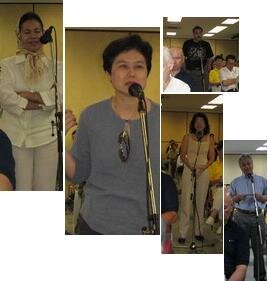 Many of us hope to see the better of Penang coping with the traffic congestion and over development. Transportation is still a major problem and not just that it is getting worse everyday.
Now for us, it is easy to predict the time and place where congestion is at its peak. We learned to cope and avoid using these roads.
Jalan Masjid Negeri, Basically from one end to the other
Air Itam, front of Chung Ling High School
Dato Keramat, T Junction
Pulau Tikus, T Junction
Kelawai Road, at times the jam starts from Gleneagles Hospital all the way to Gurney
Farquhar Street, front of St Xavier and Convent Light Street
Burma Road, the whole stretch is always slow moving
Batu Uban, T Junction
Scotland Road, T Junction
Scrapping off the PORR and monorail project, this project will makr our everyday life a living hell because of traffic jam.
Need more information
Get latest information on PGCC, check this out:
The journalism and other writings of Anil Netto
Consumers' Association of Penang (CAP)
Sahabat Alam Malaysia (SAM)
Penang Heritage Trust (PHT)
Malaysian Nature Society (MNS)
Citizens For Public Transport (CEPAT)
Aliran
Back to Penang Introduction Page
Back to Les Chang Tribute Page
Back to Malaysia Calendar Page
Back to Cycling to Penang Page
Back to My Island Penang Home Page