Penang Economy Food is part and puzzle of Penang Food and is top of the list in Malaysian Food. Most economy food is sold in our local coffee shop or "kopi tiam". The Chinese sells their economy rice food in "kopi tiam".
The Malays called their kopi tiam, "Gerai makan". The Mamaks calls their coffee shops," Nasi Kandar stalls". When it comes to economy food, it is typically food we would cook at home, our home cooked food. Some refers it to Penang Hawker food, Food Penang or Penang Street Food cooked freshly cooked every morning.
Penang Economy Food is fresh home food not hawker food. It is like traditional Malaysian food eaten outside our homes. Why we preferred eating the economy food.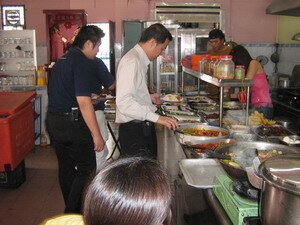 Typically, it is usually a plate of white rice with assorted dishes cooked. Sometimes eating out become boring, noodle is no fun. People in Penang are rice eaters. We called them "phui tung" or rice basket. No rice consumption for the day, their meal is not completed. Penang Economy food comes with rice or porridge.
Varieties in Penang Economy Food
The varieties of economy food we have in Penang is so unique. Chinese food or Nyonya food is common dishes loved by many. I, for one would choose a kopi tiam that has dishes that filled the half the coffee shop.
The bad habit we have is that though we will sample 3 or 4 dishes but we love to choose from 30 dishes. We are a tough customer to please.
Taboo when dishing Penang Economy Food
Simply join in the crowd. If you see any kopi tiam or coffee shop packed, then you know you can try the Penang Economy Food. Ask for a plate of rice or porridge. Usually you picked your own choices. But one tip here is be careful not to mess up the dishes.
Some people just do not have any courtesy or think about others. Well, they either stay too long choosing the dishes and forget others are waiting. Or simply choosing a fried chicken piece and meddling over to get a bigger piece, imagine that!
Cost of Penang Economy Food
Usually a plate of rice with 3 or 4 dishes, approximately cost you Malaysian Ringgit four or five plus drinks too. Fairly good price for a good lunch or dinner.
Curry Dishes
Sambal Undang or Prawn Sambal (Kari Heh)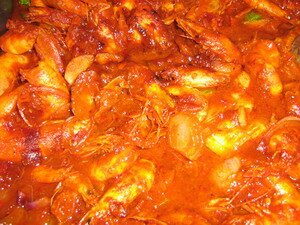 This dish is a Chinese concoction cooked with coconut milk, plenty of onion and dried chillies. Medium prawns is best use for sambal udang.
It is not too spicy or pedas. So quite an old time favorite for most of the office workers. Most Nasi Lemak stalls or vendors will spcially prepared this as an added dish. One should not miss this.
Ikan Pari or Stingray Sour Curry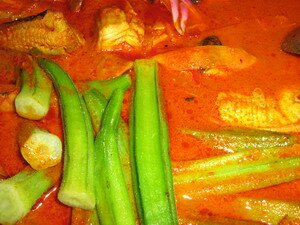 Stingray cooked in tamarind with some (coconut milk or santan. Any firm fish cutlet will this dish much more costly. The lovely combination of Indian premix paste and cooked Nyonya fusion style. Some would steam ladies finger and add in this curry.
Mixed Vegetable Curry (Kari Chai)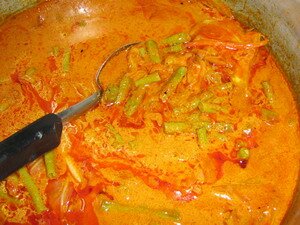 Of all the Chinese prepared curries I have taken, I think the Chinese did this curry the best. It needs lots of onion or shallots. So I would recommend you try this signature curry dish.
Some version has pineapple, salted fish or cockles. I just love this vegetable curry. Another idea is add yellow noodle to this dish and wa laa, you have curry mee.
Chicken curry (Kari Kay)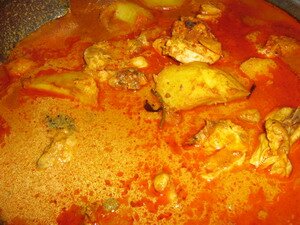 This is a typical chicken curry cooked in almost all Malaysian Chinese homes. The basic recipe uses prepared rempah, a combination of Malay and Indian fusion mixed paste cooked the Chinese method.
Some can be quite overpowering as too much shallots or onions is added. Some love the paste to be consist of fresh turmeric, galangal, lemon grass and plenty of potatoes.
Steamed Dishes
Steamed Meat (Choey Bak)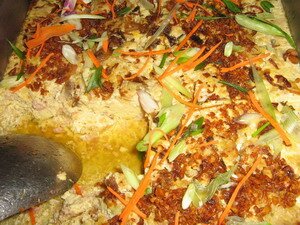 Minced pork mixed in egg, a little soy sauce. Steamed the mixture and walaa you get this steamed pork dish. There are many variations to this dish.
Some would add Salted Fish before steaming, it taste so yummy. Ai yo, for me...no money no honey but must have steamed meat with porridge. that will make me happy.
Steamed Fish (Choey Kambong Hu)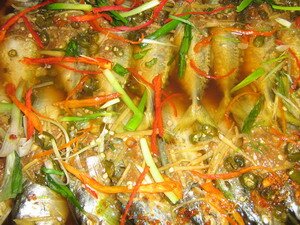 This is a Taochiew fish dish. Small fishes like "Ikan Kambong" or "Ikan Selat kuning" is cleaned well and steamed with plenty of ginger slices, soy sauce and tau cheong. Then garnished with spring onions and fresh chilies slices.
A great dish to take it with is porridge. The other version is deep fry the fish and pour the same saute garlic and beanpaste on it.
Thai Sweet Sour Fish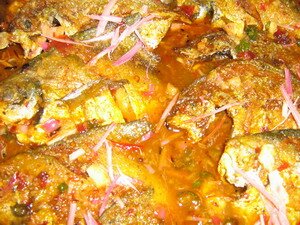 White, Silver or Black Pomfret is the fish of choice; lightly coated in flour and deep fried whole till crispy.
The crispy fish is then topped with stewed pineapple, green pepper and onions in a sweet sour sauce. Grouper is another fish that is very popular. Served this style whole.
Steamed Cabbage Rolls (Choey Pau Ku Lay Chai)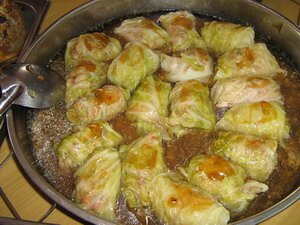 Wrapped in the cabbage are minced pork, prawns and a little flour for binding. Very unusual dish as after wrapping, the whole plate is steamed and served hot or cold, it taste good. The minced pork is season and marinated well before it is fill in the soften cabbage leaves.
Stir Fried Dishes
Fried Bangkuang (Bangkuang Char)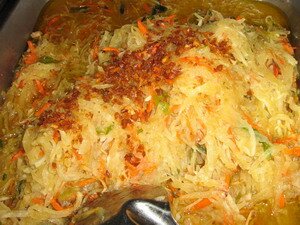 This dish is what the Nyonya would called Jiew Hu Char but a simpler version. Jicama or bangkwang is a sweet turnip, one of the sweetish root vegetable you can find.
Bangkuang Char is less ingredients with lots of yam bean (bangkuang), carrot, a little cabbage and some dried cuttle fish for a little taste of Jiew Hu Char. But nevertheless a great dish as it is sweet when served with lots of garlic oil.
Fried Egg (Chai Por Nui)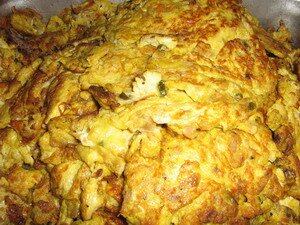 Another great dish to eat with porridge. A scrambled egg dish with chopped chai por. It is quite an easy dish to prepared. Beat up the eggs, add pepper and a little salt. Stir fry, cube onions and salted radish till well done and add to the beaten egg.
A "to-die- for" if you believe me. When we take this dish, we are reminded of our forefathers meager earnings thus it is an old time favorite.
Chop Suey (Kua Chai Kong Assam)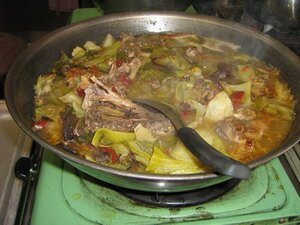 Another interpretation of Kiam Chai Boey. A common hokkien dish using left over of vegetable dish. Some dishes that has cabbage, carrot, bangkuang, kua chai and char siew or roasted pork makes good chop suey.
As Kiam Chye Beoy is only prepared Chinese New Year, this version is a great dish when one misses Kiam Chai Boey.
Porridge goodies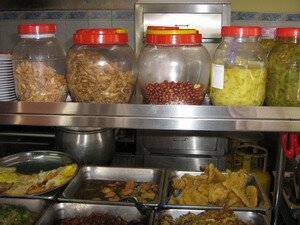 The porridge varieties is one of the best in the island. An assortment of Pan Fried or Baked Salted Fish, Anchovies.
Groundnut with a dash of salt and pepper, Preserved Vegetable or Kiam Chai and Sweetened Kiam Chai are served in Malaysian Chinese traditional food.Some salty food lovers will packed home some for nibblings.
Well, this list of food is only a few great economy food sold as economy rice food but they are "ever lasting dishes". I will keep adding more as inquiries keep coming in for certain dishes you have missed. Hopefully, it will encourage our visitors to sample our Penang Economy food.
The participation from Food Reviews resulted in some of the best food choices. Believe you me, we went around the past few weeks eating non stop but fortunately the team helped to EAT!
Tough choice but honestly, we could not eat all. But since most of voted, they deserved to be listed. See some photos of our Hawker food collection.
Top 5 best Kopi Tiam and Food Courts in Penang
New World Park, 102, Burma Road, Tel:
Red Garden Food Paradise, 20 Leith Street, Tel:
Macalister Road, three coffee shops opposite the Midtown and Agora hotels
Lorong Selamat, Two coffee shops, one covered and another open air.
Almost all shopping Malls has great food courts
Go to Top of Penang Economy Food Page
Not enough of food, back to Nyonya Food Page
Need hot and spicy Indian curries?
Don't salivate, go for more Nyonya desserts
Back to My Island Penang Home Page