The multiple roles, the Spirit mediums plays in the Nine Emperor Gods celebrations can be seen more evidently on the third day.
Here again, I see every Taoist temple uses the mediums relatively in the same way. Basic roles of the mediums. They will invoke the Gods in the Trance and Dance ritual.
This performance of trance, dance, rituals and rites are different from that of spirit possession.
The difference is this, messages from the spirit mediums can be understood and translatable. While in spirit possession, no message is conveyed and neither can one understood.
The spirit mediums with the help of an interpreter listens to the message conveyed and impart to the devotee in need of help. The act of consulting the deity through the spirit mediums is known as asking for peace.
Sometimes, it could also be you are in a steak of misfortune or illness and needed spiritual prescription. Read more about this:
For this cases, herbal medicine or amulets, charms, talismans and prayer sheet is given. All this is performed in a state of possession and intended as a form of exorcist healing.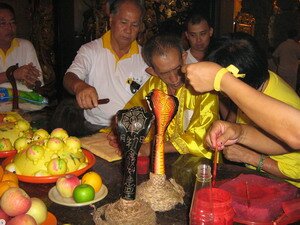 In some cases, spirit mediums may perform ritual healing for spirit possession, loss of soul or illness which to us is unexplainable. For this, exorcism of the evil spirit is a common treatment.
My euphoric state of mind was expressed in my article on the Raja Uda Butterworth Tow Boo Kong Taoist Temple as they prepared for the Nine Emperor Gods celebrations. It is going to be THE FESTIVALS of the Year.
Don't believe me? Follow the many pages I wrote about the elaborate event in Butterworth Penang.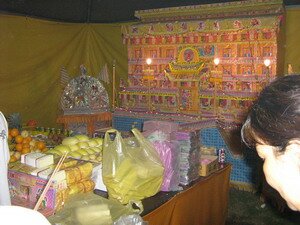 Taoist talismans can be used to invoke gods, deities, protect a household, improve your business, attract wealth, enhance relationship, dispelled sorcery, activating good "Chi", dissolve a bone lodged on throat, arrest bleedings, prevent burglary, prenatal protection, etc...
The talismans are usually drawn for various purposes. Each spirit medium has their own way of drawing talismans, activating talismans and rituals to perform.
Their form of talismans is usually handed down from their past lineage of teachers. These may comprise of various rituals, and invocation to empower and bless these talismans.
Most of these talismans are guarded secret which are never revealed to the uninitiated, as they are so sacred. And some of these Talismans and rituals are so deadly that it can caused harm, injury, insanity and even death when use upon their enemies.
This welcoming ceremony of the Star Deities or The Big Dipper is unexplainable. The ceremony is performed in total secrecy as all devotees stayed bowed.
I hope to be forgiven as I stood through to snap some awesome pictures. It was a moment of greatness and reverence.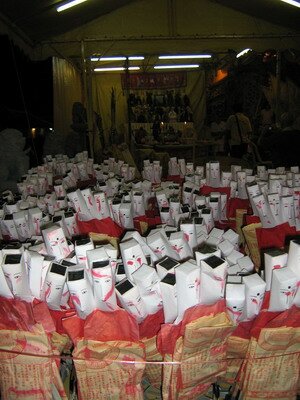 In the Tow Boo Kong Temple, we got the opportunity to witness the spirit mediums and healer deities at work.
Definitely in my opinion, it is the healing day for devotees. The Healer Deities that came when I was there were Thai Siong Lok Kun and Chek Kong.
As the fourth day of the lunar calendar of the nine month also signifies "birth beyond death", some rituals and rites were set to lead people or community from the state of yin to the state of yang.
Prayers for the dead, prayers for maintaining and protecting life and not forgetting prayers for the sick. As a Buddhist trying to comprehend the Taoist rituals and rites in the past, has been difficult.
But today seeing this Taoist religious rituals and rites, puts me to clarity on the concept of the Taoist religion and faith.
It is a brilliant concept that answers some of my questions seeing the spirit mediums, the faith healers, the talisman and amulets been given.
This is not new to me but lack of understanding, sometimes makes one brush it off lightly. I can sense a powerful connection when I see in front of my eyes all this happenings.
But there is no denying Buddhism and Taoism is inter-related. I will shared what I know some other days on the Buddhism aspect.
But to Taoist practices, they even had a tent set up to offer prayers to the souls of dearly departed of the devotees love ones. During all this observant and confusion on my part, as I could not fathom what was going on, three Chek Kong came into trance.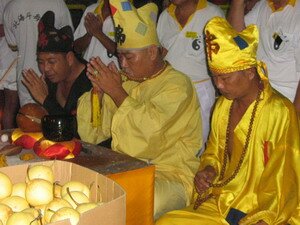 I am quite familiar with Chek Kong having heard so many stories, dad used to tell. One came in black, joyful, cheerful and cracking jokes in Taochiew with the temple members.
This Taoist deity is quite powerful and even dare to quip jokes at the Jade Emperor. Such is his might. Other healer deities when they arrive would go about doing their task, being consulted by devotees in need of spiritual help.
But Chek Kong, he drinks, he smokes and dances about happily. You see the happiness of devotees whenever Chek Kong arrives.
But for today, they were not here for fun, they came and were requested to offer prayers in Trinity for the souls spirit of the dearly departed member of the temple devotees.
The Taoist Purification Rituals can be daunting and unreal but permit me to share some insiders knowledge. The Chinese cultures bought to us by our forefathers are very much intact in us Malaysian and locals of Penang and Butterworth.
Most cultures are actively participated and alive in this part of the world. We feel blessed by the Gods we worshiped. Read more on day 5,6 and 7 here.
While the trance dances and trance rituals are conducted by the spirit mediums, the luck rituals are invariably performed by Taoist priests. The rituals include those for maintaining luck dissolving ill luck and thanksgiving.
The luck maintaining ritual is propitiatory in function, positively reaffirming a devotee's luck so that yang may subdue yin.
The ill-luck dissolving ritual, on the other hand, is prophylactic, dissipating or altering yin so that good fortune may enter.
The thanksgiving ritual shows the devotee's appreciation for heaven's blessings. It may be performed either to propitiate the Nine Emperor Gods who intervene on the devotee's behalf or as a follow-up to the prophylactic ritual.
The ill-luck dissolving ritual is designed to dispel ill fortune but is also intended, like the luck-preserving ritual, to consolidate and conserve good fortune.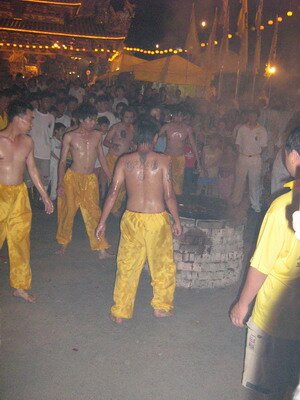 Although the two rituals are in many ways the antitheses of each other, their patterns are largely similar. There are, however, points of departure as well.
For example, the ill-luck dissolving ritual is usually performed for smaller groups (and may even be conducted for individuals).
If you are more into inner peace, tranquility and serenity, one temple in Penang celebrating the Nine Emperor Gods festival is the Cheng Kon Sze Taoist Temple. This temple is unexplored, old and real.
If you looking for a place to meditate, this is THE temple! Sometimes, spirit mediums can be seen as this temple is well known for spiritual healing. Find out more from here.
The group usually comprises either a nuclear or extended family led by a patriarch, with the ritual itself being of three basic types: great opening of luck, medium opening, and small opening.
The use of incense papers and charms is also more extensive and elaborate in the luck-opening ritual than in the luck-maintaining ritual.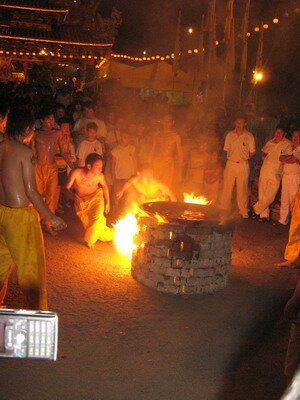 The above rituals are interrelated. Then devotees are blessed with good fortune they perform the luck-maintaining ritual to consolidate their position.
When they encounter ill fortune, they participate in the ill-luck dissolving ritual to remove bad influences and usher in the good.
When their luck turns for the better following the ill-luck dissolving ritual, they participate in the thanksgiving ritual to show their gratitude to the Divine Nine's intervention.
Most of the ceremonies like fire walking, boiling oil and fort passing beside the float procession were conducted in the temple front.
There are ample space for the Tai Chu's or Nine Emperor God buddies to come and have their little game. And this little game is playing with hot oil. Spirit mediums at work is not a play thing, right?
The making of Herbal Medicine ceremony is held on the evening of the third day of the celebration.
Logs of woods were piled in the specially prepared pit in the temple front. We saw the log lighted and have a good feeling that it is for heating up the oil.
Two to three men handled each fire pit. Once it is lighted, two huge cauldron were placed on top of the fire pit. At least 10 bottles of oil, about 5 litres each were poured into the cauldron.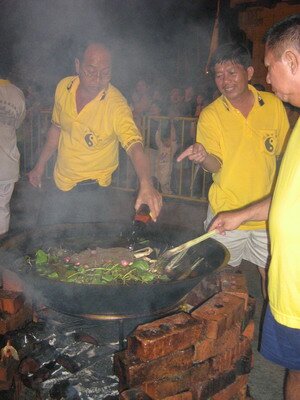 At approximately 8.30pm in the evening, after 1 hour of heating and boiling the oil, out of nowhere we hear shrieks by the Tai Chu's.
By now, gongs and cymbals were sounded. And it was too loud to hear what they were conversing. Nine of the Tai Chu in yellow pants, barefooted has come out to play.
The commencing of the playing hot oil ceremony starts off with an entranced spirit medium using the whip to clear the path around the fire pit and its surroundings.
For me, it is an unbelievable act. Playing with hot oil, drinking or having hot oil in the mouth. Spitting the hot oil to make the fire burn faster. Scooping up hot oil and spitting onto the fire.
Miraculously their body was not burned or scorched when hot oil flows down their bare hands and their bare body.
Not surprisingly, don' get bored reading so many articles about Nine Emperor Gods, but vegetarian food is this new temple in Kepala Batas is highly recommended if you are looking for good food. Ahhh, food, did I say food?
And believe you me, it was so hot, we had to back off. the smoke was intense, blurry to all devotees eyes. Playing and scooping the hot oil amongst themselves singularly or in groups, they thrilled the crowd.
Boy oh boy, it was so mind blowing and a spectacular sight. When their body or mouth were too wet with oil, their assistance gently wiped it off as if it is not hot.
Wiping their hands off the excessive oil, I keep observing those actions and wondered unbelievingly. It amazed me how in God's name can this be done. I was very humbled by God's protection for them.
The Tai Chu's took turns to blow the two fire pit and keep the oil burning. For about an hour of playing, as if in sync they stopped playing and grew quiet.
It seems the Tai Chu are called back and one by one the crowd dispersed. I was later told that our simple eyes sees them playing the hot oil. But in actuality, like in the ritual and dance ritual, they were blessing and brewing the oil for use by the devotees.
Go to Top of Spirit Mediums Page
Back to Nine Emperor Gods Page
More on Taoist Purification Rituals Page
Back to Taoist Worship Rituals Page
Back to My Island Penang Home Page