Through these Chinese New Year Prosperity Fruits Photos, you get to understand why they are so symbolic to have during Chinese New Year. They are specially grown fruits, flowers or plants for the New Year festive season.
In Penang, as we are starting this year New Year with the Golden Boar, all thing, fruits, plants and food that auspicious prosperity and harmony sounding is up for pick.
Even pitcher plant is a hot item this year. Commonly known as monkey cup, the pitcher plant is prized between RM30 to RM50.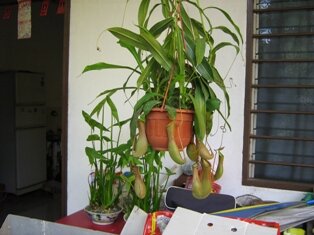 To usher the Chinese New Year, a series of events has to be prepared. Spring Cleaning is top in the list. Reunion Dinner is organized to the whole family gets together as in happy family.Chinese New Year Prosperity Fruits Photos
Getting new notes (money) from the bank to give Ang Pows becomes quite a hassle if you don't do it early.
Lion Dance, Firecrackers, Exchanging Mandarin oranges during visiting the elders or relatives.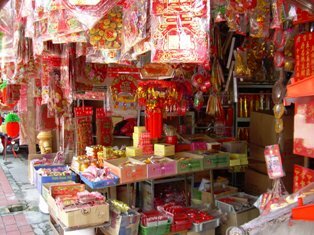 To prepare homes or business premises with New Year decorations, paper cuttings and spring couplets bearing calligraphy writings are carved on cloth, bamboo woods and pillars.
Peony and Peach Blossoms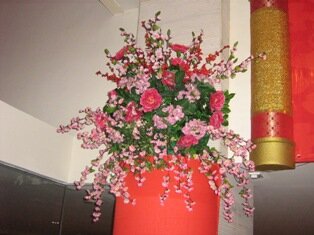 Peony and Peach Blossoms symbolizes never ending or continuous friendship. Peonies are often featured on vases for together they convey the wish for wealth, nobility and peace "fu gui ping an".Chinese New Year Prosperity Fruits Photos
Vase "ping" sounds like safety/peace "ping an" and "fu gui" means wealthy and noble in that order. When this flower and peaches(represents a long life) are put paired they mean lasting wealth and health.
Hor Lor Pu or Bottle Gourd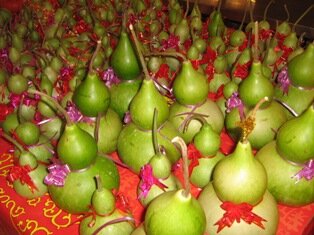 The Gourd, signifies abundant of riches and wealth. Specifically the bottle gourd is also a common Chinese symbol for longevity as well as good luck. It is thought that the gourd holds magic nectar which is consumed by many Buddhist deities.
The Chinese, God of longevity brandishes the gourd at the end of his staff, this is said to contain the elixir of immortality.
Gourds are painted with the Chinese symbol for longevity and then displayed in the home to ward off harmful energies - thus promoting long life.
Pineapple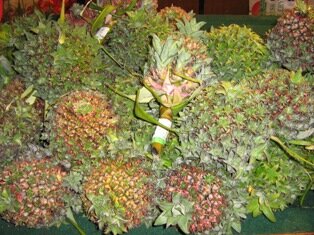 Ong Lai or Pineapple Bright or positve charge is "ONG" in Hokkien. So strong positive vibes will be flowing in.
Zamioculcas or money tree, bamboo like plant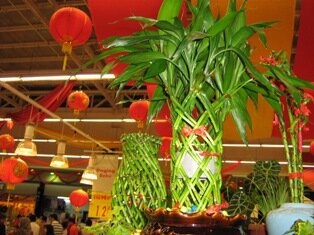 They are twisted in spirals to take away bad vibes and bring in the good ones. In Mandarin, it is called jin qian shu. Its Chinese name means gold tree, its leaves bears resemblance to Chinese-style gold ingots.
The bamboo is very resilient throughout the four seasons, and has come to stand for endurance and courage in the face of hardships. It's the symbol of a noble and strong character.Chinese New Year Prosperity Fruits Photos
Did you know that giving a gift of a living bamboo plant to someone you care about brings her or him good fortune?
Chai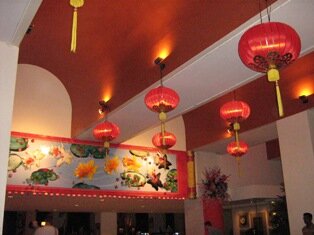 A Long "Chai" of Fishes signifies ABUNDANCE of prosperity. The Chinese view Chai as necessary for happiness. The fish is common because the Mandarin word for fish is "yu", which is a homonym for "additional" or "surplus".
The Double Fish - Fish are a symbol of wealth, abundance, harmony and bliss. When shown in a pair, it is a symbol of harmony between partners and families.
Oranges and Tangerines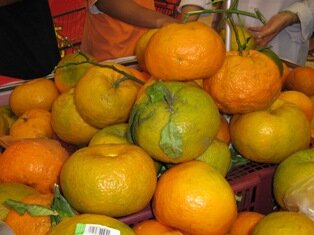 Tangerines with leaves intact assure that one's relationship with the other remains secure. For newlyweds, this represents the branching of the couple into a family with many children.
The Chinese traditionally give each other oranges during the new year for two basic reasons.
1) round fruits symbolize coins, which stands for fortune
2) the Mandarin word for orange is "ji" which is a homonym for the Chinese word that means "good fortune"
Symbols in fruit and other foods are fascinating. Allow me to end with a tripartite Chinese image wishing you (with a peach, a pomegranate, and a finger-lemon) a long life, many sons, and every happiness.
These are some of the Penang Heritage that is in dire need to be preserved. Most of the traditional cultures is what makes Penang into a heritage city recently.
Go to Top Chinese New Year Prosperity Fruits Photos Page
Back to My Island Penang Home Page