The places of worship in Penang tells you a lot about our heritage, culture and tradition. In almost every corners of Georgetown, you see a mixture of of temples, churches, mosques and memorial Halls. When you walk around Georgetown, the temples, churches and mosque it is a common sight seeing all kinds of prayers being conducted.
The bells ringing in the Indian temples, the incense fragrances permeating from the Chinese temples and calling five times prayers from the Muslim mosques. What about the lovely architecture, mystical beings all in gold and red. The intricate carvings on the doors, ceiling is a sight to behold. Personally I need two to three trips to grasp the wonder and beauty of our places of worship.
Our Penang People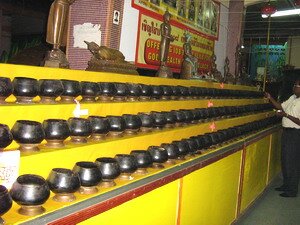 The multi ethnic society of present day Penang was largely created during the British administration in the late 19th and 20th centuries. The Chinese were bought here to work in the mines from Mainland China and the Indians to work in the plantations.
So our fore fathers bought with them distinct social and cultural identities. The Nyonyas, Babas and Mamaks are among the oldest groups of foreign origin that completes the cultural fusion and wonders of Penang. My husband and I both 5th generation to our forefathers. We spend our time to rediscover "ours" or "your" Penang places of worship.
I find it so fascinating whenever I have time to learn more about places of worship in Penang. It has become a tourist attraction in Penang. I watch in awe the carvings on the doors, the roof and architecture of different Chinese descendant from China. If you observe closely, you learned and understand more of the folklores, beliefs maybe become superstitious too.
The architectures of Taoist, Buddhist, Burmese or a fusion of Chinese, Indian or Straits Eclectic architecture into Chinese Temples makes it very fascinating for us locals too.
The many Chinese Temples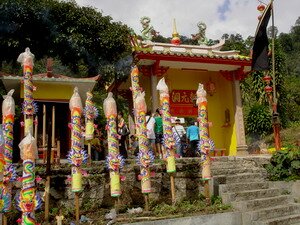 Not for nothing, our fore fathers try so hard to imitate what they have left behind when they traveled the seven seas in tongkangs or Chinese junks. Whenever I listened to older generation reminiscing the past, I cannot let all this go only in my own memory. A cherish, treasured wonderful time with my elders. Here is our unique Penang places of worships, temples, mosques and churches.
Penang Jade Emperor Temple - Penang Hill Railway Road, Air Itam. The temple is worth you making your time to visit. See more photos here.
Bat Cave Temple or Bit Poh Tong Penang Hill Railway Road, Air Itam
Penang Kek Lok Si Temple - Paya Terubong Hills, Ayer Itam
Cheng Kon Sze or Cheng Jee Chan - Paya Terubong Hills, Ayer Itam
Sam Poh Temple or Admiral Cheng He Temple - Batu Maung
Chor Soo Kong Temple - Batu Maung
Penang Snake Temple - Bayan Lepas. Some people find this temple fascinating, maybe more photos might tell you why.
Hokkien Tua Pek Kong - Armenian Street
Han Chiang Taochiew Ancestral Temple - Chulia Street
Tua Pek Kong Temple - King Street
Nine Emperor God - Macallum Street Ghaut
Seng One Beow or Temple - Bridge Street
Sun Qiang Temple - Harbour Trade Centre
Tua Pek Kong Temple - Tanjung Tokong
Penang Goddess Of Mercy or Kuan Yin Teng or Temple - Jalan Mesjid Kapitan Keling. Activity in this temple never stop, see more photos.
In Mainland Butterworth Malaysia, just a ferry away, you will find opulent embellished temples. Admire the recent beautiful works of Chinese artisans recently restoring and expanding this once small community temples. Community donations have helped expand and restored and have turn it into the pride of Butterworth Place of Worship.
Tow Boo Kong Temple in Jalan Raja Uda, near to Mak Mandin Industrial Estate. The activity leading to the Nine Emperors festival is just as important as the celebration itself.
Kepala Batas Nine Emperor Gods Temple - Kepala Batas Thean Hock Keong - Bajam Ajam
Burmese or Thai Temples in Penang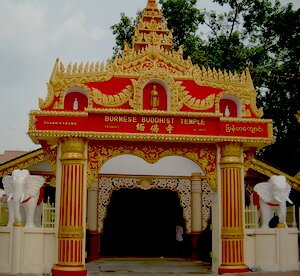 Wat Chayamangkalaram - The Sleeping Buddha Temple
Penang Dhammikarama Temple, oldest Theravada Burmese Temple
Mahindrama Temple - Kuantan Road
Wat Pingban Onn - Green Lane
Buppharam Thai Buddhist Temple - Perak Road
Mosques in Penang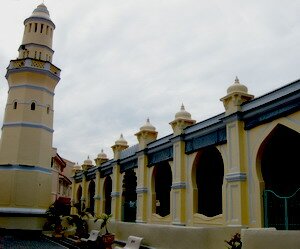 The mosque has been the locus of both social and economic activities, which can still be seen around it. Acheen Street Mosque - Lebuh Acheen
Nagore Shrine - Lebuh Chulia
Penang State Mosque - Jalan Air Itam
Ariff Mosque - Perak Road
Kapitan Kling Mosque - Jalan Mesjid Kapitan Keling
Kongsi Mosque - Balik Pulau
Jamek Haji Kassim Kampung Makam Mosque - Dato Kramat
Jamek Jelutong Mosque - Jalan Sungai Pinang
Masjid Pakistan - Jalan Macalister
One obvious symbol of the Islamic community is the Lebuh Acheh Mosque, reflecting an area once richly populated by people from Acheh, Indonesia, confirmed by the existence of graveyards with stones resembling those of Sumatra's and Riau's.
The famous mosques in Penang Place of Worship, are Acheen Street Mosque built by an Arab merchant prince who settled in Penang in 1792. The famous Iman Naqshabandiah Sufi leader Sheikh Omar Basheer lived in the mosque compound.
The Kapitan Kling Mosque built in 1801 was named after Cauder Mohideen who was the captain of the South Indian community. His first wife Fatimah Nachiar Merican or Pathini Ama as she is fondly known to many people in Penang till this very day. Pathini Ama is important because she is considered to be a female saint by many people throughout time.
Churches in Penang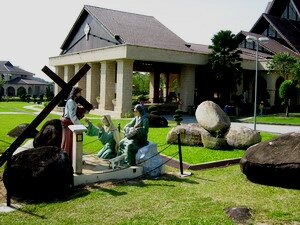 The oldest Anglican Church, Place of Worship, is the St George Church built in 1817. Way back in early 20th century it has a Tamil mission and Chinese mission school. Colonial Hutchings is the man behind the St. George's Girl School together with Anglo Tamil Boys and Girls School.
More photos of the Church. There are more churches in our Penang Heritage City. Church of Immaculate Conception, Pulau Tikus St George Church, Light Street
St Anne Church - Bukit Mertajam
Cathedral of the Assumption - Light Street
The Wellesley Methodist Church - Jalan Larut
Church of our Lady of Sorrows - Jalan Macalister
St Xavier's Church - Penang Road
Masonic Temple - Jalan Utama
Church of the Holy Name of Jesus - Balik Pulau
Hindu Temples in Penang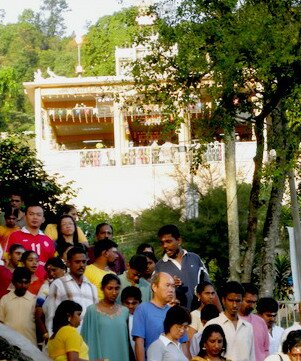 The oldest Hindu Temple is Rama Temple which was founded by the Queen of the launderers, Ranee Dhoby in 1802.
This is one of the most impressive temple I have seen in all of Penang. The original Ranee Temple forms the inner sanctum of the places of worship which used to house the tomb of Ranee Dhoby.
To see this temple, one can enter from York Road through a narrow lane to Dhoby Ghaut village which the Tamils called Vannan Thora Tedal (Laundryman's district).
Not forgetting the Waterfall Hilltop temple, Nattukkottai Chettiar Temple, Sri Veeramakaliamman Devasthanam Temple,Nagarathar Sivan Temple, the Thaipusam festivals made these temples a popular place of worship.
Sri Maha Mariamman Temple - Queen Street
Rama Temple - York Close,  Air itam
Balathandayuthapani Waterfall Hilltop Temple - Waterfall Road
Nattukkottai Chettiar Temple - Waterfall Road
Nagarathar Sivan Temple - Dato Kramat
Sri Veeramakaliamman Devasthanam Temple - Dato Kramat
Sri Krishna Bagawan Alagam Temple - Sungai Dua Penang
Sri Kunj Bihari Temple - Penang Road
Sri Meenaksi Sundraeswar Temple - Waterfall Road
VTM Chettiar Temple - Balik Pulau
Sri Singamuga Kaliamman Temple - Teluk Bahang

Hindu Temple in Butterworth
Arulmigu Karumariaman Temple - Jalan Todak
Sikh Temples in Penang
Gurudwara Sahib Khalsa Dharmak Jatha, Jalan Gurdwara, Penang
Gurudwara Sahib Sikh Police - Patani Road, Penang Wadda Gurudwara Sahib - Patani Road, Penang
Sikh Temples in Butterworth
Gurudwara Sahib Perai, Penang
Gurudwara Sahib Butterworth, Penang
Gurudwara Sahib Bukit Mertajam, Penang
Go to Top of Places of Worship Page
Back to Jade Emperor Photos Page
Back to Penang Goddess of Mercy Photos Page
Back to Photos of St George Church Page
Back to Snake Temple Photos Page