Chetty Pusam begins the first day of Thaipusam in Penang. It is a yearly ritual for the Hindu merchants in Penang.
The statue of Lord Muruga is being carried out from Chetty Vedu (Chettiar's house) very early in the morning for this celebration. The chariot will stop along the way for devotees to offer their prayers to Lord Muruga.
The Chetty Pusam is slightly unusual as all of the Chettys would carry peacock kavadis. The Indians usually uses metal kavadis or couples carries sugar canes kavadis.
Usually the Chetty Pusam entourage will include the flag of victory, musicians and trumpeters blowing to the glory and achievements of Lord Muruga.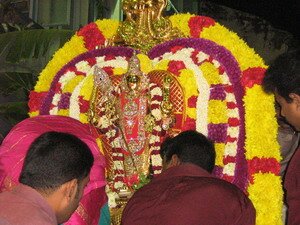 The video may be slow to load, just bear with me and watch in awe as these man dances and the peacock kavadis swaying to the beat of the trumpet and the drum oboe.
The significance of peacock to the Hindus is that Lord Muruga rides on a peacock (vehicle) and when the peacock plumes into full blown, it displays a divine shape of Omkara.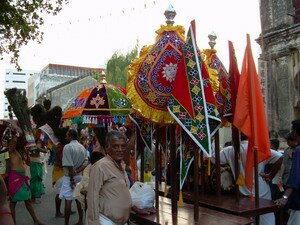 Leading the procession, you get to see of flag bearers and Chetty thrilling the crowd, dancing away. Followed by a coconut cutter where for devotees wanting to pray, you can have your coconut cut open to be use as trays for the holy ashes after you prayed.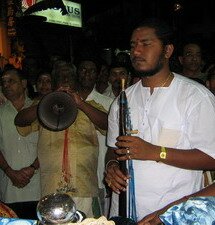 The senior trumpeter has been performing for years. Watch out for him as you can see him even in the journey to Waterfall Temple, blowing away for hours. Encouraging the kavadis carriers with his trumpets.
I salute him for his devotion to his love to help devotees achieve their spiritual goals. Well the goal is become devotees of Lord Muruga even for a short while to achieve peace and tranquility.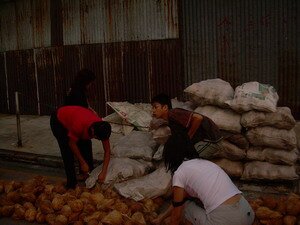 The roads for the Lord will be cleanse with hundreds of coconuts. According to the Indians, coconut water is the cleanest water for performing any form of cleansing.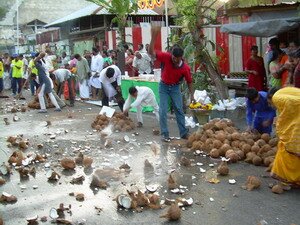 Chinese, Indians, young, old, far and near will be there to help one another to bash the coconut. All the three main races participate in ways to make this celebration a great success.
Some of my overseas friends made comments like seeing Malays policeman along the roads. They were surprised to see the tolerance of each others race and religions.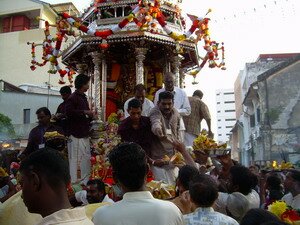 The chariot procession makes strategic stops on the major towns. Devotees will gather together near their houses to offer these offering to Lord Muruga.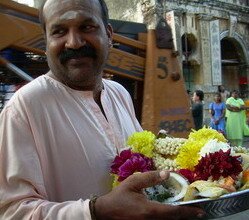 As the chariot passed, offerings with fruits, incense are offered to the priest to help make the offerings and prayer. Children are lifted up to be blessed.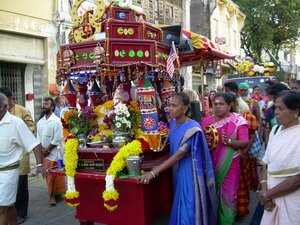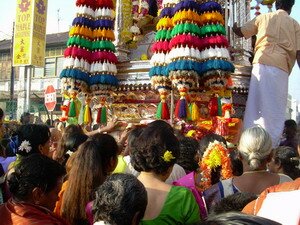 Devotees who vow to do penance pushing the chariot can be seen quietly fulfilling their vows. I don't see them talking or laughing away. Some were chanting mantras as they pushed the chariot.
These are some of the Penang Heritage that is in dire need to be preserved. Most of the traditional cultures is what makes Penang into a heritage city recently.
Go to Top of Chetty Pusam Page
Back to Penang Vel Thaipusam page
Back to My Island Penang Home Page