Uva's Penang Indian Wedding Rituals became quite a pre wedding celebration. One, I think every woman's dream to have, which is lovingly prepared and participated by all loves one.
Cousins and aunts from both sides of the parents excitedly looked forward to the days of duties to perform. How quaint and unusual for these to happened. Every other week, they would call to ask what are their duties, that was so cool.
Uva and Jivan's Penang Indian wedding rituals and customs unfold different stories, cultures and customs.
The mixed Chinese Indian wedding rituals showcase the rich culture and tradition of India and Malaysia Straits Chinese upbringing. You may say, we come from the old school where customs and traditions are important to us.
In this page, you will find:
Whereas yours truly being a Nyonya, would associate our Tea Ceremony merging the two cultures into one wedding celebration which is truly unique and only can be found in this part of the Malaysia.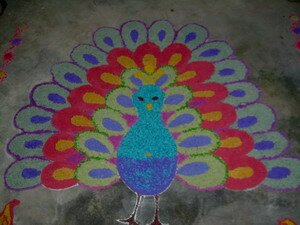 What more can a woman ask for, when her father excitedly prepared and co-ordinates for the Indian wedding rituals. Chandra and I have been busy delivering cards all over Malaysia in preparation for the forthcoming wedding.
Wedding preparations can be very stressful and not taking a breather, it can be harmful and is not a joke.Fortunately we had the Uva and Jivan engagement last year.
And the younger cousins preparing the kolams for the engagement and wedding has been a big help to include God's smaller creatures to our celebrations. Kolams are a big part of Indian Wedding Rituals.
A month before the wedding, the Indians had a ceremony which actually needs to be done when she begins her menstruation, called Ruthu Sandangu or in plain simple English, Young Ladies Puberty Ceremony. Well, there is no escape despite winning me over when she was young and shy at 11.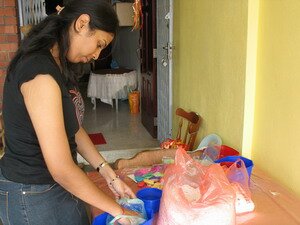 There was not much time for me even to take a breather as with all this hectic schedules, Chandra had a massive heart attack and all the whole responsibilities fell on my shoulder.
I honestly do not know how I manage but I did. Running around, preparing food for his lunch or dinner and coping with all the last minute wedding preparation. Rushing him to the Penang heart unit when progress wasn't seen.
Thank god for good children for taking care of their dad at nights so that I could take some rest. I have my fair share of night duties when he conditions needs to be monitored. I thank God for my good health.
So it is no joke as Chandra was in the hospital recovering, wedding preparations by aunts were really appreciated. My deepest gratitude goes to my sister in law Sarojini who takes turns cooking for his brother, bless her.
Anyway, as Chandra is now home recuperating, I am able to continue to write about our daughter wedding celebrations done in a truly Malaysian way!
There are various Indian Wedding rituals which you can associate with Uva's unique Mixed Wedding. The wedding celebration is divided into three parts pre wedding, main d ay and post wedding.
Pre Wedding Indian Rituals, Celebrations and Preparations.
I don't know who started this customs. The couple getting married must not see each other for a month. Nowadays young couples cannot be apart each other so for both mums, even to keep them a week apart is an task.
Besides daily telephones to oversee the wedding arrangements, talking to each other like gluey gums. I guess both got closer, missing each other that makes the quarantine worth while.
Guess as parents we are pleased they behaved and obeyed our advise. I would say it has to be a great Indian Wedding Rituals, keeping them quarantine or curfew.
I can remember Jivan coming over two days after the quarantine. She waited half a night for him to turn up and peep outside just to see him. As he walked to our gate, she ran upstairs remembering the curfew! I secretly laughed to myself.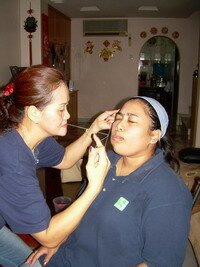 Three days or a week before the wedding day, the Chinese usually does their face threaded. The mother or ladies will accompany the bride to be to them.
Face Threading is an age old traditional technique. It is not only a beauty treatment, but a ritual for women preparing to get married.
Chinese rituals of "Kooi Min" entails threading the whole face, cheeks, forehead of hairs from your natural birth face. To Chinese Kooi Min or face threading is very important as it signifies a young girl turning to be a woman.
It is believed to bring good luck and fortune to the bride-to-be by brightening up her face. According to Ms Oi Au Ngo of Northern Region Bridal Services, young brides have turn to her for her services for the past years.
She sees the current trends as a good sign that traditions and customs are observed by the youths.
Taking Uva to the "face threading" and along the way, told her my personal experience of Kooi Min. I assured her that there was no pain but for her it was a reverse. She seems to have so much pain so Ms Oi further told me her facial hair is plentiful.
Not strange to me as Chandra is hairy chest himself, so she is her father daughter's. A few drops of tears were detected and painful as it was, Uva was cajolingly advised to bear the pain to be beautiful.
With some powdering and then egg rolling, to smoothen the face, Ms Oi further said some "si koo" a hokkien rhyme to bid her good luck, good fortune and maturity as a woman.
She then complete her task. My second time hearing this "sacred chanting", only in the ears of the bride to be.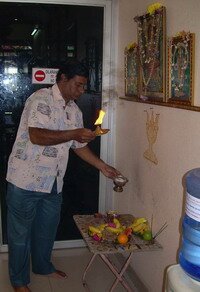 This Penang "Thali receiving ceremony " or Thali Padia is performed a few days before the wedding. A month or two before the wedding, the groom's parents would go the family's goldsmith to have the "Thali prepared".
The melting of Gold to make the "Thali" is an important ritual for the traditional Indians. It is symbolic for the "Thali" to be prepare by the family goldsmith as each family has their own design for the Thali (sacred pendant) to be made.
However, the popular custom is to draw the Swastika in the middle of the Thali with a red paste. Unlike in the west, the Swastika is a much-respected symbol in India.
It is the symbol of the elephant god Ganesha and has absolutely no connection to the haunting Nazi version.
Gold ornaments among Indian women is quite elaborate. The Indian viewed a beautiful woman by the amount of gold she wore.
I am amused over this as to complete the wedding sari attire, the costume jewelries glitters in every part of her body. Indeed all that glitters is not gold, we know that, don't we?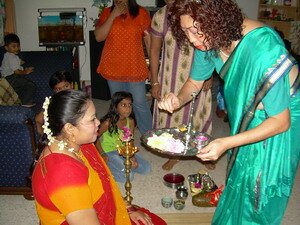 Finally the day arrive for the three Nalangus to be performed. Nalangus are real Indian traditional wedding rituals for Mothers, aunts to performed as a symbol of how much she is loved.
You don't see anymore tears being shed while giving away the daughters after the wedding. Giving her over to a new family, gently advising her of her life beginning as a woman, with responsibilities.
Observing the ceremonies and Indian wedding rituals done is like sending a reminder that marriage is not a bed of roses and to understand the need to be matured.
Most Chinese will always say " Mother gratitude can never be returned". But for the Indians, their customs and the Nalangu Indian wedding rituals verified that by performing this ceremony, the mother has done her responsibilities.
Mothers or daughter don't owe each other anything, that is the way I see it, no more attachments. In short, mothers have perform their responsibilities and by Nalangu, she is now returning to the original family.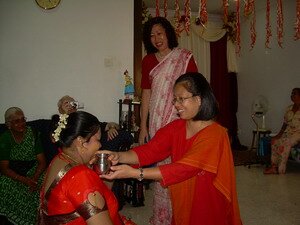 As for the lady folks like the aunts, "the Atehs and the Chittys", (father's bloodline) the same goes for them. The giving away of so called daughter, making it easy and happier for her to leave home.
In most cases today, these aunties do not live in a patrilineal system, so for them to perform this ceremony is one of joyous festive moods.They would willingly come home to perform these ritual for their nieces.
In our case, where there were many inter marriages, it became a place for educating and learning to give away daughters in future. We did have our fun sharing roles and responsibilities.
Under the watchful eyes of the older aunts who couldn't perform this ceremony proper as they were widows. But they were never far away as Uvaraani is well loved by grandaunt Kamachi and others.
My deepest appreciation to her, an ever loving, caring and arm aunt or grandaunt.This ceremony is relatively closed to the ones perform during the Ruthu Sandangu.
As the final pre Indian wedding rituals is giving her an oil and turmeric bath to signify the closure of being a young woman but reborn as a young mature woman taking up new responsibilities.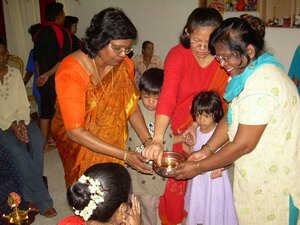 The warding off evil rituals performed by the aunts in Indian Wedding Rituals. Watch out for other Penang Indian Wedding Rituals Preparation such as getting the house ready.
The younger girls wanted to perform a dance for Uva and Jivan wedding. So despite her hectic schedule, Uva find time to guide them to dance.
These few pages are my appreciation to my nieces, nephews aunts uncles, and cousins who helped made Uva and Jivan wedding a great success. So, never ignore the young ones.
Go to Top of Indian Wedding Rituals Page
Back to Malaysian Puberty Ceremony Page
Back to Photo of Indian Engagement Page
Back to Photos of Malaysian Indian Engagement Page
Back to Puberty Ceremony Photos Page
Back to My Island Penang Home Page