Penang HomeCooks guests comes from many countries. Learning our Asian style of cutting, preparation and cooking opens a new world to them.
Some were busy taking notes as we shared tips, techniques how to whipped up 4 to 6 dishes within 3 to 4 hours.
Indeed watching some first timers asking many questions is not easy for Penang HomeCooks guests. Thinking how to give an intelligent reply to gourmet cooks can be quite a tease. They are the customers and you know customers is always right.
I guess it is easier to share with you in photos what they have cooked and eating. Some of their reviews touched my heart and makes me feel it is my responsibility to share our dying Nyonya dishes.
For booking, call or, write to us here.
Japanese guest reviews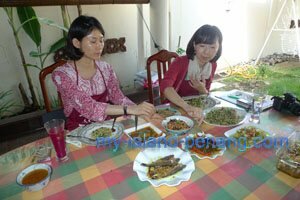 Akiko and Keiko Sakura having an elaborated Nyonya lunch with :
Fish Tumis or sourish tamarind fish curry.
Nasi Ulam or Jungle Herb Rice with many variaties of fresh herbs.
Kerabu Kay or Chicken in coconut cream salad sauce.
Achar Fish, Pickled sun dried fish in sweet vinegar dressing.
Aw Th'ng or Fish in Taro soup.
Nyonya Dessert Abok Abok or Sago wrapped with gula melaka and grated coconut.
Roti Jala with Curry Chicken.
Vegetable sambal salads.
Stuffed Steamed Okra and fish
Dr Akiko and Keiko says they are so pleased they flew down just to learn Nyonya Cooking. It was a great treat and holiday they richly deserved after working so hard.
Australian guest reviews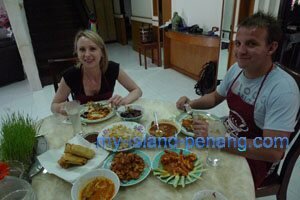 Nathan and Audrey wanted a feast and in their email to me, they specially wants to learn 6 dishes. Quite a 4 hours task.
Chun Piah or Nyonya Supreme Spring Roll, authentic crepe wrapped with pork and waterchestnut fillings .
Sambal Udang, prawns in spicy sambal sauce.
Bak char rempah, a spicy sambal stir fried pork dish.
Tau Ewe Bak or Dark Sauce Pork.
Kari Hu or Sourish Tamarind Fish
Jiew Hu Char, Stir Fri Veg using dried Cuttlefish, jicama and belly pork strips.
Nathan says it was quite an experience and the highlight of their trip. These newly wed couple takes bird eyes chillies or chabai burung, hot,hot,hot.
So far, we are the only Penang cooking class who does not demo cooking. We give you a place to cut and prepare the food item for your own cooking, on your own cooking station.
See Penang Homecooks cooking set up work station here. For booking tell me if you have other needs.
Multiple days cooking class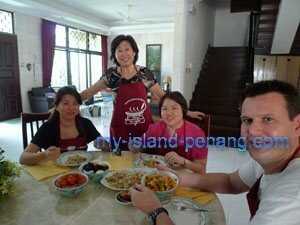 Fen Ching from Sarawak a cake decorator consultant and Pheng from Perak a pastry shop owner with learning for 1 week.
She went back to Sarawak to start a cafe. After 1 week of crash course, she comes to the conclusion, most of the dishes she discussed is good for her cafe.
Josh benefitted as he joins in the available class.
Achar Awak or mixed vegetable in pickled spicy vinegar sauce.
Fried Garlic Rice.
Tau Ewe Bak or Dark Sauce Pork.
Sambal Udang or Prawns in spicy sambal sauce.
Assam Laksa
Satay with 3 sauces and many more.
So with continuous improvement and feedbacks from our Penang Homecooks guest, our classes are now geared towards:
Half Day cooking class
Group Cooking Challegne class
Teambuilding cooking class
Demo class for group of over 20 pax
I can only said, I loved to share with you our Penang favorite Nyonya homecooking dishes. Many thanks to my Penang homecooks guests. Like to try out, Write to us here.
Go to Top of Penang HomeCooks guests Page
Back to My Island Penang Home Page